Life for stay-at-home dads can be a challenging experience and feel very isolating. Luckily, you are not alone! Here are some resources to guide you.
SUPPORTING STAY-AT-HOME FATHERS: A GUIDE TO RESOURCES AND COMMUNITIES
Being a stay-at-home dad can be a challenging and isolating experience, though it does have its benefits too. While the role of a stay-at-home parent has become more accepted and common in recent years, dads who choose to stay at home with their children still face unique challenges and stigmas. This is why it's essential for stay-at-home dads to have access to resources and support to help them navigate their roles and find a sense of community. Here are some of the best resources and communities for stay-at-home dads, including online forums, support groups, and organizations that offer information, advice, and support for dads who are at home with their children.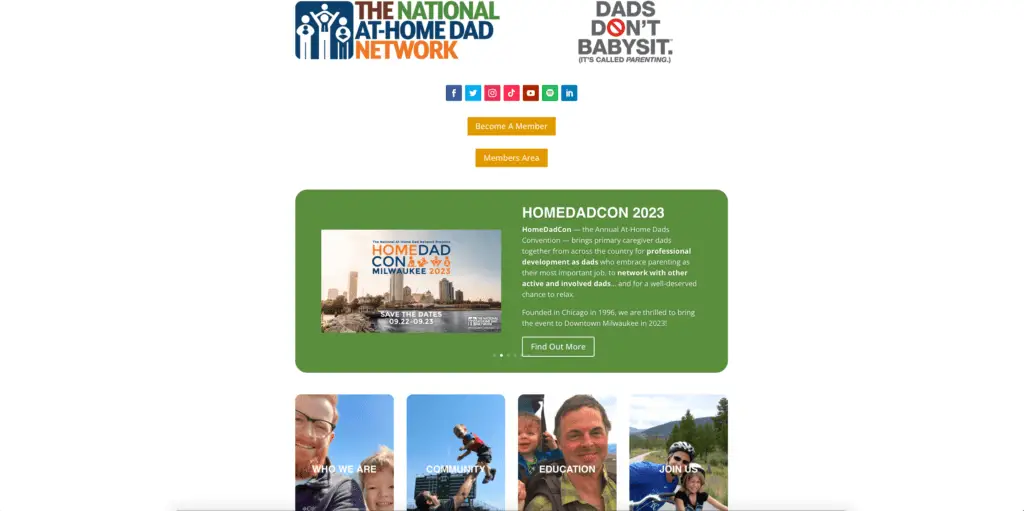 NATIONAL AT-HOME DAD NETWORK
National At-Home Dad Network (NAHDN): National At–Home Dad Network is the premier resource and support network for fathers who are the primary caregivers of their children. With a mission to support and empower at–home dads, the organization provides educational resources, events, support groups and a community for dads who are committed to raising their children and helping their families thrive. With an extensive network of local, regional and national support, National At–Home Dad Network helps fathers build confidence and knowledge, and provides resources and relationships that help them better fulfill their roles as fathers and husbands. National At–Home Dad Network is a valuable resource for all at–home dads and those considering this path.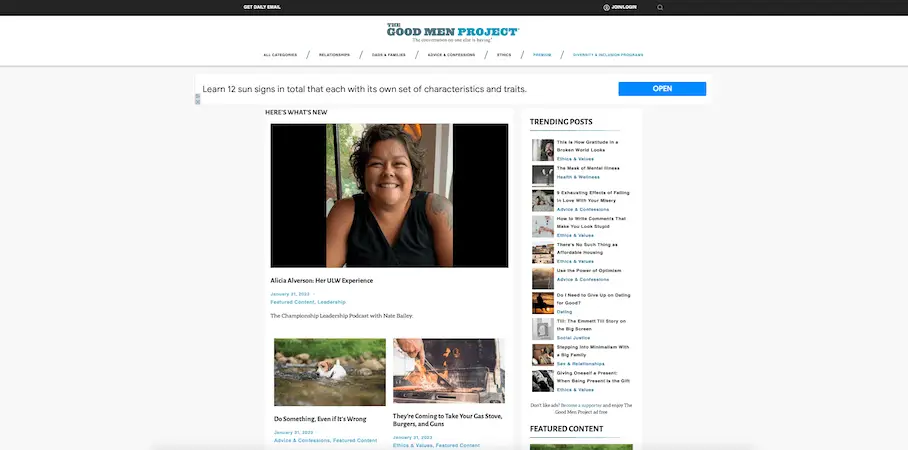 The Good Men Project: The Good Men Project is a groundbreaking social platform dedicated to creating a dialogue about the changing roles of men in the modern world. Through its website, magazine, and events, it encourages men to think deeply and honestly about their roles, rights, and responsibilities in society, and to discuss the various pressures and expectations that come with being a man in today's world. It provides a safe space for individuals to explore and redefine what it means to be a good man, and how they can use their voices to make a positive difference in the world. The Good Men Project is committed to creating an inclusive and supportive community for men of all backgrounds and beliefs.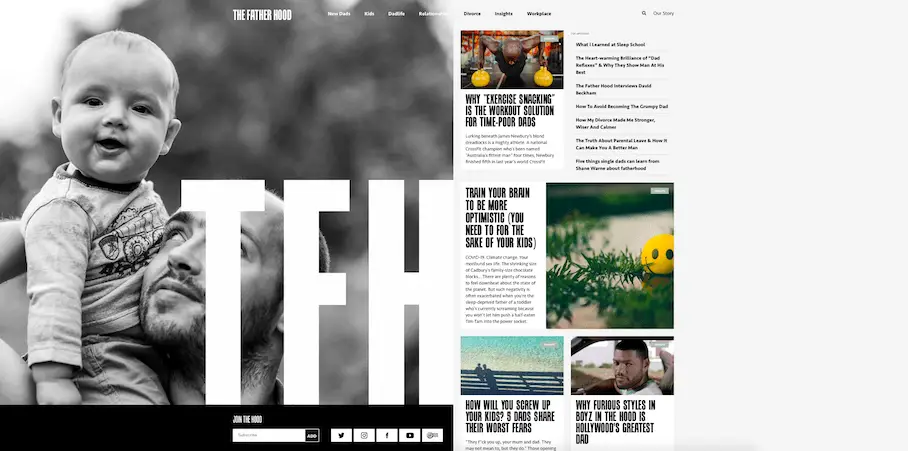 The Father Hood: The Father Hood is Australia's go-to destination for dads who take an active role in parenting. It's about championing the kind of dads who don't just sit back and let life pass them by. So, if you're an Aussie dad who is ready to make a difference, this is the place for you. Join now! Heck, even if your not an Aussie dad, it's a darn good read!
The Dad website: The Dad Website is aptly named, as it is indeed a website devoted to dads. It is one of the most popular and well–known dad blogs on the Internet, and there is an abundance of content to read through. From interviews with both famous fathers and everyday dads to articles involving family–related products and current trends, the website is filled with informative and entertaining pieces of writing. Additionally, the site offers reviews of various media such as films and beer; what dad doesn't enjoy a good movie and a cold beer?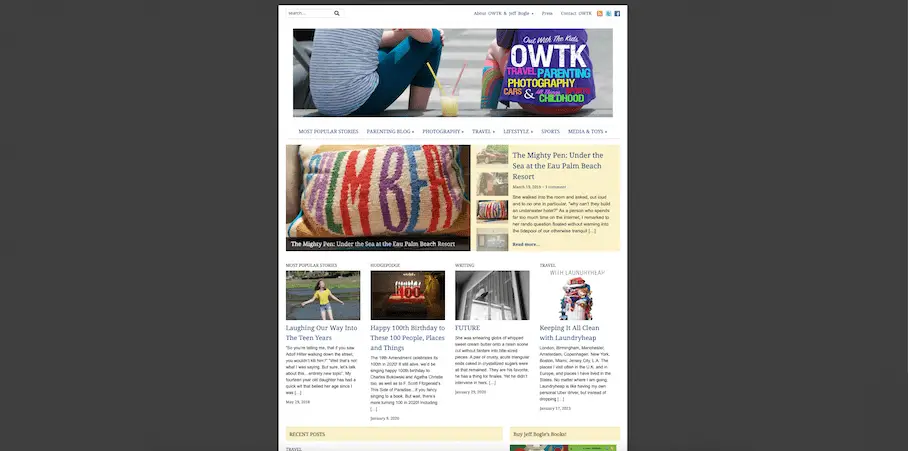 Out With The Kids: Jeff Bogle, an accomplished writer, photographer, sports enthusiast, and traveler, invites you to join his journey as a parent on Out With The Kids. With accolades from Mashable and Huffington Post as one of the best dad blogs, Out With The Kids offers parents a wealth of resources, including travel advice, photography, lifestyle tips, financial advice, and much more. Come along and explore the world with Jeff and his family, and remember that raising kids is an exciting journey!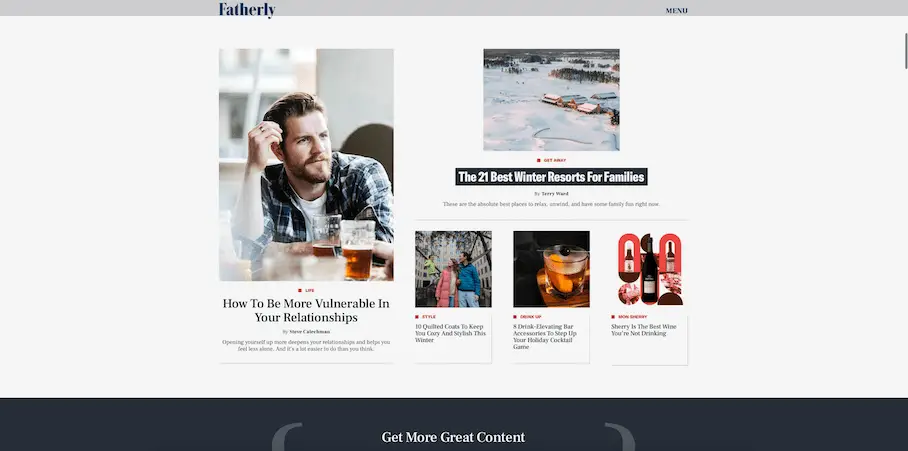 Fatherly: Fatherly.com is a digital resource for modern dads. It features articles and information on parenting, health, finance, relationships, and more, all tailored to the unique needs of fathers. With its helpful and entertaining content, Fatherly.com is the go-to source for dads to stay informed and connected.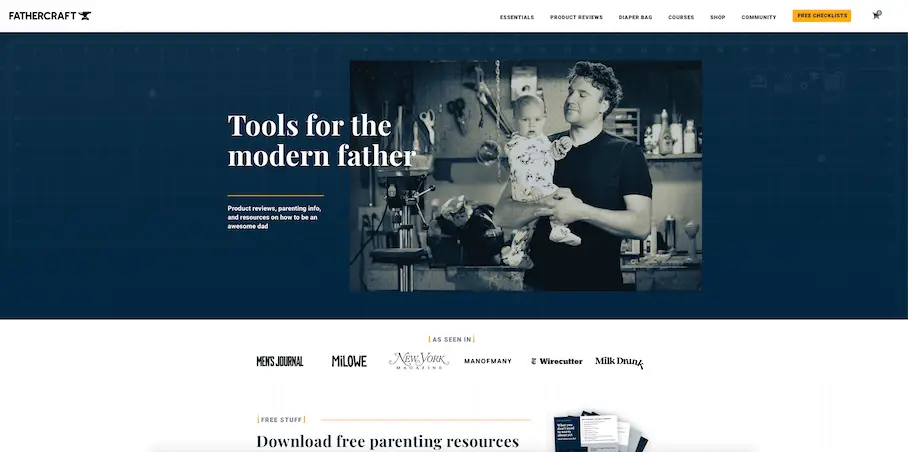 Fathercraft: Fathercraft.com is a one-stop shop for all of your fatherhood needs. With a variety of resources and tools, Fathercraft.com helps fathers of all ages and backgrounds to become the best dads they can be. Fathercraft.com offers resources on topics such as parenting, marriage, finances, health, education and more. With a team of experienced professionals and an array of helpful materials, Fathercraft.com provides fathers with the guidance and support they need to build strong families and raise happy, healthy children.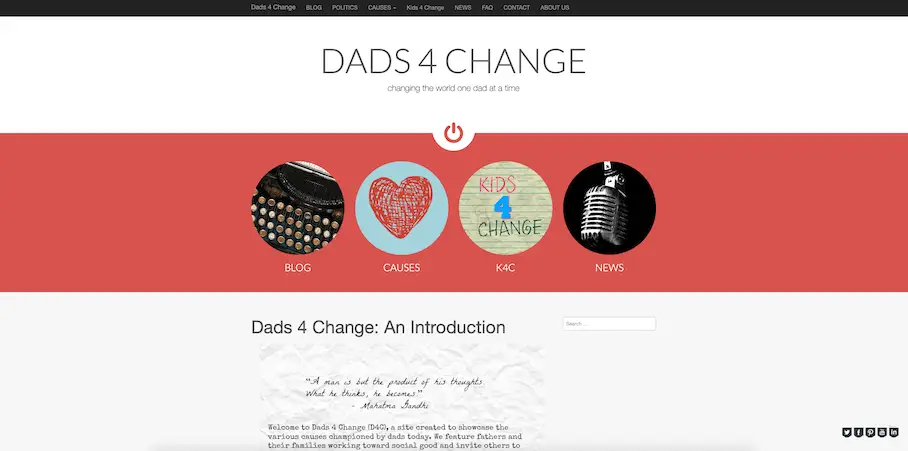 Dads 4 Change: Dads 4 Change is a movement of fathers dedicated to making an impact in their communities and beyond. Through providing resources, support, and advocacy for fathers, Dads 4 Change helps to create a more equitable and just society for generations to come. The organization works to inspire active fatherhood that is rooted in understanding, empathy, and respect for all families. From hosting events and workshops to advocating for policy change, Dads 4 Change is a powerful force for positive change in the lives of fathers and families.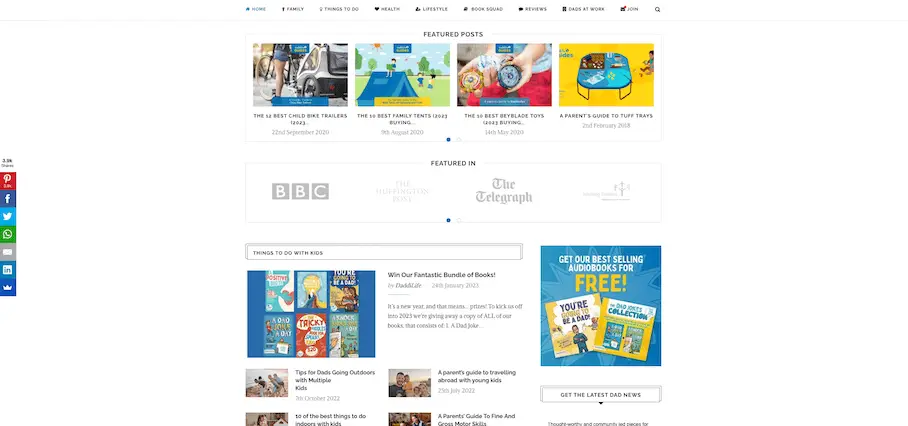 Daddilife: Daddilife is a platform dedicated to helping dads build better relationships with their children. With a collection of articles, blogs, and activities, dads can find practical advice on how to be a better father and increase the quality of their relationships with their children. The platform also encourages dads to share their experiences and connect with other dads in a safe and supportive environment. Daddilife is an invaluable resource for fathers who are committed to being the best parent they can be.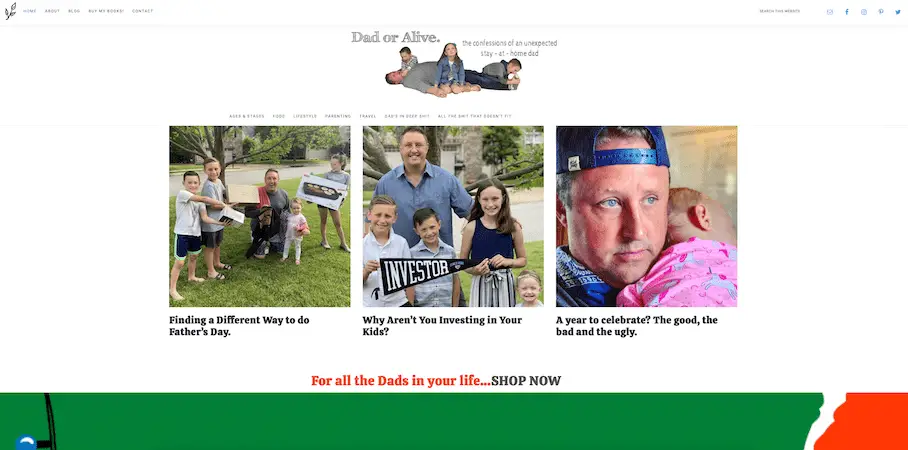 Dad Or Alive: The Dad or Alive blog is a must-read for any parent who needs a good laugh. Written by Adrian Kulp, an unexpected stay-at-home dad and published author, Dad or Alive provides a humorous take on parenting experiences, from food to travel to toilet training. Kulp's blog is a classic example of a dad blog, and readers of all types are sure to be entertained by his witty writing. With this blog, Kulp is sure to make his mark as one of the world's best stay-at-home dad bloggers.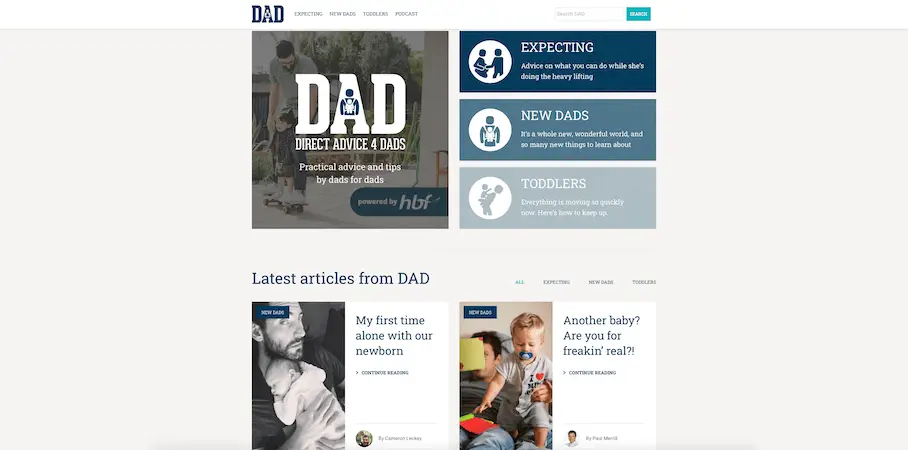 Direct Advice 4 Dads (D.A.D.): DAD is the perfect blog for dads of all experience levels, from first-time dads to seasoned veterans. With helpful advice from dads who have been there, DAD offers insights into parenting that span every stage. No matter how many kids you have, there's always something new to learn about raising them. DAD is a great resource that can help you become the best dad you can be.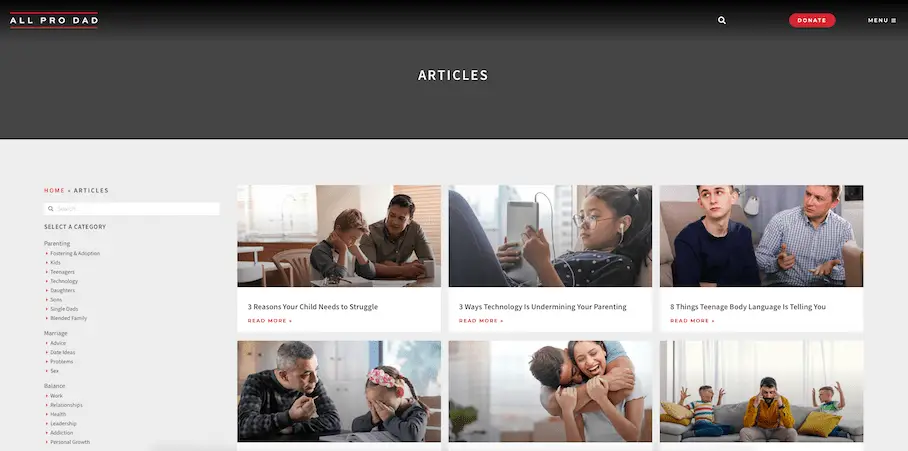 All Pro Dad: Join the ranks of the pros with All Pro Dad, one of the best dad blogs around. With an intensive and supportive approach to modern parenting, you can become part of a community of like-minded fathers who are all striving to be better parents. You'll have access to monthly and/or annual events for relationship building and can sign up for the "1-minute a day" newsletter for daily tips. It's time to join the pros, gentlemen.
It's essential to note that Stay-at-home dad's experience is not the same for every individual, so it's important to find resources and communities that align with your specific needs and interests. But, with these resources, stay-at-home dads can find support, information, and a sense of community to help them navigate their roles and find fulfillment in their journey of fatherhood.
MORE FUN STUFF TO CHECK OUT: