Elevate your dishes with 29 flavorful chive recipes, showcasing the versatility of this herb.
FLAVOR-INFUSED CHIVE RECIPES
Chives are more than just a garnish. They are a versatile herb that can add flavor, color, and freshness to any dish. Whether you use them fresh or dried, chives can enhance everything from soups and salads to pancakes and pizzas. Plus, they are easy to grow in your own garden or pot. I have compiled 29 delicious chive recipes that will inspire you to use this herb more often. From spiced tofu stir-fry with garlic chives to chive and parsley pesto, these recipes are sure to make your mouth water. So grab some chives and get ready to cook up some amazing meals with this simple but powerful ingredient.
Spice up your tofu with this stir-fry recipe that features garlic chives. It's a vegan and gluten-free dish that's easy to make and full of flavor. You can season the tofu with soy sauce, rice wine, sugar, salt, pepper, and chili flakes, then stir-fry it with garlic chives and sesame oil. You can serve it with rice or noodles for a satisfying meal.
Try this garlic chives and pork recipe that's also known as cang ying tou or "fly's head" in Chinese. It's a spicy and savory dish that's made with minced pork, garlic chives, garlic, ginger, soy sauce, vinegar, and Sichuan peppercorns. You can cook it in a wok or a skillet in less than 15 minutes, and serve it with steamed rice or buns.
Grill some salmon steaks and serve them with a creamy mustard chive sauce for a delicious and easy dinner. It's a low-carb and keto-friendly dish that's ready in 20 minutes. You can make the sauce with sour cream, Dijon mustard, lemon juice, chives, salt, and pepper. You can serve the salmon and sauce with a green salad or roasted veggies.
Make a fluffy and flavorful frittata with this chili and chive recipe. It's a vegetarian and gluten-free dish that's perfect for breakfast or brunch. You can whisk the eggs with milk, cheese, salt, pepper, chili powder, and cumin, then pour it over sautéed onion, garlic, chives, and jalapeño in a cast-iron skillet. You can bake it in the oven until set and golden.
Bake some cheddar drop biscuits and serve them with chive butter for a cheesy and buttery treat. They are easy to make with flour, baking powder, salt, butter, milk, and shredded cheddar cheese. You can drop the dough by spoonfuls onto a baking sheet and bake them until golden and fluffy. You can make the chive butter with softened butter and chopped fresh chives.
Enjoy a fresh and colorful salad with this barley and lemon chive vinaigrette recipe. It's a vegetarian and dairy-free dish that's great for spring or summer. You can cook the barley until tender and fluffy, then toss it with baby greens, radishes, peas, and mint. You can make the vinaigrette with lemon juice, olive oil, chives, salt, and pepper. You can serve the salad as a main course or as a side dish.
Warm up with this pea soup recipe that's topped with rye croutons and chive blossoms. It's a vegan and gluten-free soup that's made with frozen peas, vegetable broth, garlic, and salt. You can blend it until smooth and creamy, and garnish it with homemade rye croutons and edible chive blossoms. You can serve the soup with bread or crackers.
Mash some sweet potatoes and flavor them with garlic and chives for a simple and delicious side dish. It's a vegetarian and gluten-free dish that's easy to make1 and full of flavor. You can boil the sweet potatoes until soft, then mash them with butter, milk, garlic, chives, salt, and pepper. You can serve the mashed sweet potatoes with roasted chicken or turkey.
Sour cream and chive potato salad is a creamy and tangy salad that's perfect for summer. It's made with boiled potatoes, sour cream, mayonnaise, chives, mustard, vinegar, and seasonings. You can make it ahead of time and refrigerate it until ready to serve.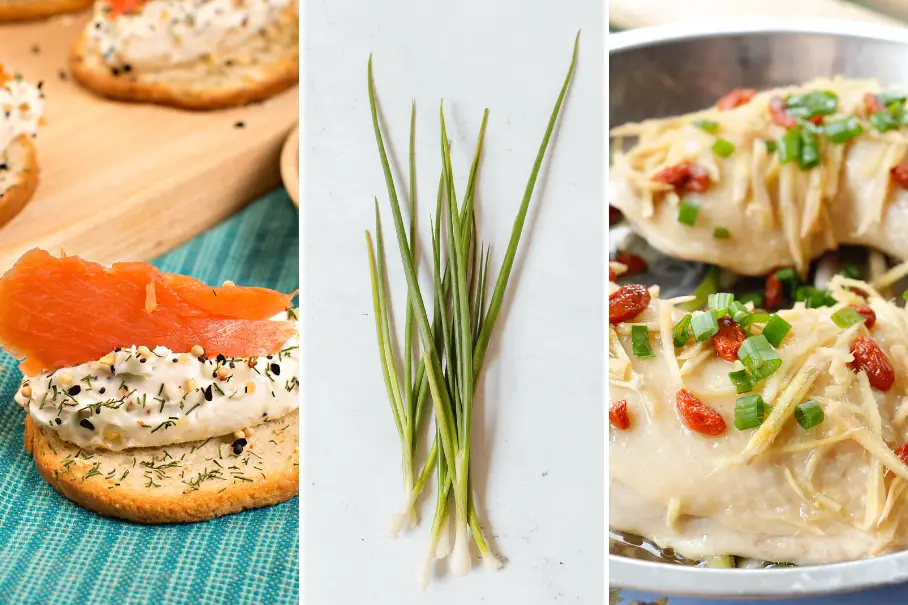 Instructions
Select your favorite chive recipe.

Gather all necessary ingredients.

Create a tasty chive dish using simple steps and enjoy!