Indulge in a world of creamy, fluffy, and delectable desserts with these mousse recipes! Quick and easy, show-stopping, or healthy options.
WHIP UP SOMETHING SWEET WITH THESE MOUSSE RECIPES
Get ready to indulge in a world of creamy, fluffy, and delectable desserts! From orange creamsicle to blackberry, peanut butter to white chocolate, these mousse recipes will have your taste buds dancing with delight. Whether you're looking for a quick and easy treat, a show-stopping dessert for a special occasion, or a healthy option, there's a mousse recipe for everyone. These heavenly desserts are perfect for impressing guests, satisfying your sweet tooth, or just treating yourself to something indulgent. So grab a spoon and get ready to dive into a world of sweet, velvety goodness!
These light and refreshing Orange Creamsicle Mousse dessert cups are a crowd-pleaser that are easy to make.
With only 4 simple ingredients, you can make Ricotta Mousse in just 10 minutes. This creamy and decadent raspberry dessert can be made ahead of time for dinner parties and isn't too rich.
This vegan, low-calorie blackberry mousse recipe is perfect for a quick and easy dessert in a jar that is both delicious and healthy.
This sweet and creamy mango mousse recipe requires only 5 ingredients, including sweetened condensed milk, and can be whipped up in a blender without gelatin.
Create a beautiful layered fruit mousse using simple, healthy ingredients. This easy-to-make, paleo, and vegan mousse recipe is a must-try.
Make a quick and easy pumpkin dessert with this pumpkin mousse recipe that takes less than 10 minutes to prepare and requires no baking.
Nutella and chocolate lovers will be satisfied with this light yet decadent dessert.
Enjoy the taste of summer with a blackberry mousse made with fresh or frozen blackberries, whipped cream, and gelatin or agar-agar.
Impress guests with stunning, triple-layered pomegranate mousse parfait cups, a no-bake dessert with cheesecake filling, mousse, and fruit jello topping.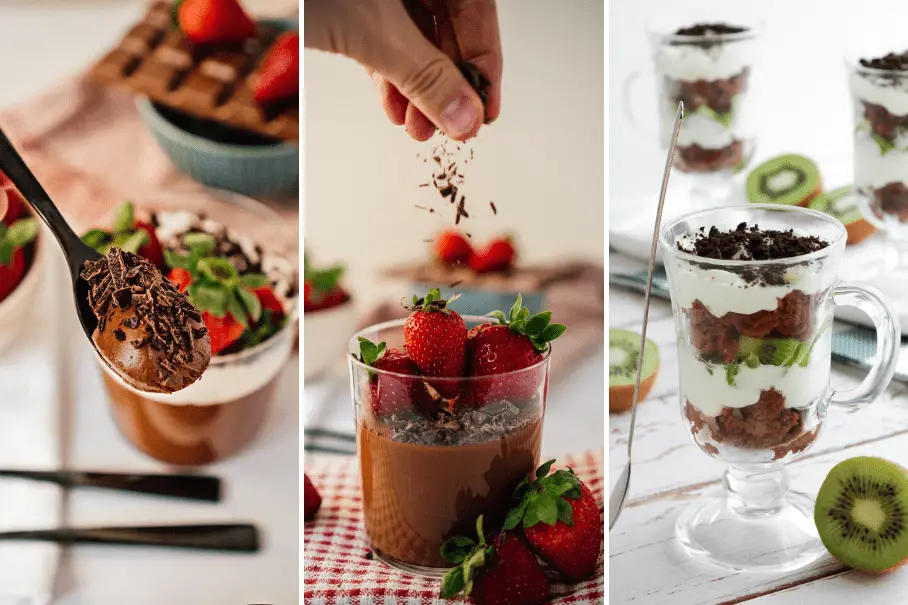 Instructions
Choose your favorite mousse recipe.

Gather all the necessary ingredients.

Prepare a delightful mousse recipe and enjoy!