Indulge in the ultimate oatmeal cookie experience with this selection of the best recipes. Soft, chewy, and loaded with flavor. Bake now!
Get ready to satisfy your sweet tooth cravings with some mouth-watering oatmeal cookies! Whether you prefer them chewy or crunchy, with nuts or fruits, we've got you covered with the best oatmeal cookie recipes out there. So, grab your apron and preheat your oven, it's time to bake some irresistible treats that will make your taste buds dance with joy!
Indulge in the ultimate classic cookie recipe – oatmeal cookies loaded with pecans and raisins that are crispy on the outside and soft and chewy on the inside.
These oatmeal chocolate chip cookies are the best of the best – perfectly soft and chewy, and will be the only oatmeal cookie you will ever need.
Experience a new level of oatmeal cookies with these soft, chewy treats that are baked with brown butter to add extra rich flavor. They require very few ingredients, and all the flavor comes from the brown butter, so no need for any extras.
Crumbl Iced Oatmeal cookies are topped with a crunchy vanilla sugar glaze once set and are larger than your average oatmeal cookie.
Enjoy the delightful texture and flavor that toffee adds to these oatmeal cookies, making them crisp on the outside, chewy in the middle, and completely irresistible.
Get into the holiday spirit with these delicious oatmeal cranberry cookies that are loaded with fresh cranberries, oats, chocolate chips, and pecans.
Looking for gluten-free peanut butter oatmeal cookies? Look no further than these delicious treats that require no special flour and can even have chocolate chips added!
These Cranberry Maple Walnut Oatmeal Cookies are easy to make, with a prep time of 15 minutes plus 10 minutes, and a total cook time of 15 minutes. The recipe involves melting and mixing ingredients, chilling, and baking. The cookies are packed with oats and dried fruits for a tasty treat.
Satisfy your sweet tooth with these soft, chewy pumpkin oatmeal cookies loaded with warm, cozy fall spices, pumpkin flavor, and chewy oatmeal – the perfect fall cookie!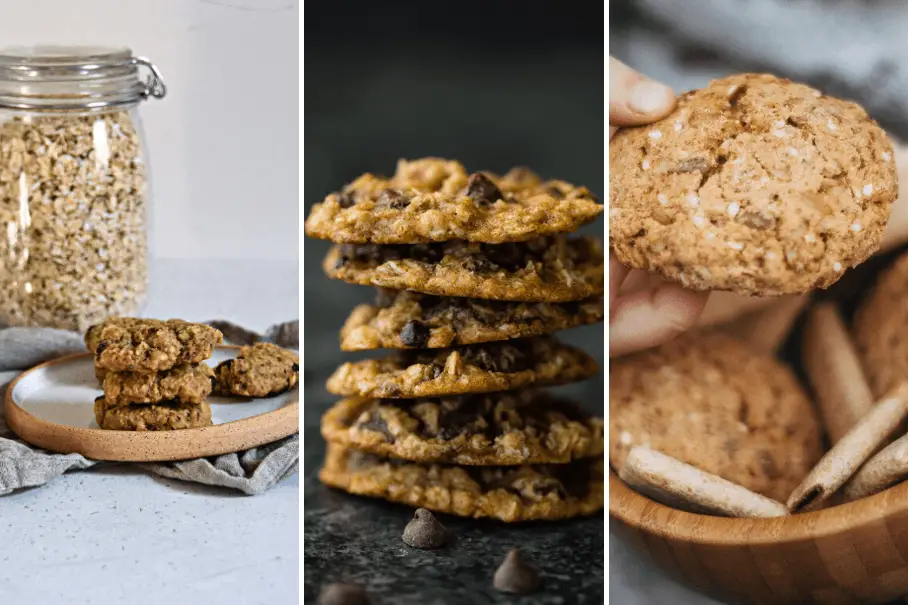 Instructions
Choose your favorite oatmeal cookie recipe.

Gather all the necessary ingredients.

Prepare a delightful oatmeal cookie recipe and enjoy!