Spice up your gatherings with 5 mouthwatering chili appetizers that cater to all taste buds.
CHILI APPETIZER RECIPES FOR GAMEDAY SNACKING
Chili appetizers are a great way to spice up any party or game night. They are easy to make, fun to eat, and full of flavor. Whether you like your chili mild or hot, meaty or vegetarian, cheesy or creamy, there is a chili appetizer for you. In this list, you will find 5 delicious chili appetizers that will satisfy your cravings and impress your guests. From cheesy bacon stuffed mini peppers to taco cups, these recipes are sure to make your mouth water. So grab your chili powder and get ready to cook these 5 amazing chili appetizers.
Looking for a quick and easy appetizer that everyone will love? Try these cheesy bacon stuffed mini peppers that are loaded with cream cheese, cheddar, and crispy bacon. They're baked until soft and bubbly, and topped with fresh parsley for a pop of color. These bite-sized treats are perfect for parties, game days, or any occasion.
Quesadillas are a versatile and delicious way to use up leftover ingredients in your fridge. All you need are some tortillas, cheese, and whatever fillings you like. You can make them on the stove, in the oven, or even in the toaster. They're crispy on the outside, gooey on the inside, and ready in minutes. Serve them with salsa, sour cream, or guacamole for a satisfying meal or snack.
Crispy oven-baked potato skins are a classic comfort food that you can easily make at home. You'll love the crunchy potato shells filled with melted cheese, bacon bits, and green onions. They're baked until golden and crisp, and topped with sour cream for extra creaminess. They're great as a side dish, an appetizer, or a snack.
Mexican street corn salad is a fresh and flavorful salad that's inspired by the popular street food. It's made with grilled corn, cotija cheese, cilantro, lime juice, and chili powder for a zesty and creamy dressing. It's perfect for summer picnics, potlucks, or as a side dish for tacos or burritos. You can also customize it with your favorite add-ins like avocado, black beans, or tomatoes.
Taco cups are a fun and easy way to enjoy tacos in a bite-sized form. They're made with wonton wrappers that are baked in a muffin tin and filled with taco meat, cheese, lettuce, and tomatoes. They're crunchy, cheesy, and delicious. You can also top them with your favorite taco toppings like salsa, sour cream, or olives. They're great for parties, kids, or as a weeknight dinner.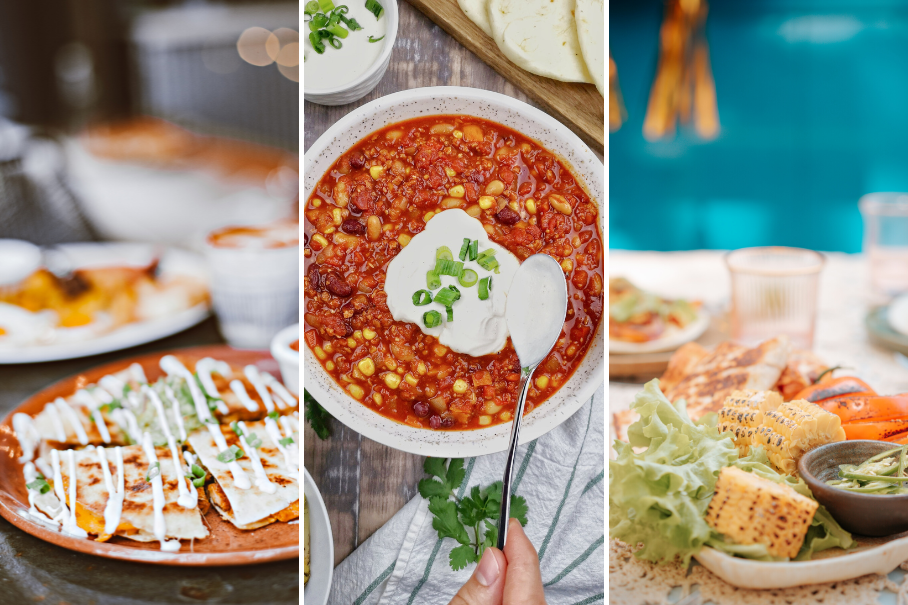 Instructions
Select your favorite chili appetizer recipe.

Gather all necessary ingredients.

Create a tasty chili appetizer using simple steps and enjoy!