Explore the world of chimichangas with these 12 chimichanga recipes, from savory to sweet, deep-fried to air-fried!
SWEET AND SAVORY CHIMICHANGAS
Chimichangas are crispy and delicious burritos that can be filled with various ingredients and sauces. They are usually deep-fried, but you can also bake them or make them in an air fryer for a healthier option. Whether you want a savory or sweet chimichanga, I have a recipe here for you. Here are 12 chimichanga recipes that will make you drool. From banana cheesecake chimichanga and chicken chimichanga, to air fryer apple pie chimichanga and pork chimichanga with salsa verde, there is something for everyone in this list. Plus, you'll find some easy and low-calorie options as well. So grab your tortillas and get ready to make some amazing chimichangas with these chimichanga recipes.
Treat yourself to a decadent dessert with these banana cheesecake chimichangas. They are filled with a creamy banana cheesecake mixture, wrapped in tortillas, and fried until golden and crispy. A dusting of cinnamon sugar and a drizzle of caramel sauce make them irresistible.
Make your own chicken chimichangas at home with this easy and delicious recipe. You can use rotisserie chicken, shredded cheese, salsa, and spices to fill the tortillas, then bake or fry them until crisp. Serve them with sour cream, guacamole, and more salsa for dipping.
Baked chimichangas are a healthier alternative to the deep-fried version, but just as tasty. They are stuffed with seasoned ground beef, refried beans, cheese, and green chilies, then brushed with butter and baked until golden and melty. A homemade enchilada sauce adds some spice and flavor.
Beef chimichangas are a hearty and satisfying dish that's perfect for a weeknight meal. They are made with tender chunks of beef that are cooked in a rich tomato sauce with onion, garlic, and chili powder. The beef mixture is spooned onto flour tortillas, then folded and fried until crisp.
Baked turkey chimichangas are a great way to use up leftover turkey from Thanksgiving or any other occasion. They are filled with shredded turkey, cream cheese, salsa, and cheese, then baked in the oven until warm and cheesy. A fresh pico de gallo adds some freshness and color.
Weight Watchers Mexican chimichangas are a light and flavorful dish that's easy to make and low in points. They are filled with lean ground turkey, black beans, corn, cheese, and taco seasoning, then wrapped in whole wheat tortillas and sprayed with cooking spray. They are baked until crisp and served with your favorite toppings.
Shrimp chimichanga cups are a fun and bite-sized appetizer or snack that you can make in a muffin tin. They are made with mini tortillas that are filled with shrimp, cream cheese, salsa verde, and cheese, then baked until bubbly and golden. They are garnished with cilantro and lime juice for some zing.
Beef and cheese chimichangas are a cheesy and meaty dish that will make your mouth water. They are made with ground beef that is cooked with onion, garlic, taco seasoning, and tomato sauce, then mixed with cream cheese and shredded cheese. The filling is wrapped in large tortillas and fried until crunchy.
Cheese steak chimichangas are a fusion of Mexican and American cuisines that's sure to please everyone. They are filled with thinly sliced steak that is cooked with onion, bell pepper, mushrooms, and provolone cheese, then wrapped in tortillas and fried until golden. They are served with a creamy cheese sauce for dipping.
Air fryer apple pie chimichangas are a quick and easy dessert that you can make in your air fryer. They are filled with apple pie filling that is spiced with cinnamon and nutmeg, then wrapped in flour tortillas and sprayed with cooking spray. They are air fried until crisp and sprinkled with powdered sugar.
Banana almond butter chimichanga is a healthy and delicious breakfast or snack that you can make in minutes. It's made with a whole wheat tortilla that is spread with almond butter and topped with sliced banana, then folded and toasted on a skillet until warm and gooey. You can drizzle it with honey or maple syrup for some sweetness.
Pork chimichangas are a traditional Mexican dish that's full of flavor and texture. They are made with shredded pork that is cooked in a slow cooker with onion, garlic, cumin, oregano, bay leaves, and chicken broth, then shredded and mixed with salsa verde. The pork mixture is wrapped in tortillas and fried until crisp and served with more salsa verde, sour cream, and cilantro.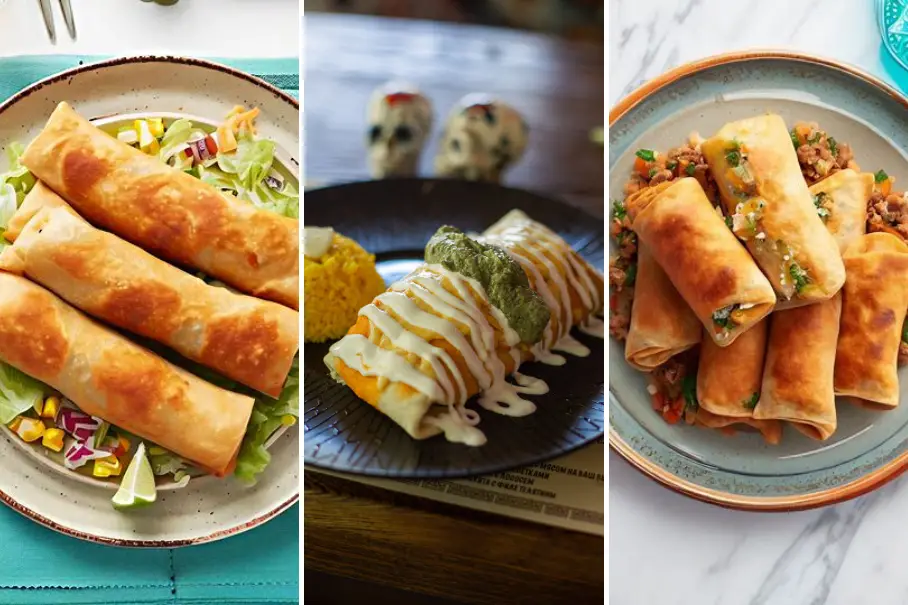 Instructions
Select your favorite chimichanga recipe.

Gather all necessary ingredients.

Create a tasty chimichanga dish using simple steps and enjoy!