This is the Best Homemade Enchilada Sauce Recipe! Seriously. You will wonder why you have been using the watered-down jarred stuff, and I challenge you to use it again after trying this.
HOMEMADE ENCHILADA SAUCE RECIPE
Have you ever been scrolling through recipes and stop at a picture of a delicious looking plate of Mexican food on a colorful platter, and think to yourself "Oh yeah! I am making that tonight!"? You look at the picture a little longer, and at first glance, you compare it to the mental inventory you have taken of your pantry and freezer. Based on that comparison, you think you are good to go. Then you direct your eyes over to the recipe and ingredients…and there it is, Add one 16 ounces can enchilada sauce. Game over. You don't have a can of enchilada sauce, and therefore, you sadly scroll on to some less fantastic recipe…that doesn't contain enchilada sauce.
Luckily for you, your craving for a flavorful, homemade Mexican dish, can be satisfied now. Now you don't have to change your evening's menu or rush out to the store to get a jar of what can best be described as ketchup mixed with water and chili powder. The best part about this recipe, other than the fast cook time, is that you most likely have the majority of the ingredients hanging around your cabinets from "Spaghetti Night"!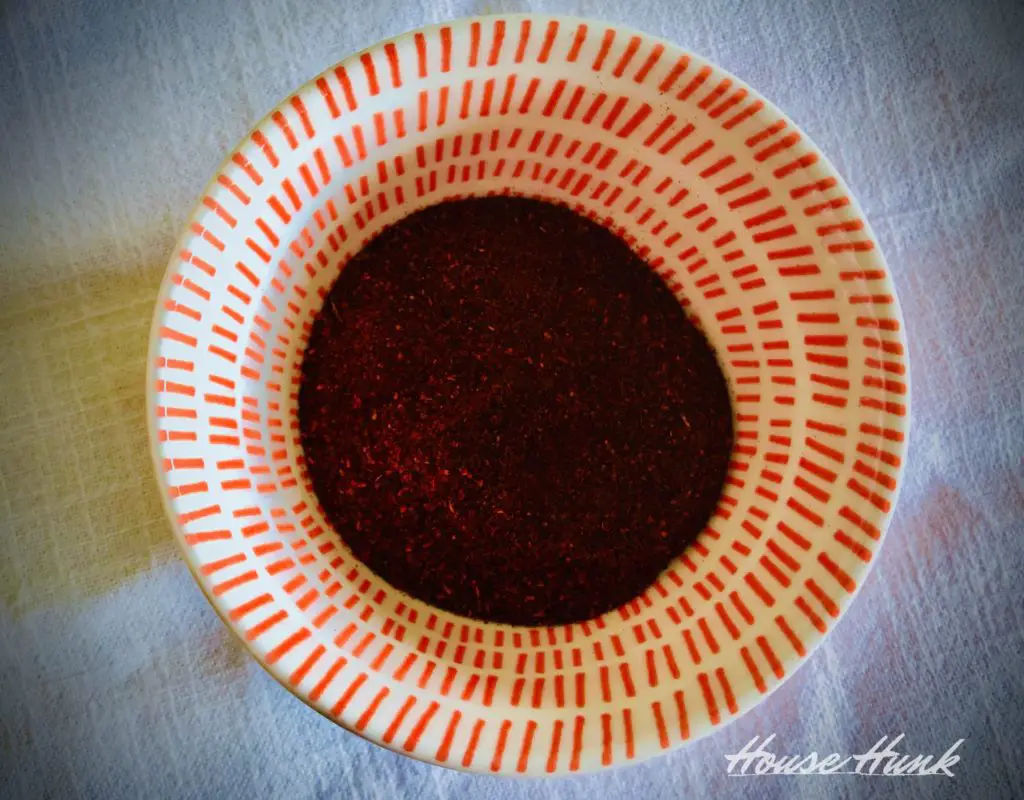 Enchiladas are a traditional Mexican dish, usually consisting of chicken or ground beef, cheese, corn tortillas, beans, and a flavorful sauce. The sauce has a robust flavor driven mainly from tomatoes, and chili powder. The sauce has a little bit of spiciness to it, but it is not overly spicy, particularly when using this recipe. If you are wondering how to make enchilada sauce less spicy, just dial back the chili powder.
WHAT DOES THIS ENCHILADA SAUCE TASTE LIKE?
Enchilada sauce has a pretty unique flavor pallet, that is usually why it is not easily substituted with another Mexican sauce, such as salsa. Tomatoes and chili powder are probably the first two flavors you will notice, followed by garlic and cumin.
HOMEMADE ENCHILADA SAUCE INGREDIENTS
Extra virgin olive oil – 1 Tbsp

Garlic – 3 tsp

Chili powder – 2 Tbsp

Ground cumin – 2.5 tsp

Dried oregano – 1 tsp

Onion powder – 1/4 tsp

Hot sauce (I like Cholula) – 1.5 tsp

Garlic powder – 1/4 tsp

Coarse salt – 1/4 tsp

Tomato sauce – 1 15 oz. can

Water – 1/3 cup
HOW TO MAKE THE BEST HOMEMADE ENCHILADA SAUCE
Making this DIY enchilada sauce doesn't have to be an all-day, labor-intensive event. In fact, The Best Homemade Enchilada Sauce can be made in about a half-hour.
1. Grab a small saucepan, and heat some olive oil over medium-low heat.
2. Saute your garlic for about a minute, until fragrant. Be careful to not burn the garlic.
3. Add all of the spices to the saucepan and saute for about 30 more seconds. At this point, the spices will have absorbed most of the liquid from the garlic and olive oil, so again, use caution not to burn the ingredients.
4. Add water and tomato sauce and stir until well combined.
5. Reduce heat, and simmer for 25 minutes.
6. The sauce is now ready to store, or use right away for another recipe.
IS ENCHILADA SAUCE HEALTHY?
Though enchilada sauce packs a lot of flavors, it is very simple in its ingredients. Therefore, on its own, the sauce is pretty healthy. Having said that, if you are following a strict diet, then exercise some restraint when it comes to what you are using the sauce for. If you are making enchiladas, then be aware that sour cream, tortillas, refried beans, and cheeses can quickly derail the best of intentions when it comes to maintaining a healthy lifestyle.
CAN YOU MAKE HOMEMADE ENCHILADA SAUCE AHEAD OF TIME?
Not only can you make this sauce ahead of time for future use, but I would also encourage it! This sauce can be stored in your refrigerator for a couple of weeks. I have made a double batch, half for now, and a half for later.
CAN YOU FREEZE ENCHILADA SAUCE?
Yes, you can freeze this enchilada sauce, and save it for recipes in the future. When you are ready to use it, just thaw it out, and make sure you give it a good shake to ensure that the sauce is completely blended. Also, if you are going to freeze enchilada sauce, make sure you store it in an air-tight container to avoid freezer burn, or ruining the taste of the sauce.
WHAT KITCHEN TOOLS DO I NEED TO MAKE ENCHILADA SAUCE?
WHAT TO SERVE WITH THIS ENCHILADA SAUCE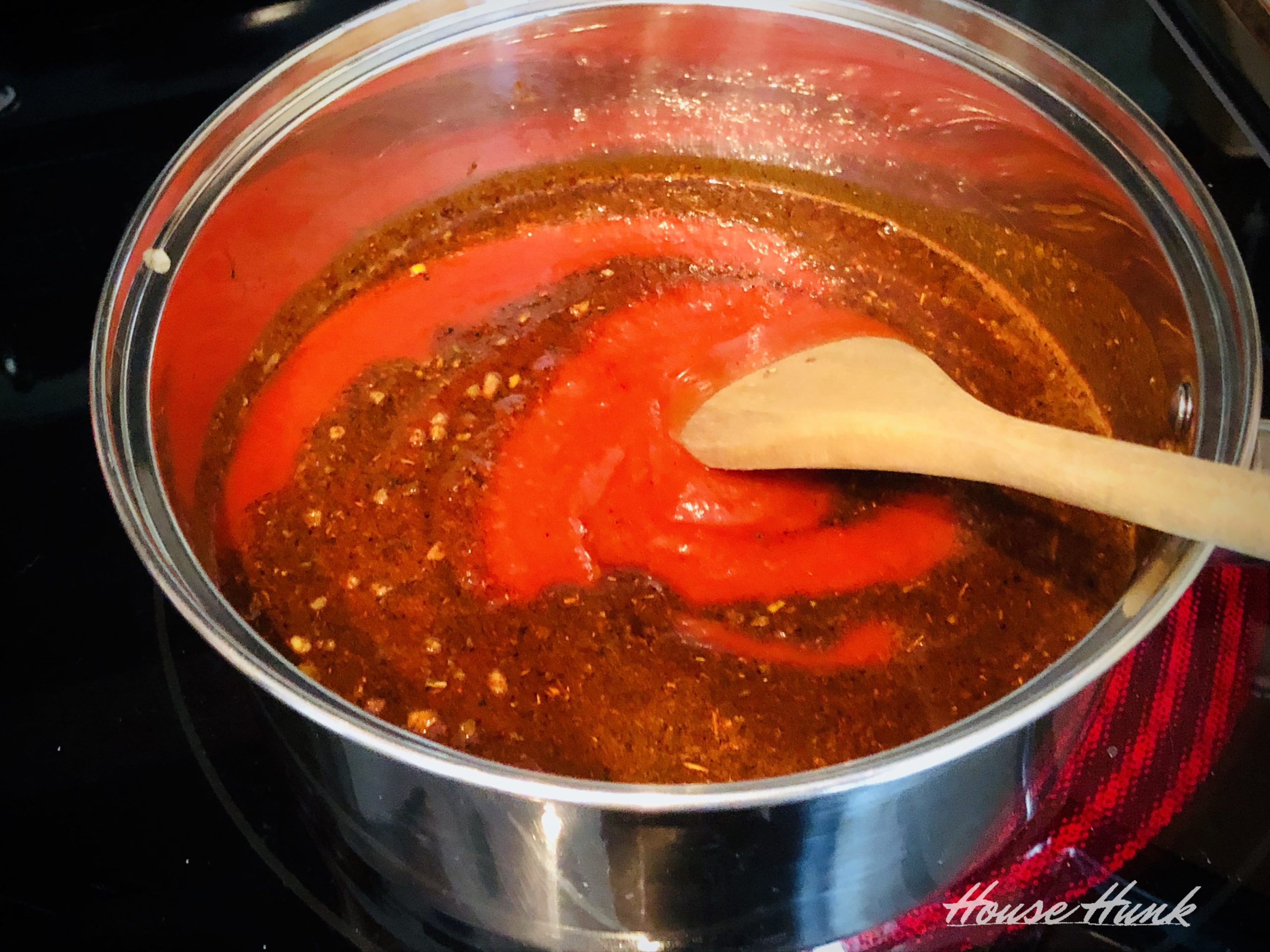 Instructions
In a small saucepan, over medium-low heat, saute garlic in olive oil, until fragrant (about 1 minute). Use caution to not burn the garlic.

Add all the spices and stir again for about 30 seconds, also using caution not to burn ingredients.

Add water and tomato sauce, still until well combined.

Lower heat, and allow sauce to simmer for 25 minutes.
Notes
This recipe yields enough for a 4-quart baking dish of enchiladas. Approximately 16 ounces of sauce.