Grinding chicken at home is not only cost-effective but very easy. From start to finish you can have freshly ground chicken in under an hour.
WHY DO I GRIND CHICKEN BREASTS AT HOME?
Grinding your chicken at home is one of the easiest kitchen activities, as well as an excellent way to save a couple of dollars. Depending on where you shop, and whether or not you are following an organic diet, ground chicken can kind of sting a wallet. Especially since boneless, skinless chicken breasts are pretty darn affordable. As long as you have a food processor, a freezer, and a baking sheet, you are fully equipped to start grinding your chicken at home.
Not only is grinding your chicken at home smart for the wallet, but you can also make it in batches as big, or little as you would like. With two growing boys in the house, I find myself grinding about 5lbs worth of chicken at a time. That way if we are having chili, or taco night, or even chicken "burgers", we always have a supply on hand.
GROUND CHICKEN INGREDIENTS
Boneless skinless chicken breasts. As many pounds as you would like.
HOW TO GRIND YOUR OWN CHICKEN
When I realized how to mince chicken breast, I was kind of kicking myself wishing I had done this sooner.
1. Line a metal baking sheet with wax paper, or nonstick aluminum foil.
2. Using a sharp knife, cut raw & completely thawed boneless, skinless chicken breasts into slices no thicker than 1.5 inches.
3. Arrange sliced chicken pieces on baking sheet in a single layer. The chicken must be in a single layer so it can freeze uniformly. And since we are not freezing the chickend completely, this is important.
4. Freeze for 20-25 minutes (depending on how cold your freezer is), or until the chicken is firm to the touch, but not solid.
5. Working in small batches, using a food processor, pulse chicken parts until they are evenly ground, but not completely ground into a paste.
IS GROUND CHICKEN HEALTHY?
Depending on how you cook it, ground chicken is very healthy. It is good source of lean protein. Just another reason why it's good to know how to mince chicken at home.
CAN YOU GRIND CHICKEN AHEAD OF TIME?
Yes, you can grind chicken ahead of time. It can be stored in airtight container in the refridgerator for a few days, depending on whether you used chicken that you had thawed, or purchased raw & unfrozen chicken breasts.
CAN YOU FREEZE GROUND CHICKEN?
Yes, you can freeze ground chicken. Your water content may be a bit off after thawing, but not so much where you would need to do anything different while cooking it. After you grind chicken in food processor, make sure you seal it in an air-tight container to prevent freezer burn.
HOW TO SERVE GROUND CHICKEN BREASTS?
Now that you know how to make ground chicken from chicken breast, it's time to enjoy its versatility. I have found that if I am substituting it for ground beef, or ground turkey it does require a bit more seasoning since it is not as flavorful as other meats. Here are a few ideas for what to make with ground chicken:
Chili

As a substitute to regular hamburger patties

Burritos and burrito bowls

Chicken meatballs
WHAT KITCHEN TOOLS DO I NEED TO MAKE HOMEMADE GROUND CHICKEN?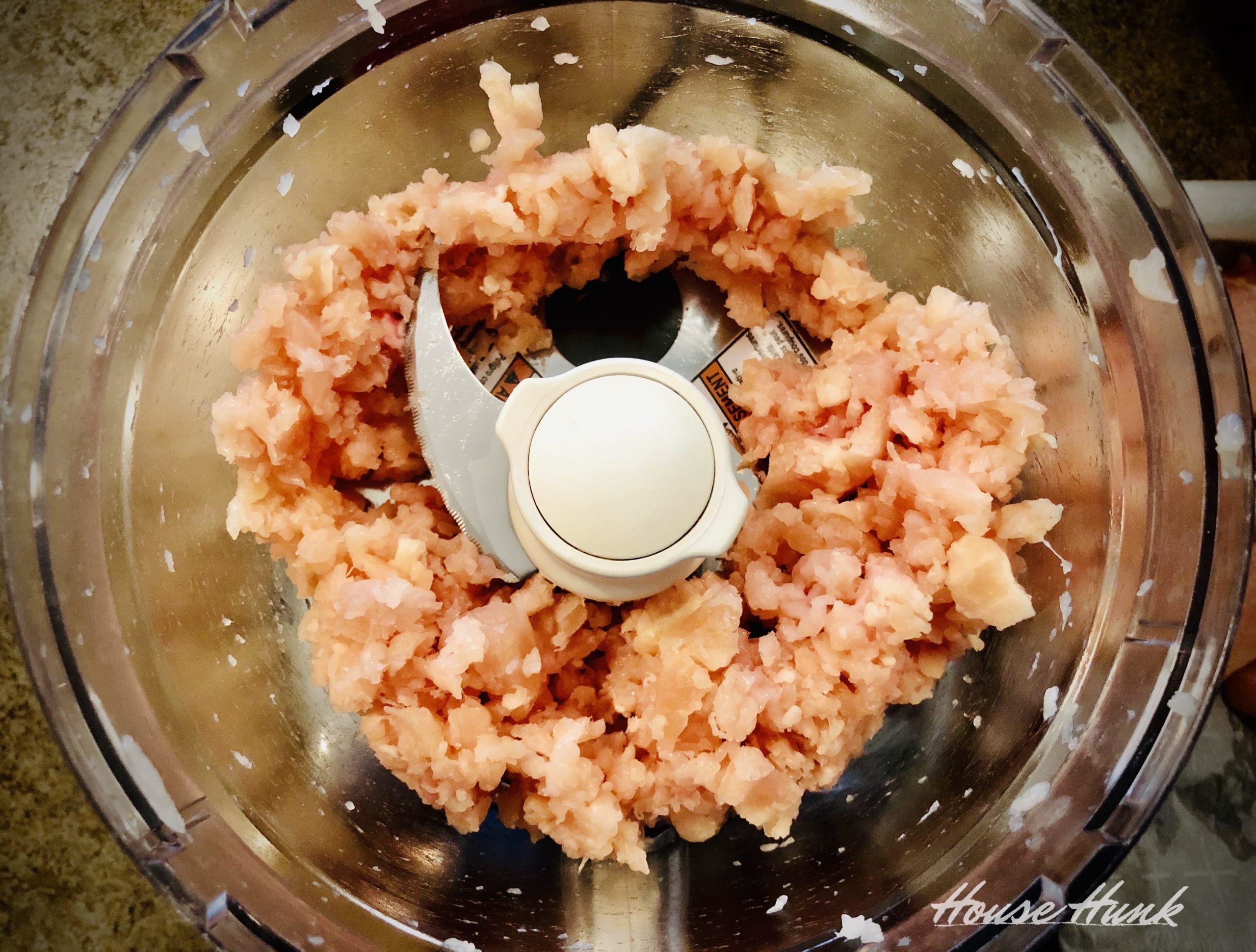 Ingredients
boneless skinless chicken breasts
Instructions
Line a metal baking sheet with wax paper

Using a sharp knife, slice chicken breasts in pieces no thicker than 1.5 inches

Arrange chicken pieces in a single layer on baking sheet and place into freezer

Freeze for 20-25 minutes, until chicken is firm to the touch, however not frozen solid

Working in small batches, pulse frozen chicken in food processor until ground up, but still has a bit of texture. Use caution not to over-blend the chicken.