This easy chimichurri recipe is probably one of the best sauces for your grilled meats, and you are potentially missing out on a glorious experience if you haven't tried it yet.
My love for chimichurri can be traced back almost two decades ago on a trip I took with my parents to Argentina. One night, after a day of horseback riding on a gaucho (South American cowboys) ranch just outside of Buenos Aires, we sat down to one of the most amazing dinners. In a building on the ranch, filled with picnic tables that seemed to stretch for miles, gauchos would bring us massive trays of grilled steak and chicken. I was about to learn that this perfectly grilled selection of meats deserved a perfectly blended sauce. Something tangy, yet savory. Fresh, yet a surprising depth of flavors. It was at this moment, that I was introduced to chimichurri. Known by it's simpler nickname "Argentine Pesto", chimichurri is an absolute game-changer when it comes to sauces. Though the cilantro packs a powerful punch, it complements the meats, it doesn't block it out like, say, a bottle of commercially made barbecue sauce.
If you are ready to take your grilling to the next level, and step away from the puddle of ketchup for a moment, it's time to make some chimichurri.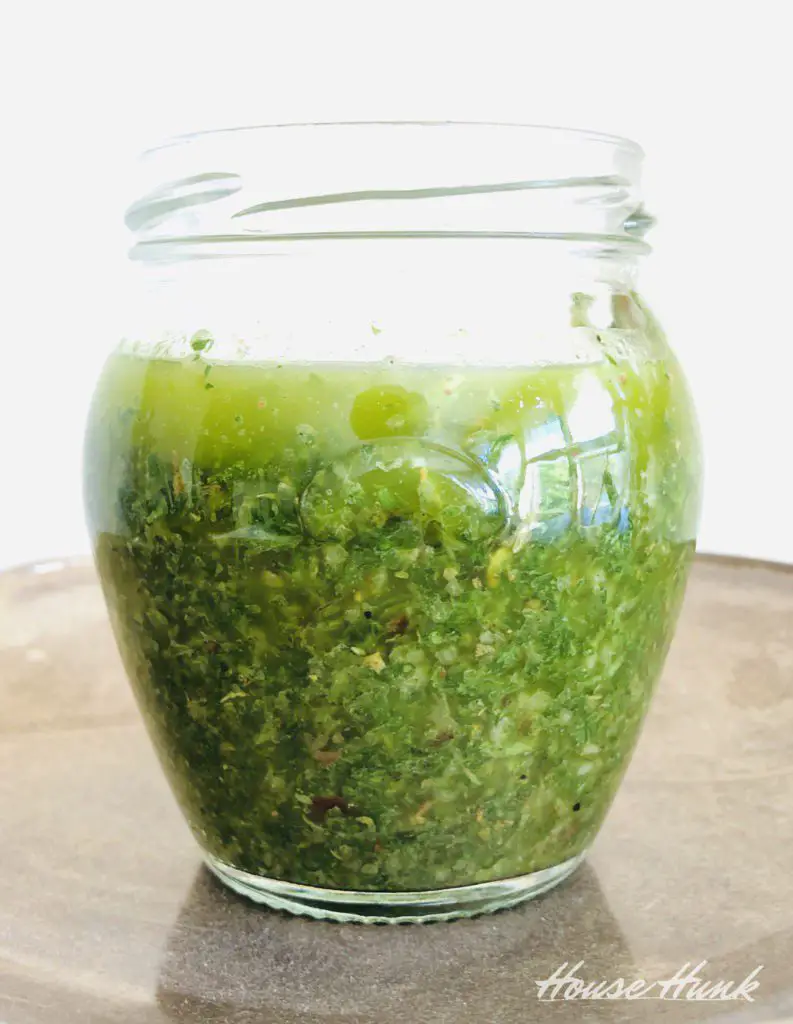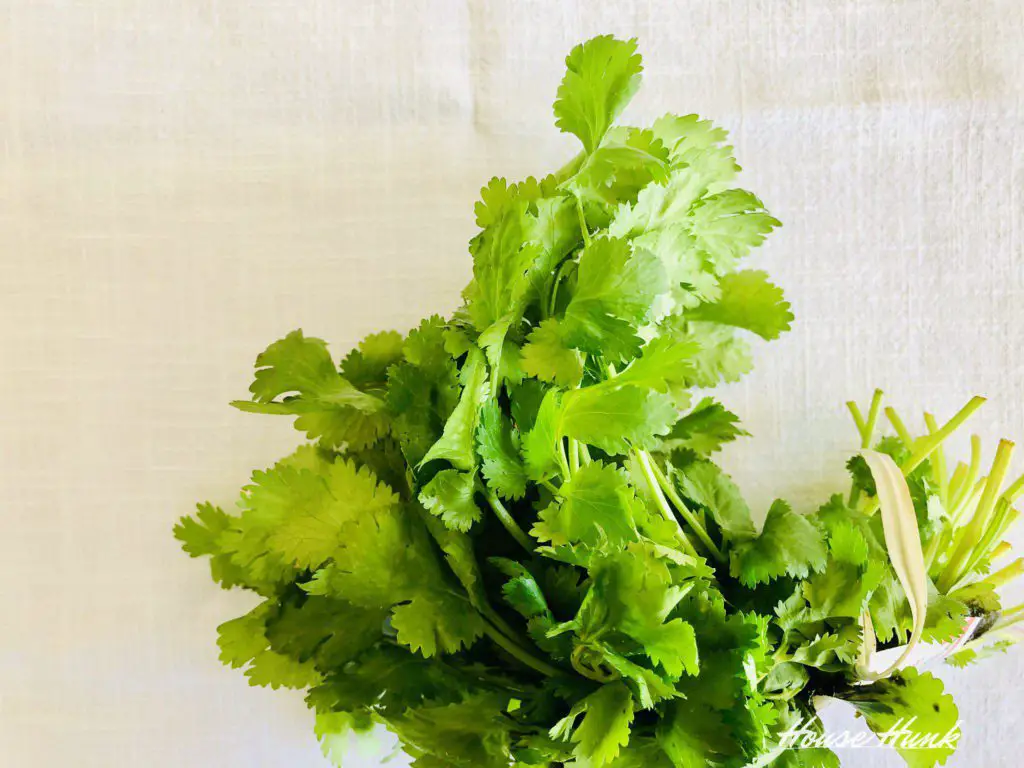 Chimichurri, also known as Argentine pesto, is a cilantro and oil-based sauce. If you were to swap out the basil from pesto, and a few other ingredients, you would arrive at chimichurri. Chimichurri has some pretty bold flavors: cilantro, crushed red pepper flakes, olive oil, garlic. However, all these flavors blended together strikes a perfect harmony. Not one flavor overpowers another, and, the completed sauce does not act as a masking agent for whatever meats you are serving it with.
WHAT DOES THIS EASY CHIMICHURRI RECIPE TASTE LIKE?
The first flavors you will notice with chimichurri are the fresh cilantro and fresh parsley. These herbs ride on a wave of olive oil, and grapeseed or avocado oil (my personal preference). There is a slight bit of heat brought to you by the red pepper flakes. And finally, the garlic pulls it all together.
Fresh parsley – 1 cup (stems removed)

Fresh cilantro – 1 cup (stems removed)

6 cloves garlic – minced

Dried oregano – 2 teaspoons

Coarse Salt – 1/2 teaspoon

Ground black pepper – 1/2 teaspoon

Crushed red pepper flakes – 1/2 teaspoon

Red wine vinegar – 8 teaspoons

Avocado oil (or grapeseed oil) – 1/2 cup

Extra virgin olive oil – 1/4 cup
HOW TO MAKE THIS EASY CHIMICHURRI RECIPE
One of my favorite aspects of chimichurri is how easy it is to make given the range of flavors it produces.
1. Remove all the stems from the fresh cilantro and parsley (hint, if a few stems get missed, it's not a huge deal since they are going in the food processor anyway).
2. Along with the cilantro and parsley, add the garlic, oregano, salt, pepper, red pepper flakes, and vinegar to the food processor.
3. At this point, you can either pulse the ingredients a few times to get them good and blended up, or if you are in a bit of a hurry, you can just turn on the food processor, and slowly add the avocado oil through the top while everything is blending up.
4. Once all the ingredients are completely blended (takes about 30 seconds to a minute), stir in the olive oil.
5. Serve on top of sliced, grilled meats, or on the side as a dipping sauce.
IS CHIMICHURRI CONSIDERED HEALTHY?
As far as sauces go, chimichurri is very healthy. There are many positive cardiovascular benefits associated with avocado oil, cilantro leaves, and olive oil. Red pepper flakes have been determined to possess a thermogenic quality. And garlic has been credited with lowering blood pressure.
CAN YOU MAKE CHIMICHURRI AHEAD OF TIME?
Definitely! You can blend up the ingredients and store in an airtight container in your refrigerator. I like to make some extra and keep it in the fridge to use with leftover chicken.
CAN YOU FREEZE CHIMICHURRI?
Yes, you can freeze chimichurri. Since the sauce is oil-based, once you remove it from the freezer and give it a chance to thaw, all you need to do is stir it up with a fork or spoon, and it is ready to serve. Though fresh chimichurri should be stored in cold temperatures, it is best served at room temperature.
WHAT TO SERVE WITH CHIMICHURRI?
Chimichurri is delicious when served with grilled beef, however, if you are not in the mood for carne, then I suggest:
Grilled chicken

As a replacement for your usual salad dressing. However, I would not use it in a salad that contained a lot of fruits, it probably would not pair well with sweet flavors.

Smoked salmon
WHAT KITCHEN TOOLS DO I NEED TO MAKE CHIMICHURRI?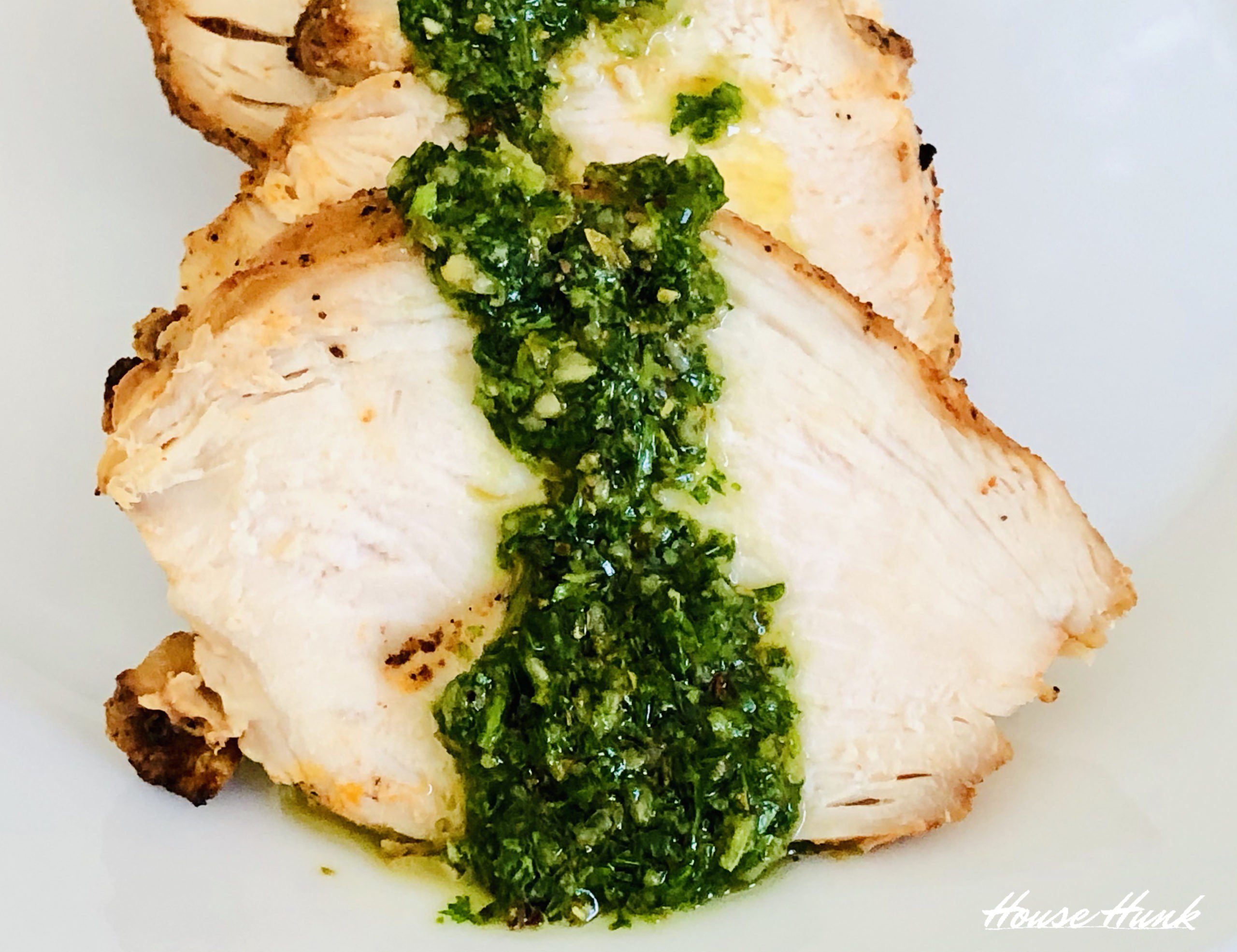 Servings:
30
2 Tbsp Servings
Instructions
Place the parsley, cilantro, garlic, oregano, salt, black pepper, crushed red pepper flakes, and red wine vinegar into the bowl of a food processor.

With food processor running, slowly pour avocado oil into the mixture and blend until smooth.

After blended, stir in olive oil.

Serve, or store in airtight container in refrigerator.
Nutrition