Discover 25 delectable chocolate chip desserts, a sweet journey for your taste buds.
LOAD UP ON THESE CHOCOLATE CHIP DESSERT RECIPES
Chocolate chip desserts are a classic and crowd-pleasing choice for any occasion. Whether you're looking for a simple and satisfying treat or a decadent and indulgent dessert, you'll find plenty of recipes to satisfy your sweet tooth in this list. From brownie tarts to cheesecake bars, from cookie pies to ricotta cakes, from skillet cookies to whoopie pies, and more, these chocolate chip desserts are easy to make and delicious to eat. You'll love the combination of gooey, melty, and crunchy textures and flavors that make chocolate chip desserts so irresistible. So grab your chocolate chips and get ready to bake these amazing dishes. These are the best chocolate chip desserts you need to try.
Indulge in these decadent chocolate chip brownie tarts that are easy to make and gluten-free. You'll love the rich brownie filling and the crispy almond crust. Top them with whipped cream and fresh berries for a stunning dessert.
Surprise your family with this simple and delicious chocolate chip cherry dessert. All you need are four ingredients and 15 minutes to whip up this creamy treat. It's perfect for summer picnics, potlucks, or any occasion.
If you're a fan of peanut butter and chocolate, you'll adore these peanut butter chocolate chip bars. They're soft, chewy, and loaded with chocolate chips. Plus, they're vegan and gluten-free, so everyone can enjoy them.
Nothing beats a warm and gooey oatmeal chocolate chip cookie bar. These bars are made with wholesome ingredients like oats, brown sugar, and butter. They're easy to slice and serve, or pack for a snack.
These chocolate chip blondies are the ultimate dessert for chocolate lovers. They're thick, fudgy, and packed with chocolate chips. They're also super easy to make with one bowl and no mixer required.
For a decadent dessert that's sure to impress, try these chocolate chip cookie cheesecake bars. They have a layer of chocolate chip cookie dough, a layer of creamy cheesecake, and another layer of cookie dough on top. They're rich, delicious, and irresistible.
These chocolate chip cookie cheesecake parfaits are a fun and festive way to enjoy two classic desserts in one. You'll love the layers of crunchy cookie crumbs, smooth cheesecake filling, and whipped cream. They're perfect for parties, holidays, or any day.
Craving a chocolate chip cookie but don't want to bake a whole batch? Try this 1-minute chocolate chip cookie in a mug. It's quick, easy, and satisfying. All you need are a few ingredients and a microwave. Enjoy it with a scoop of ice cream or some milk.
These chocolate chip butterscotch bars are a delicious twist on the traditional chocolate chip cookie bars. They have a buttery brown sugar base and a generous amount of butterscotch chips and chocolate chips. They're soft, chewy, and irresistible.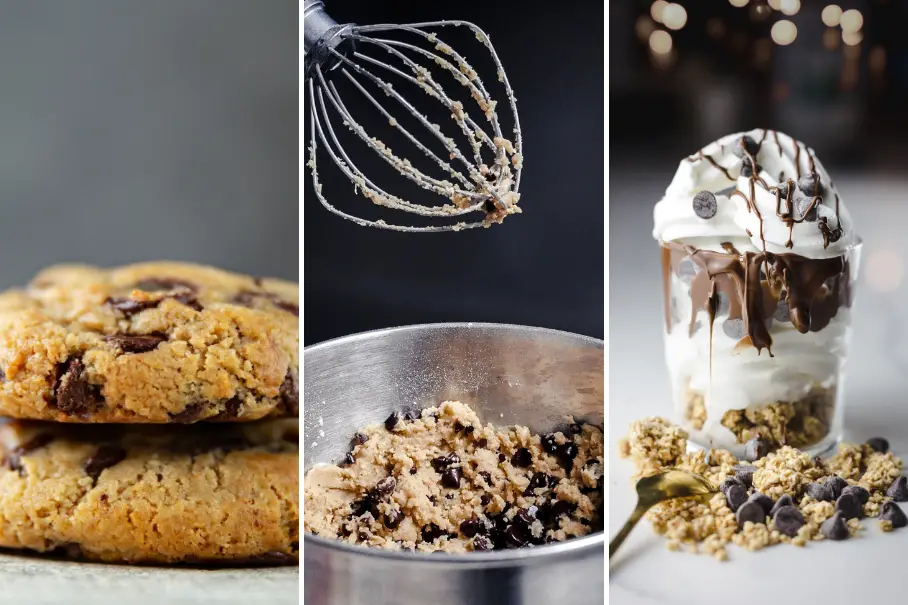 Instructions
Select your favorite chocolate chip dessert recipe.

Gather all necessary ingredients.

Create a tasty chocolate chip dessert using simple steps and enjoy!