Bake up a storm with these 21 irresistible muffin recipes! From classic flavors to unique twists, there's something here for everyone to enjoy.
MUFFIN RECIPES FOR MORNING MUNCHING
As a lover of all things baked, I'm always on the hunt for new and exciting recipes to try in the kitchen. And let me tell you, this collection of 21 muffin recipes is one of the most delicious and diverse I've come across! Whether you're looking for a quick and easy breakfast, a satisfying snack, or a sweet dessert, these muffins have got you covered. So get ready to heat up the oven and indulge in some seriously mouthwatering treats!
These Brown Sugar Muffins are a classic recipe that have been adored for generations. They're made with simple pantry staples and have a warm, cozy flavor that's perfect for breakfast or a snack.
Looking for a healthier muffin option? These Avocado Chocolate Chip Muffins are a great choice! Made with whole wheat flour and packed with healthy fats from avocado, they're both satisfying and nutritious.
Breakfast just got a whole lot easier with these Protein-Packed Egg Muffins! With three delicious variations – Spinach Tomato & Mozzarella, Bacon & Cheddar, and Garlic Mushroom & Peppers – these muffins are a low-carb, filling option that can be made ahead of time for a quick grab-and-go breakfast.
These Cinnamon Sugar Mini Donut Muffins are the perfect treat for when you're craving something sweet! They're fluffy and soft like muffins, but have the flavor of your favorite cinnamon donuts.
If you love coffee cake, you'll love these Cinnamon Coffee Cake Muffins! They're the perfect mini version of the classic breakfast treat, complete with a delicious crumb topping.
Looking for a way to sneak some veggies into your breakfast or snack? These Zucchini Chocolate Chip Muffins are the perfect solution! They're wholesome and delicious, and the chocolate chips add just the right amount of sweetness.
These Easy Cheddar Cheese Muffins are the ultimate comfort food! They're moist, tender, and loaded with cheesy flavor – perfect for serving alongside your favorite soup or stew.
Peanut butter and banana are a classic flavor combo, and these Healthy Peanut Butter Banana Muffins are the perfect way to enjoy them! They're naturally sweetened and gluten-free, making them a great option for breakfast or a snack.
If you love coconut, you'll adore these Coconut Chocolate Chip Muffins! They're packed with four different types of coconut, giving them the perfect amount of sweet, tropical flavor.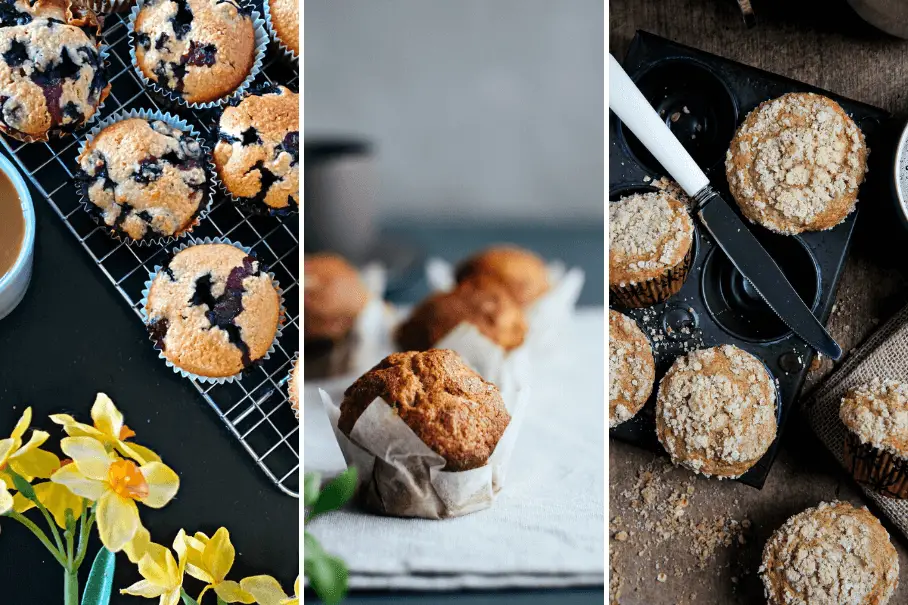 Instructions
Choose your favorite muffin recipe.

Gather all the necessary ingredients.

Prepare a delightful muffin recipe and enjoy!