Indulge in the goodness of matcha with these 20 easy-to-make matcha drink recipes. From smoothies to sodas, there's something for everyone!
Looking for delicious and easy-to-make matcha drink recipes? Check out these 20 mouth-watering options! From lattes to lemonades, there's something for everyone to enjoy. Try them out today!
Want a matcha drink that'll satisfy your afternoon cravings in less than 10 minutes? Look no further than this matcha affogato! Creamy, dreamy, and just the right amount of sweetness, this pick-me-up is what your taste buds have been missing.
If you're a fan of milkshakes and matcha, you're in for a treat! This rich and delicious matcha milkshake is so easy to whip up, you'll be sipping it in just 5 minutes. With the perfect blend of ingredients, it's a great way to indulge without the guilt.
Looking for a refreshing and energizing smoothie that won't take all morning to make? This vegan Creamy Banana Matcha Smoothie is the answer! Made with just 4 healthy ingredients and gluten-free to boot, it's a guilt-free way to start your day on the right foot.
Quench your thirst with a matcha green tea and non-alcoholic ginger beer beverage! This refreshing drink is easy to make and the perfect way to cool down on a hot day. Get the recipe and impress your friends with your mixology skills.
Need a healthy and delicious breakfast smoothie to kickstart your day? Try this blueberry matcha smoothie! Naturally sweetened, vegan-friendly, and loaded with antioxidants, it's the perfect way to fuel up before a busy day.
Get ready for a drink that's as fun to look at as it is to drink! This layered matcha lemonade changes color from blue to purple thanks to butterfly pea flower tea. Not only is it Instagram-worthy, it's also delicious. Get the recipe and tips on how to make this playful drink.
Looking for a creamy and refreshing iced latte that's infused with fresh mint? Look no further than this 5-minute matcha latte! With just 5 simple ingredients and a blender, you'll have a cafe-worthy drink in no time.
If you're looking for a drink that's packed with antioxidants and will give you sustained energy for hours, try this Iced Coconut Water Matcha Latte! With just 2 ingredients and 5 minutes of your time, you'll have a delicious and healthy drink to power you through the day.
Want to make a healthy breakfast smoothie that's bursting with flavor? Try this Mango Matcha Green Tea Smoothie! Made with banana, frozen broccoli, mango, and plant-based milk, it's loaded with antioxidants and nutrients to start your day off right.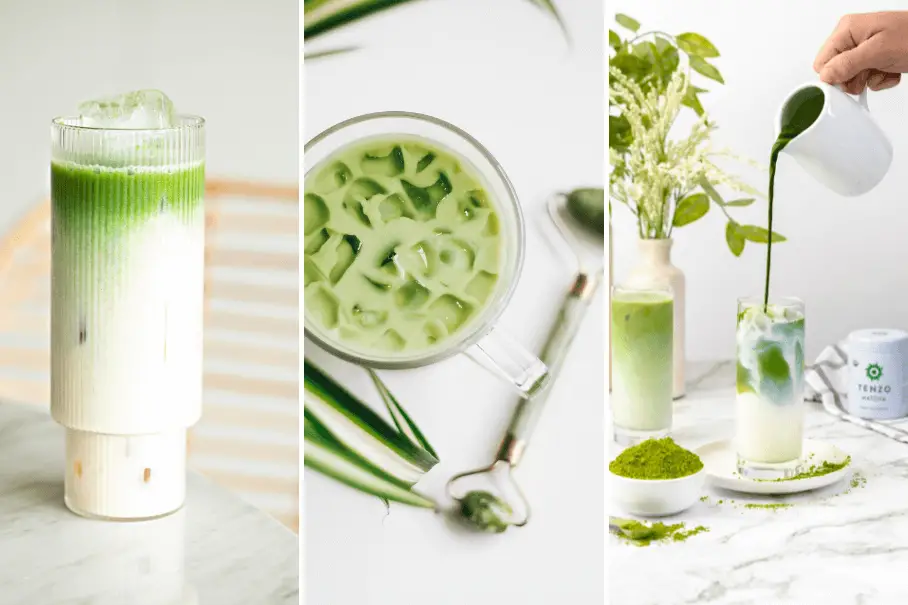 Instructions
Choose your favorite matcha drink recipe.

Gather all the necessary ingredients.

Prepare a delightful matcha drink recipe and enjoy!