These easy chicken dinner recipes are perfect for busy weeknight meals, or for when you just don't feel like getting too busy in the kitchen!
EASY CHICKEN DINNER RECIPES
Chicken is one of those dinner foods that can get boring quickly. What started as a favorite recipe, can become something you dread making. I get it. Chicken on its own is pretty basic. It doesn't seem to have a whole lot going for it, that's why it's up to the home chef to take that blank canvas bird and turn it to something better. Usually you get a couple easy chicken recipes in your rotation and cook them on repeat until you can't stand them any more. Maybe it's time to change things up and add a few more recipes to your repertoire and stop blaming things on the defenseless chicken. These easy chicken dinner recipes are perfect for when you have lots of chicken in the freezer, and are totally out of ideas.
Creamy Coconut Lime Chicken: In just 30 minutes, you can have pan-seared creamy coconut lime chicken that has been covered in a creamy coconut milk sauce and baked to perfection!
Despite being really simple to make, this 30-minute creamy garlic-parmesan chicken is a family favorite because it feels so special. When pressed for time, give this recipe a go. When it comes to easy chicken dinner recipes, this one is a classic.
Thanks to a sticky, sweet, flavorful Bourbon sauce, this simple recipe for Bourbon Chicken is simply irresistible.
Orange Chicken made with only 3 ingredients in under 20 minutes! Dinner is made quickly and deliciously with crispy chicken and an easy orange marmalade barbecue sauce. Enjoy this recipe for 3 Ingredient Orange Chicken.
Jalapeno peppers, chicken, cheese, and bacon are the main ingredients in this Jalapeno Popper Chicken Pasta Bake. This Jalapeno Popper Casserole Recipe may be your next family favorite.
Corn, cheddar cheese, crispy chicken strips, and brown gravy are sprinkled on top of this delectable mashed potato casserole. It's simple to prepare in advance and bake later for a quick family meal!
In just 30 minutes, you can have delicious chicken covered in a scrumptious sour cream sauce thanks to this Chicken Stroganoff recipe.
Tender pan-fried chicken is encased in an delicious sweet and salty mustard sauce in this recipe for Honey Mustard Chicken. About 30 minutes later, it's ready!
Enjoy juicy chicken thighs baked in a buttery, creamy ranch sauce. A n easy dish that even novice cooks can follow!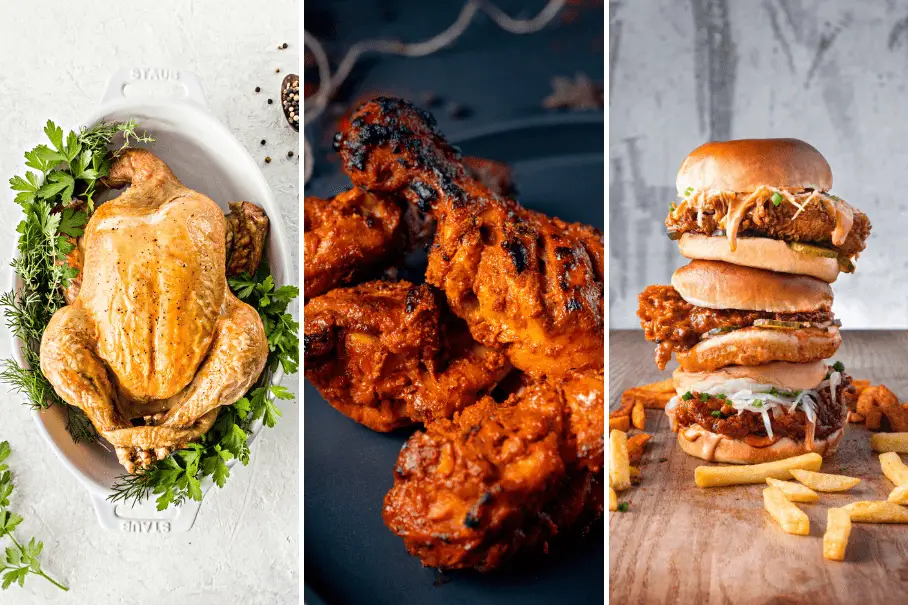 Instructions
Choose your favorite easy chicken dinner recipe.

Gather all the necessary ingredients.

Prepare a delightful easy chicken dinner recipe and enjoy!