Add a tart kick to your dishes with some juicy pomegranate seeds! These pomegranate recipes are easy, yet slightly sophisticated.
EASY POMEGRANATE RECIPES WORTH BRAGGING ABOUT
In my opinion, pomegranates are one of those underrated ingredients. Like Herbes de Provence or key lime zest, pomegranates are a simple ingredient that adds a bit of flare to the dish. The cool thing about pomegranate seeds is that you can use them for savory and sweet dishes. Since they add a tart, tangy kick to whatever you are preparing, they can be used in so many ways. Salmon, oats, chocolate tarts, salads, the list goes on and on. Here are some amazing recipes using pomegranate seeds that prove that adding some flare can be as easy as sprinkling a few seeds on a plate.
Smooth, sweet, sour, and tart honey-pomegranate sauce smothers tender, golden-brown chicken thighs. This dish is ideal for entertaining guests or quick weekday meals because it only calls for a few simple ingredients and steps.
These Pomegranate Goat Cheese Bites with Honey and Thyme are a quick and impressive party appetizer! These Holiday party appetizers will go fast thanks to their exquisite blend of tangy goat cheese, tart pomegranate seeds, and sweet honey.
A fun, festive, and wholesome dinner recipe is this Pomegranate Chicken recipe. It is naturally gluten-free, paleo, and properly spiced with the right amount of sweetness.
Learn how to prepare Fesenjan, a walnut- and pomegranate-based Persian stew with chicken, chickpeas, or both! This delicious stew, which is earthy, thick, and tangy, is brimming with Middle Eastern flavor!
Find out how to prepare the greatest recipe for Pomegranate Couscous Salad! As a side dish or light meal, serve this Jeweled Couscous Salad with Mint and Pistachios.
One of the finest fruit salads you've ever made will be this ambrosia salad! It is deliciously refreshing, light, sweet, tangy, easy to prepare ahead of time, and a perennial favorite!
The rich and indulgent Salted Dark Chocolate Pomegranate Tart, created with Oreos and ganache, is ideal for a holiday gathering.
Pomegranate juice is simple to make at home. A glass of fresh, high-antioxidant pomegranate juice is a wonderful way to start the day.
Dressing up winter salads with this Homemade Pomegranate Vinaigrette is both nutritious and tasty! Making pomegranate dressing takes less than five minutes.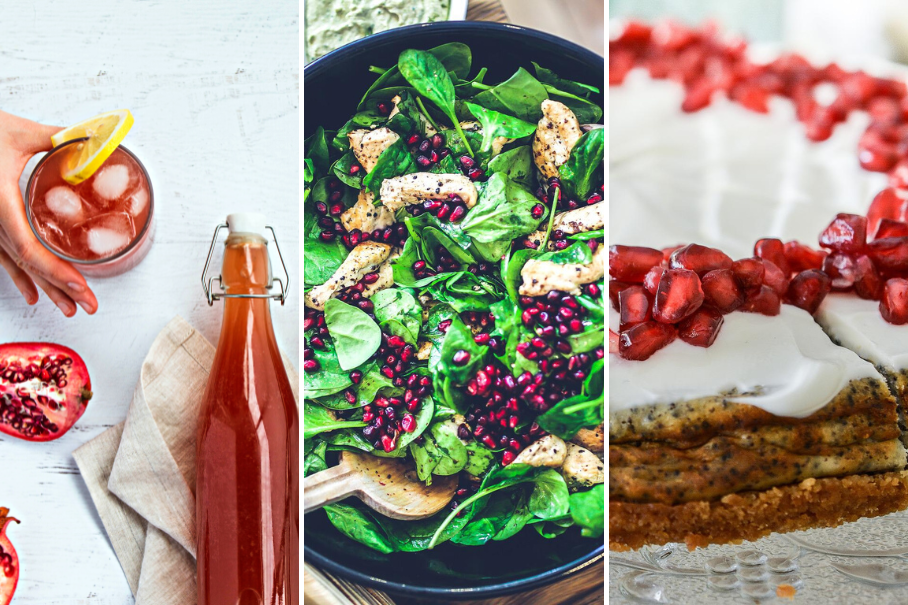 Instructions
Choose your favorite pomegranate recipe.

Gather all the necessary ingredients.

Prepare a delightful pomegranate recipe and enjoy!