Warm up your winter, and cool down your summer with these recipes mouthwatering whiskey cocktails. Here's a toast to you!
When you aren't enjoying a great whiskey on the rocks or neat, hopefully, you are preparing some rather robust cocktails with this fermented grain mash spirit. One of the primary ingredients in traditional cocktails is whiskey. From the classic Manhattan to the Mint Julep, whiskey is enjoyed in many forms and flavors. Give one of these whiskey cocktails a shot when you are ready to unwind.
This sweet whiskey lemonade is always a hit because it is light, refreshing, and ideal for the summer (or any season!).
This unique cocktail contains Irish whiskey, honey liqueur, orange juice, and bitters…and a great name!
Whiskey goes well with lemonade and freshly crushed blackberries. Served over ice, this Blackberry Whiskey Lemonade is dangerously delicious!
With this Peanut Butter Old Fashioned, let's give a traditional cocktail a retro touch! In place of your standard bourbon or rye, sweet Skrewball Peanut Butter Whiskey creates a delectable old fashioned that goes down oh-so-smooth.
These flavorful and quick Blueberry Whiskey Spritzers are easy to make. Enjoy these whiskey cocktails that are great for summer entertaining.
An inviting vegan whiskey chai cocktail! Whiskey and freshly squeezed orange juice with chai tea steeped in almond milk. Delish!
For the summer, try this simple and cool Strawberry Whiskey Lemonade! This cocktail is created with handmade strawberry syrup and whiskey and it is oh so refreshing.
Smooth, slightly sweet, and with a hint of orange, yields the Bootleg Black Gold Whiskey cocktail. It's a terrific beverage to enjoy after dinner.
The ideal ingredients for an old fashioned cocktail are premium bourbon, bitters, a touch of maple syrup, and a hefty amount of orange peel.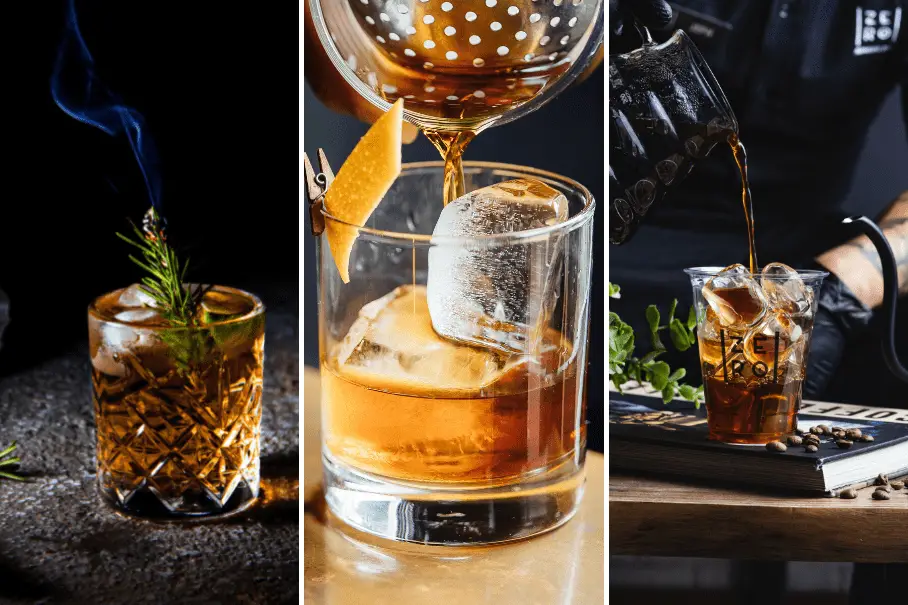 Instructions
Choose your favorite whiskey cocktail recipe.

Gather all the necessary ingredients.

Prepare a delightful whiskey cocktail recipe and enjoy!