Spice up your weeknight dinner with these quick and easy Asian-inspired stir-fry recipes. From teriyaki shrimp to pineapple chicken.
STELLAR STIR-FRY RECIPES FOR TONIGHT'S DINNER
Looking to add some sizzle to your weeknight dinners? Look no further than these delicious stir-fry recipes! With bold flavors and fresh ingredients, these dishes are sure to spice up your dinner routine. Why settle for boring dinners when you can have some of these tasty and easy stir-fry recipes? Try these dishes tonight and liven up your weeknight routine!
You won't believe how much better this General Tso's Chicken recipe is than the takeout version! The dish is packed with juicy chicken and stir-fried veggies, all drenched in a sweet and spicy ginger sauce.
Put down the phone and skip the takeout, because this Homemade Chicken Chow Mein is the real deal. With chicken, veggies, and the most delicious homemade chow mein sauce, this one-pan wonder is sure to satisfy.
The classic Kung Pao chicken recipe is given a twist by swapping out the traditional peanuts for crunchy cashews and tossing in some extra veggies for balance. You won't miss the peanuts with all the spicy Kung Pao goodness.
Craving some beef lo mein? Look no further than this easy recipe that's better than any takeout version you've had. With just a few simple ingredients, you'll have a delicious and satisfying meal in no time.
Impress your taste buds with this delicious broccoli cashew tofu stir fry. It's a takeout-inspired dish that you can easily make at home and is sure to be a hit with family and friends.
Mongolian chicken may be an Americanized Asian dish, but don't let that stop you from trying it. With crispy chicken and a sweet & spicy sauce, this recipe is so easy to make and will have you coming back for seconds.
Calling all sauce lovers! Saucy Beef Chow Ho Fun Noodles, also known as "sup chow ngau ho", is the perfect change of pace from the classic "dry fried" beef chow ho fun dish.
When you're short on time but still want something delicious, turn to this quick and easy Honey Sesame Chicken Stir Fry. The juicy chicken breast strips, green beans, and yellow peppers are coated in a sweet and sticky sauce that will have you licking your plate clean.
Say goodbye to boring weeknight dinners and hello to this Easy Vegetable Stir Fry. The colorful veggies are sautéed in a sweet and savory sauce, making it a simple yet flavorful meal that takes less than 30 minutes to make.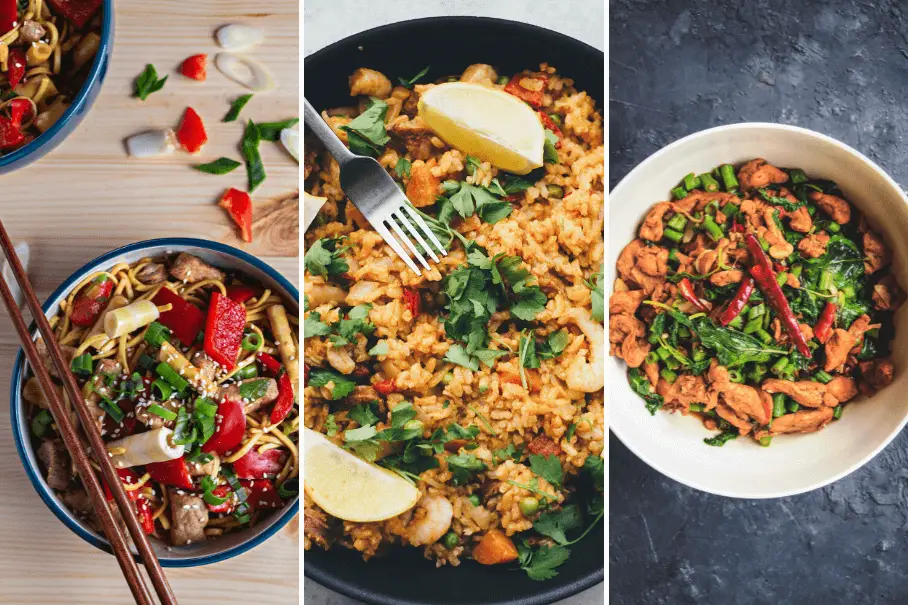 Instructions
Choose your favorite stir-fry recipe.

Gather all the necessary ingredients.

Prepare a delightful stir-fry recipe and enjoy!