Explore a world of flavor with these 21 diverse and delicious chicken wrap recipes.
TASTY AND VERSATILE CHICKEN WRAPS FOR EASY MEALS
Chicken wraps are a delicious and easy way to enjoy a satisfying meal. They're perfect for lunch, dinner, or even a snack. You can use different kinds of wraps, such as lettuce, tortilla, pita, or collard greens, and fill them with chicken and your favorite toppings. In this list, you'll find 21 chicken wrap recipes that are inspired by different cuisines and flavors. You'll find recipes that feature cilantro lime, avocado, pineapple teriyaki, shawarma, sesame ginger, ranch, Greek, fiesta ranch, Caesar, Thai peanut, southwest, hummus, pesto, and more. These chicken wrap recipes are sure to please everyone with their variety and yumminess. So grab your chicken, your wraps, and your ingredients, and get ready to make some of the best chicken wraps ever.
Enjoy a low-carb and refreshing meal with these cilantro lime chicken lettuce wraps. They are easy to make with juicy chicken, creamy avocado, and zesty lime dressing. Wrap them in crisp lettuce leaves and serve with your favorite salsa.
These healthy chicken avocado wraps are perfect for a quick and satisfying lunch. They are loaded with tender chicken, creamy avocado, crunchy cucumber, and fresh spinach. Plus, they have a delicious yogurt sauce that adds a tangy flavor.
Treat yourself to these grilled pineapple teriyaki chicken wraps, a tropical twist on a classic sandwich. The chicken is marinated in a homemade teriyaki sauce and grilled to perfection. The pineapple adds a sweet and juicy contrast, while the lettuce and tortillas provide some crunch.
Experience the flavors of the Middle East with these chicken shawarma wraps. The chicken is seasoned with aromatic spices and cooked until tender and crispy. The wraps are filled with fresh salad, hummus, and garlic sauce for a mouthwatering combination.
For a light and tasty dinner, try these sesame ginger chicken lettuce wraps. They are packed with protein and veggies, and coated with a savory sesame ginger sauce. They are easy to make in one skillet and ready in 30 minutes.
These ranch chicken club roll-ups are a fun and filling snack that kids and adults will love. They are made with soft tortillas, ranch dressing, cheese, bacon, chicken, and lettuce. They are great for parties, picnics, or lunch boxes.
Bring some Greek flair to your table with these Greek chicken wraps. They are loaded with juicy chicken, feta cheese, olives, tomatoes, and cucumbers. They also have a creamy tzatziki sauce that adds a refreshing touch.
If you love PF Chang's chicken lettuce wraps, you'll love this copycat recipe that you can make at home. It's a healthy and delicious appetizer or main dish that's ready in 20 minutes. The chicken is cooked with garlic, ginger, soy sauce, and hoisin sauce, and served with crunchy lettuce cups.
These slow cooker fiesta ranch chicken wraps are a crowd-pleasing meal that's easy to make and full of flavor. The chicken is cooked with salsa, corn, beans, cheese, and ranch seasoning until tender and shredded. The wraps are topped with sour cream, cilantro, and more cheese for a cheesy and spicy delight.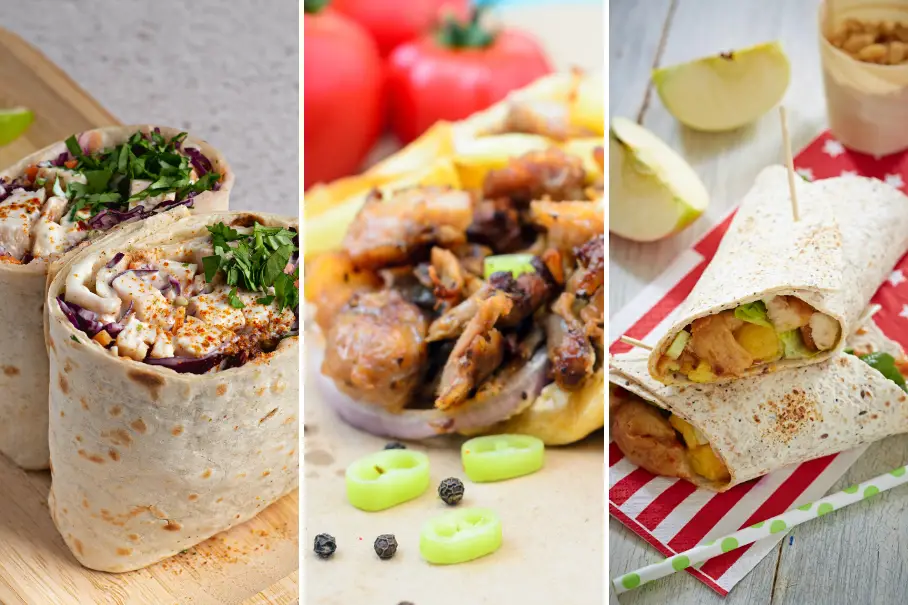 Instructions
Select your favorite chicken wrap recipe.

Gather all necessary ingredients.

Create a tasty chicken wrap using simple steps and enjoy!