Savory paninis, loaded submarine sandwiches, and triple decker clubs are all on deck! A whole world of sandwich recipes awaits!
THE BEST SANDWICH RECIPES
When my brother first moved to Los Angeles, he told me about how he was saving money by eating a peanut butter and jelly sandwich for what seemed like pretty much every meal. At the time, it seemed like some wise older brother's wisdom. Though I never tried it, I figured I would be just fine doing it. Fast forward 25 years, and I really don't think I would be able to do that. Not when the Monte Cristo Sandwich and homemade Reubens have become a staple in our household. Thanks, but no thanks! These sandwich recipes will have you dodging the humble PB&J at all costs! Grab your panini press and butter knife, and let's create some sandwich art!
Sliced ham, roasted pork, Swiss cheese, dill pickles, plenty of butter, and mustard are in this authentic Cuban sandwich, which is served on crisp bread.
All the flavor of sausage and peppers packed into this delicious sandwich: Sausage and Pepper Chipotle Grilled Cheese! Yum!
It's hard to top a grilled cheese sandwich, until you start talking about paninis. More specifically: Chicken Cordon Bleu Paninis. Create an exquisite sandwich that is both beautiful to look at and delicious to eat by combining crispy, fried chicken cutlets, melted Swiss cheese, and sweet ham slices.
Any sandwich recipes that are loaded with bacon, guac, and cheese are winners in my book.
This Cobb Salad Sandwich is piled high and loaded with all of your favorite cobb salad components. Hard to be hungry after eating this beast!
With this Grilled Hot Pastrami Sandwich, grilling in the summer has never been better. It's delicious & simple to prepare. And foil grilling is just fun, no matter what! Bold statement? Bold sandwich!
Speaking of classic sandwich recipes: Three slices of bread, mayonnaise, turkey, tomato, cheddar cheese, ham, crispy bacon, lettuce, and you are ready to bite into this triple decker masterpiece.
Comfort food to the max! Chicken, cheese, and homemade white BBQ sauce are all packed into a delicious hot sub sandwich.
One of those great sandwiches where most of the ingredients are included in the name! This is a sweet sandwich that you can have for a snack, breakfast, or dessert.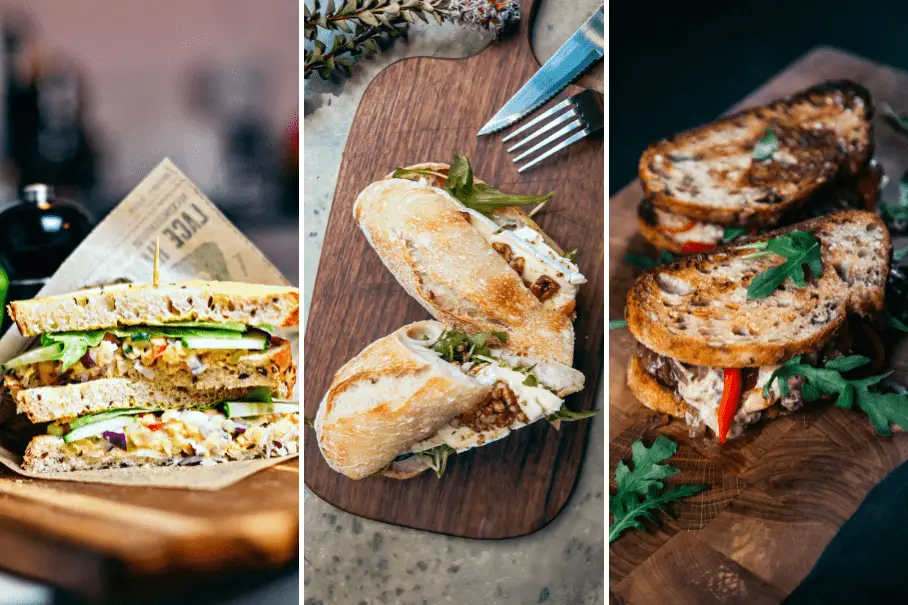 Instructions
Choose your favorite sandwich recipe.

Gather all the necessary ingredients.

Prepare a delightful sandwich recipe and enjoy!