Discover enticing sake cocktails! Refreshing and delightful libations to elevate your mixology game.
SENSATIONAL SAKE COCKTAIL RECIPES
Today, we're embarking on an exciting journey into the world of sake cocktails. Prepare to be amazed by these fun and casual recipes that promise to tantalize your senses. From the light and refreshing Sake Lychee Martini, beautifully garnished with lychee and cherry blossom, to the invigorating Sake Mojito, perfect for those warm spring days in the backyard, I've got a lineup that will make you want to raise your glass and say, "Kanpai!" Whether you're a seasoned mixologist or a cocktail enthusiast looking for some delightful inspiration, I've got something special for you. So, let's shake, stir, and sip our way through these amazing sake creations!
Enjoy a light and refreshing sake lychee martini garnished with a lovely lychee and cherry blossom.
Embrace the warmth of a sake mojito with crushed mint and a splash of lime on a sunny spring day.
Blend pickled ginger and Japanese sake with lime juice for this fun and easy rice wine-based cocktail finished with simple syrup.
Create a bright and refreshing drink in minutes, perfect for hot summer days, with this grapefruit honey sake cocktail.
Whip up a fun and fruity sake sangria in minutes, ideal for your backyard BBQ, with no waiting required!
Indulge in the uniqueness of a lotus blossom vodka martini featuring pear vodka, lychee fruit, and sake for a delightful treat.
Relish in the elegance of this gluten-free sake cocktail blended with grapefruit, gin, and ginger.
Satisfy your cravings for sweet, sour, spicy, and tropical flavors with this mango sake rum cocktail featuring Koloa Reserve rum.
Discover the easy way to make a sake-infused Bloody Mary, also known as a Japanese Bloody Mary, with a touch of Sriracha.
Try this simple and delightful sake cocktail, combining sweet and creamy nigori with sour and bitter notes of maraschino cherry liqueur and grapefruit juice.
Step into the romance of a Phantom Love Song, a smoother and more delicate French Gimlet perfect for an elegant Halloween celebration.
Celebrate spring with the Cherry Blossom cocktail, a delightful blend of cherry, orange liqueur, sake, and gin, featuring a great cherry liqueur base.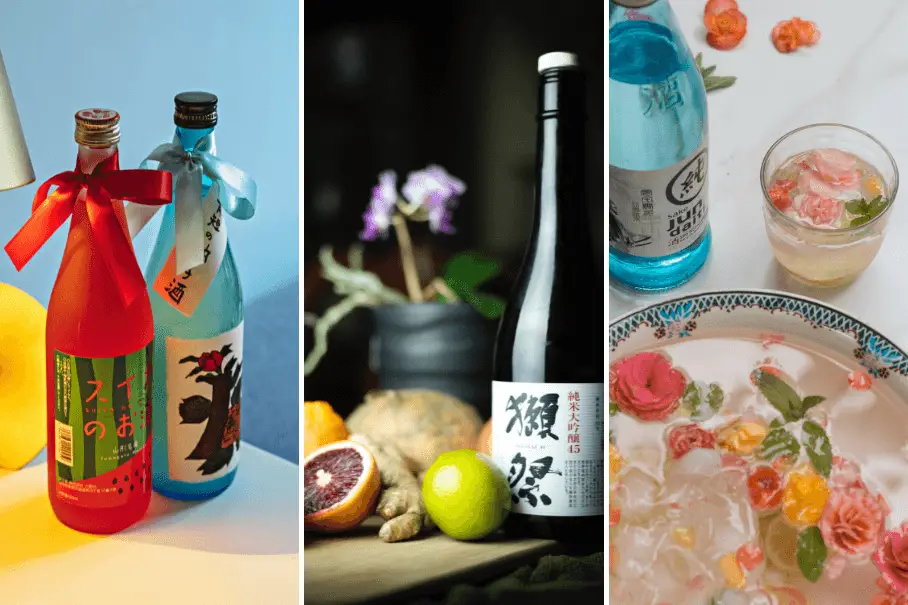 Instructions
Choose your favorite sake cocktail recipe.

Gather all the necessary ingredients.

Prepare a delightful sake cocktail recipe using simple steps and enjoy!