Get ready to indulge in refreshing and enticing spinach smoothie recipes that are as fun to make as they are to drink!
SIPPING SENSATIONS: THE BEST SPINACH SMOOTHIE RECIPES
Hey smoothie lovers, are you ready to infuse some fresh green goodness into your life? Join me on a vibrant journey filled with delightful spinach smoothies that will keep you both nourished and satisfied. From the glowing skin smoothie that'll leave you beaming with radiance to the fruity green ginger smoothie, perfect for conquering winter bugs, I've got a line-up of delightful concoctions you won't be able to resist. Whether you're seeking a creamy, energy-boosting start to your morning or a zesty and naturally sweetened kick to your day, these smoothies have got you covered. So, grab your blender, pick your favorite flavors, and let's blend our way to a healthier and tastier lifestyle!
Boost your energy and delight your senses with this radiant glowing skin smoothie that brings out your best!
Say goodbye to winter bugs with this super healthy green ginger smoothie, blending spinach, ginger, apple, banana, and kiwi fruit for a delightful treat.
Kickstart your morning with the sweet goodness of this Spinach and Pear Smoothie, sweetened naturally with Medjool dates and bananas.
Fuel your day with this scrumptious green ginger smoothie, packed with loads of goodies and a natural touch of sweetness.
Cool down and indulge in the frosty goodness of this Strawberry Spinach Smoothie, crafted with frozen banana, fresh strawberries, and almond milk.
Satisfy your sweet tooth guilt-free with this creamy, nutrient-dense Green Smoothie, blending kale, spinach, and frozen mango for a tasty treat.
Jumpstart your day with this vibrant Pineapple, Mango, Coconut, and Cashew Nut Smoothie, a quick and healthy breakfast or mid-afternoon pick-me-up.
Embrace the simplicity of this no-cook, dairy-free Blueberry Spinach Smoothie for a healthy breakfast or easy snack any day of the week.
Enjoy a creamy, sweet Apple Spinach Smoothie, filled with simple, wholesome ingredients that keep you full and energized.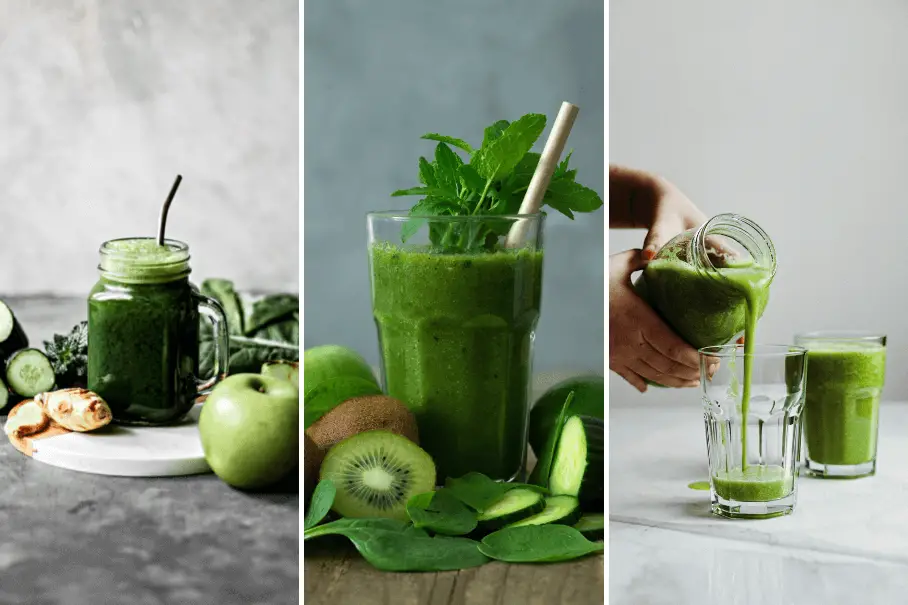 Instructions
Choose your favorite spinach smoothie recipe.

Gather all the necessary ingredients.

Prepare a delightful spinach smoothie recipe using simple steps and enjoy!