Indulge in a culinary journey with these quick and delectable tortellini recipes. From comforting soups to elegant pastas, experience the magic today.
Flavorful Tortellini Recipes That Impress
As we explore the world of culinary marvels, I'm excited to present to you a variety of mouthwatering tortellini dishes that are sure to satisfy your hunger. These recipes are a combination of ease and refinement, where simplicity meets excellence on your plate. From hearty soups that comfort the spirit to colorful salads that honor the seasons, we're about to embark on a savory journey that will delight your senses and enhance your dinner skills.
Experience the epitome of comfort with Creamy Bacon Tortellini paired perfectly with Charred Broccoli. This skillet wonder, prepared in under 30 minutes, is a delightful fusion of winter coziness and flavors that elegantly melt in every bite.
Warm your soul with Sausage Tortellini Soup, a hearty medley of vegetables, succulent Italian sausage, and cheese-filled tortellini. In just 40 minutes and a single pot, this culinary marvel comes to life, offering comfort that's both quick and fulfilling.
Elevate your gatherings effortlessly with Easy Pesto Tortellini Skewers. These versatile treats, suitable for potlucks, BBQs, and brunches, are a testament to simple sophistication. Serve them chilled or at room temperature for a touch of culinary finesse.
Revel in the flavors of summer with Tortellini Salad featuring Corn, Tomato & Zucchini. This vibrant pasta creation, adorned with a lemon garlic vinaigrette, captures the essence of the season and offers a symphony of taste that's both fresh and invigorating.
Merge your love for pizza and pasta with Pizza Baked Tortellini, a 30-minute wonder. With just one pan and minimal prep, this dish transforms into the quintessential weeknight indulgence. Feel free to personalize it with your favorite toppings for a unique touch.
Discover culinary bliss in Creamy Tuscan Garlic Tortellini Soup, an embodiment of ease and taste. Velvety tortellini, diced tomatoes, spinach, and white beans unite in a symphony of creaminess that promises to captivate your taste buds.
Dive into comfort with Chicken Mushroom Tortellini Bake. This tender interplay of tortellini, chicken, and mushrooms, cloaked in a creamy embrace, delivers not just a dish but a heartwarming experience.
Unveil weeknight magic with 30 Minute Tortellini Skillet Lasagna. Featuring Italian sausage, cheese-filled tortellini, and a ricotta cheese blend, this skillet sensation comes together in just 15 minutes. Share the joy with 4-6 loved ones and savor every bite.
Embrace simplicity and flavor with Tortellini paired with Roasted Asparagus. This light yet satisfying dish, adorned with a zesty lemon-garlic pan sauce, epitomizes easy elegance for a meatless evening.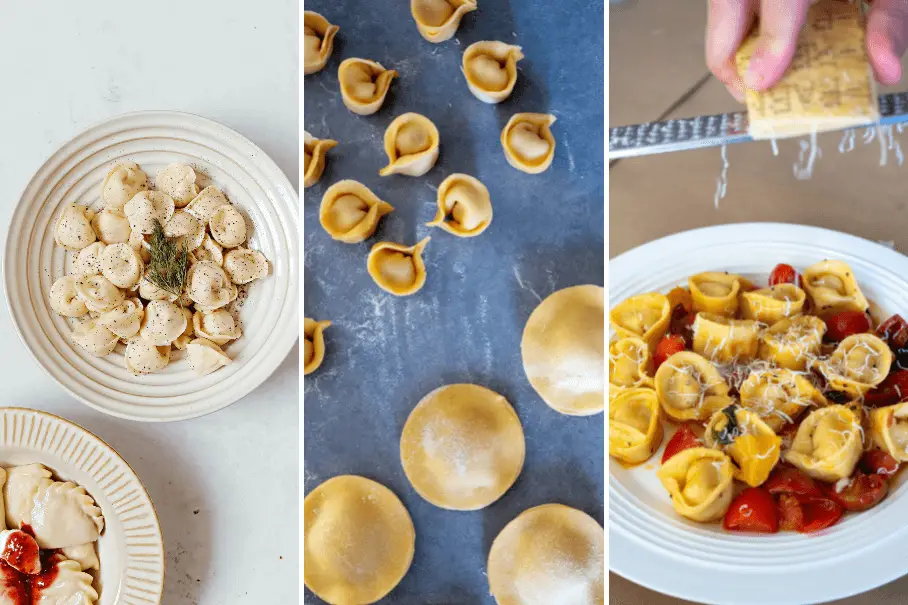 Instructions
Select your favorite tortellini recipe.

Gather all necessary ingredients.

Craft flavorful tortellini dishes using simple steps and savor the pasta pleasure!