Indulge in elegance with 18 delectable vanilla dessert recipes that redefine sweet satisfaction. These desserts are anything but plain!
VANILLA DESSERT RECIPES FOR ANY CELEBRATION
Today, I'm sharing with you some of the most amazing dessert recipes that all feature one wonderful ingredient – vanilla. From smooth mousse to tender shortbread, these 18 recipes showcase the elegance and simplicity of vanilla. Whether you're looking for a classic treat or a fun surprise, this collection will take you on a taste adventure like no other.
Indulge in the timeless delight of this go-to Vanilla Buttercream Frosting. A true gem, this recipe yields a flawless blend of simplicity, creaminess, and smoothness. Whether gracing the tops of cupcakes or other treats, its unforgettable taste is bound to leave you enchanted.
Embark on a journey to European elegance with this delectable Vanilla Mousse. Revel in its creamy foundation and luxuriate in the silky embrace of its chocolate crown. You'd be surprised how effortlessly this refined vanilla mousse comes together – watch the magic unfold in the accompanying video.
In the sweltering embrace of summer, these 4-ingredient Vegan Vanilla Popsicles offer a refreshing oasis. Crafted from the simplest components, they capture the essence of the season and serve as a delightful remedy for the heat.
Allow me to introduce the holy grail of vanilla cupcake recipes. Behold the soft, uniform rise of these cupcakes that effortlessly complement any frosting. With this recipe at hand, you're on your way to creating the ultimate cupcakes that resonate with perfection.
When the weather takes a frosty turn, cozy up to a mug of Homemade White Hot Chocolate. The fusion of sweetness and creaminess forms a delightful treat that's nothing short of heartwarming. This mug of indulgence is your companion through chilly days.
Capture the Starbucks charm with a delightful twist! This copycat recipe for Vanilla Bean Scones delivers a taste that rivals your favorite café's. These scones aren't just reminiscent; they're the ultimate upgrade you didn't know you needed.
In just four uncomplicated steps, embrace the symphony of flavors in Maple Vanilla Baked Pears. This recipe proves that sophistication can be achieved with minimal effort. Enjoy the healthful decadence these pears bring to your table.
Experience the comfort of Grandma's cooking with this stove-top Vanilla Rice Pudding. With each spoonful, relish the nostalgia and simplicity of a dessert that captures the essence of family. It's a recipe that bridges generations.
Indulgence meets efficiency with Quick Vanilla Shortbread Cookies. In less than 45 minutes, you'll be savoring crumbly, buttery perfection. These cookies are a testament to the fact that exquisite treats need not be time-consuming.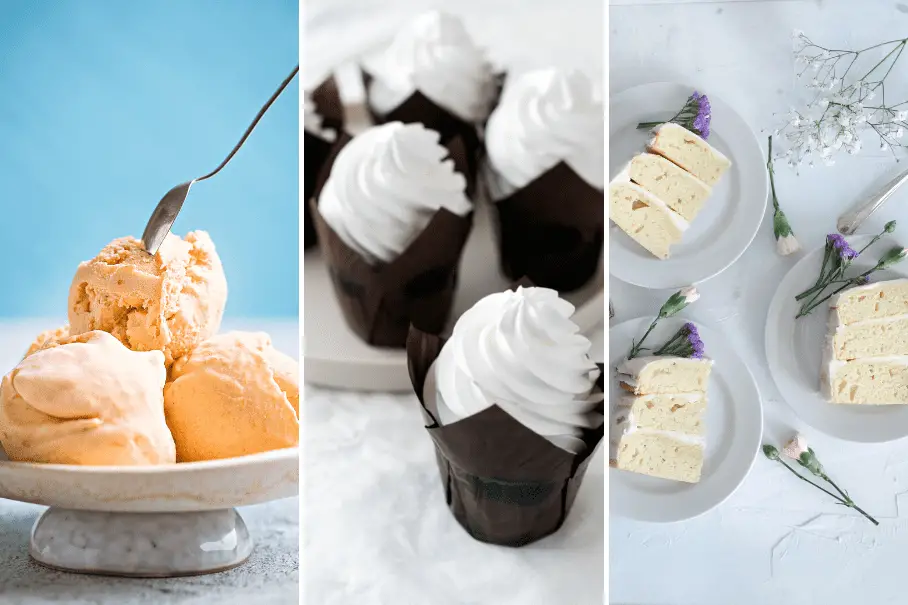 Instructions
Explore the essence of vanilla in delectable desserts.

Gather all the required ingredients.

Create heavenly vanilla desserts using simple steps and relish the timeless indulgence!