Score big at the tailgate party with these game day food ideas! From spicy chicken cheeseballs to mouthwatering sliders, these recipes will keep your guests cheering.
Crowd-Pleasing Food Ideas to Amp Up Your Tailgating Experience
There's a strong vibe in the air as the crowd assembles, and the thrill for the big game is intense. But you know what's just as important? The array of tempting game day bites that'll have everyone raving long after the final buzzer. As a passionate food lover and seasoned game day host, I've selected a series of culinary treats that are sure to boost your game day celebrations to a new high. Imagine this: savoring Buffalo Chicken Pot Stickers that fuse flavors from different parts of the world, or biting into the cheesy delight of a Pepperoni Pizza Football Cheese Ball that's both a visual wonder and a tasty snack. And don't forget the Sweet and Spicy Sriracha Bacon Chicken Bites that hit the sweet spot between heat and sweetness, making them a winner with every taste bud. From savory sliders to saucy dips, these recipes have your game day menu sorted, making sure your guests are energized and ready to root their lungs out. So, brace yourself to dazzle with these game day food ideas that are a slam dunk in flavor and fun!
These Buffalo Chicken Pot Stickers are a great recipe that combines two different appetizers (and cultures). They are filling but also snack-sized. Enjoy these tasty pot stickers with your favorite dip.
This Pepperoni Pizza Football Cheese Ball is a total showstopper and easy to make. It is perfect for your next game day celebration and will make the crowd go wild. Serve it with crackers, bread, or veggies.
These Sweet and Spicy Sriracha Bacon Chicken Bites are a delicious and easy appetizer for holiday parties. They are the perfect time of the year when everyone is looking for tasty recipes. Make them in 30 minutes or less and watch them disappear.
These meatball appetizers are easy and delicious and will make your parties a hit. They have a range of flavors and cuisines, from classic Italian to spicy Asian. You can bake, slow cook, or air fry them to suit your preference.
Learn how to make the ultimate sliders with this foolproof recipe from Serious Eats. They have juicy, flavorful, and crispy patties and soft and tender buns. Follow the step-by-step instructions and tips to make these mini burgers for any occasion.
Spicy Chicken Cheeseballs are our new favorite in town, move over sausage balls. They are cheesy, spicy, and addictive. Make them for your next party or snack.
This Pub Style Beer Cheese Dip is a party appetizer everyone will love. It is perfect for Super Bowl, holidays or just hanging with friends. Serve it with pretzels, chips, or bread.
Football season is here. What will you make to please a house full of football fans? This Easy Crockpot Pizza Dip is the answer. It is cheesy, gooey, and pizza-like.
This easy Crockpot Buffalo Ranch Chicken Drumsticks Recipe coats your chicken legs in a finger licking amazing sauce. YUM!! They are tender, juicy, and spicy. Make them for dinner or as an appetizer.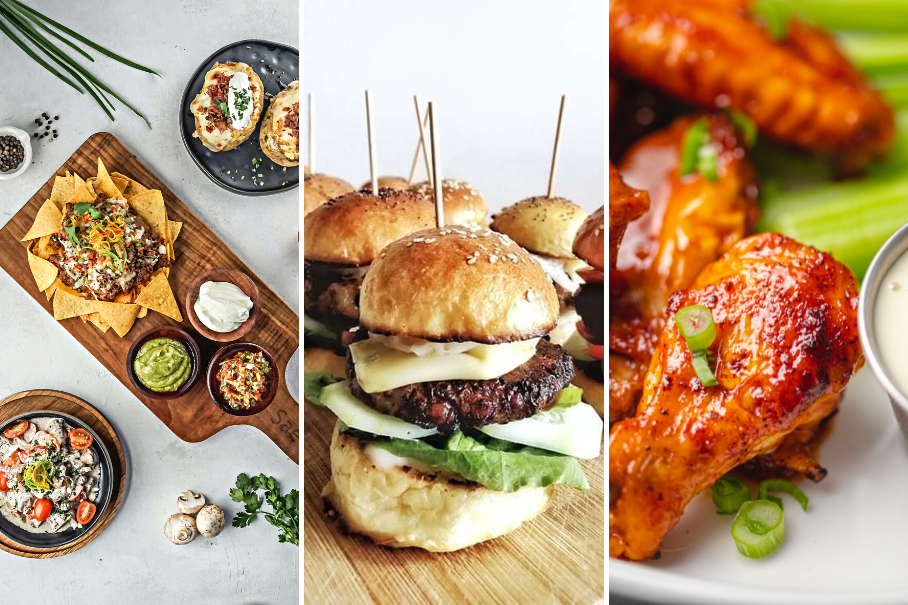 Instructions
Select your favorite game day food recipe.

Gather all necessary ingredients.

Prepare scrumptious game day food using simple steps and add excitement to your sports gatherings!