From crispy tenders to juicy wings, find a range of flavors that'll make your mealtimes extraordinary with these air fryer chicken recipes.
FROM FRYER TO FEAST - CHICKEN AIR FRYER RECIPES FOR EASY DINNERS
There's a special thrill that happens when you transform the simple chicken with an air fryer touch. The outcome? A series of dishes that set a new standard for crispy, juicy perfection. From the crackle of breaded chicken tenders to the enticing smell of seasoned wings, get set to start a culinary adventure that'll make you want more. These air fryer chicken recipes are more than just meals; they're sensations that fire up your taste buds and change your chicken game. Picture biting into tender, moist chicken with a crunchy exterior that's been cooked to golden excellence. With every bite, you'll be whisked away to a world of flavor that's easy to whip up right in your kitchen. So, brace yourself for a feast that'll make your mealtimes memorable, where you're the boss of crafting crunchy, delectable chicken creations that'll have everyone asking for more. Let's plunge into the tempting world of air fryer chicken wonders and uncover the magic that happens with each bite!
Make this homemade Air Fryer Chicken Sandwich (Chick-fil-A Copycat) that everyone will love! The chicken is juicy and tender with a crispy breading, thanks to the pickle juice and buttermilk brine. Add some cayenne pepper and fresh veggies for the spicy deluxe version!
These Air Fryer Grilled Chicken Kebabs or kabobs are a healthy and quick meal that uses chicken breasts and fresh veggies on BBQ skewers. This post will teach you how to make grilled chicken in the air fryer that is tender and juicy. This recipe is also keto and low-carb with only a few net carbs.
These Air Fryer Chicken Tenders are breaded and crispy, juicy and delicious. They have a lot of flavor and no grease, you will love this yummy chicken.
An air fryer is perfect for making crispy chicken wings at home. Coat them with Frank's RedHot® Original Hot Sauce and butter for the classic Buffalo wing taste.
This easy recipe for air fryer chicken breast and flavorful brine makes juicy chicken without any breading. You can use fresh or frozen chicken for this recipe!
These Air Fryer Chicken Nuggets are a healthier choice for a kid-friendly dinner! They are homemade chicken nuggets, breaded and baked in an air fryer.
Crispy Air Fryer "Fried" Chicken is what Air Fryers were made for! They have a crunchy golden seasoned crust, and a tender, juicy, flavorful inside. This is the best way to eat chicken.
Take those bone in, skin on chicken thighs out of the fridge and make these air fryer crispy chicken thighs tonight!
If you like crispy and juicy chicken schnitzel, you will love this easy and fast air fryer chicken thigh schnitzel recipe that uses boneless chicken thighs, bread crumbs, and seasonings. You can serve it with lemon wedges, salad, or any sauce you like.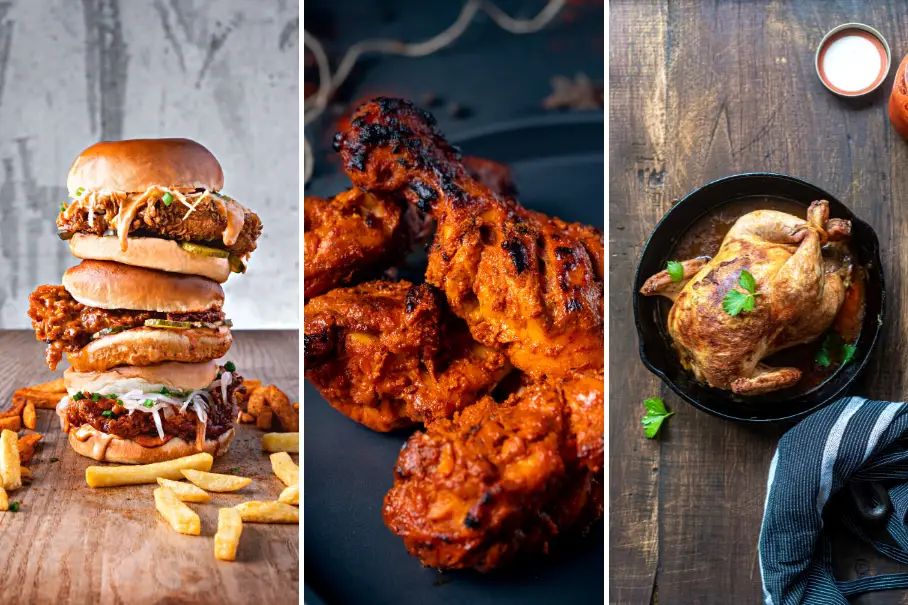 Instructions
Select an air fryer chicken recipe that resonates with your taste.

Gather all necessary ingredients.

Create a flavorful air fryer chicken dish using simple steps and enjoy the poultry goodness!