Discover 19 easy and delicious shredded chicken recipes for busy weeknights or any night of the week. From soups to tacos, we've got you covered.
AMAZINGLY EASY SHREDDED CHICKEN RECIPES
Looking for a quick and easy way to impress your loved ones with your culinary skills? Check out these delicious shredded chicken recipes!
Whether you're hosting a dinner party or just looking for a tasty weeknight meal, these recipes are sure to please. From spicy tacos to savory casseroles, there's something for everyone on this list.Best of all, these recipes are incredibly easy to make. With just a few simple ingredients and a little bit of prep work, you can have a delicious and impressive meal on the table in no time.
So why wait? Start impressing your family and friends today with these amazing shredded chicken recipes!
Forget about boring buffalo wings – try these spicy buffalo chicken wraps with ranch dressing! Bursting with flavor and ready in just 5 minutes, these wraps have all the zesty taste of buffalo wings without the added fat.
Warm up with a bowl of homemade chicken noodle soup loaded with fresh vegetables and a delicious broth made from scratch. With just one pot and a whole lot of flavor, this soup is perfect for any day of the week.
Looking for the best chicken enchiladas ever? Look no further than these shredded chicken enchiladas – they're amazing!
Finger food lovers unite! These buffalo chicken stuffed potatoes are the perfect size for snacking, appetizing or even a meal. Convenient and easy to eat with your fingers, these potatoes are bursting with flavor and fun.
When you need a quick and tasty meal on a busy weeknight, reach for this chicken tater tot casserole! Loaded with cheese and ready in just 30 minutes, it's sure to be a crowd-pleaser.
Craving a low-carb salad that still packs a punch? Try this classic chicken salad – shredded chicken, dill pickles, and crunchy celery smothered in a deliciously creamy dressing. It's the perfect way to indulge without the guilt.
Get ready for a flavor explosion with these pulled chicken tacos topped with sweet and tangy pineapple salsa and creamy cilantro sauce. Perfect for a party or a casual dinner at home.
This salad is not your average boring salad. Full of spicy Southeast Asian flavor and filling enough for a light dinner, it's a refreshing and satisfying dish that will leave your taste buds wanting more.
Indulge in this creamy chicken and rice casserole with a rich, cheesy sauce made from scratch. It's a comforting and irresistible dish that's perfect for a cozy night in.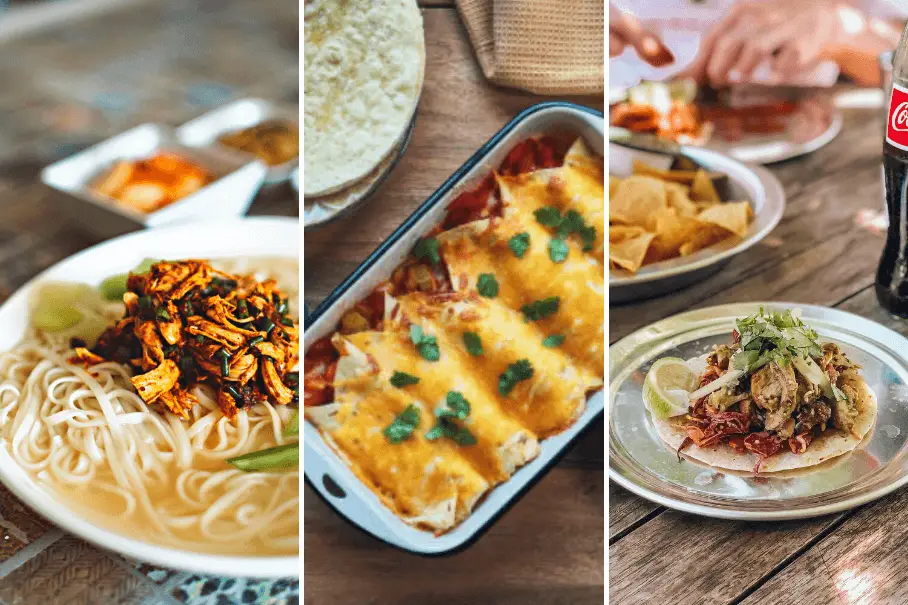 Instructions
Choose your favorite shredded chicken recipe.

Gather all the necessary ingredients.

Prepare a delightful shredded chicken recipe and enjoy!