Craving something warm and comforting? Check out these seafood soup recipes that will warm your soul!
A BOATLOAD OF SEAFOOD SOUP RECIPES
Are you a seafood lover? Do you crave a warm and comforting bowl of soup? Then you're in luck! Dive into these delicious seafood soup recipes that are perfect for any time of year.
This seafood soup roundup features a variety of flavors and ingredients, so there's something for everyone. There's some creamy bisques, hearty stews, and light broths. And with options like lobster, crab, and scallops, you'll feel like you're dining at a fancy seafood restaurant.
So why not try something new and whip up one of these comforting seafood soups? They're perfect for a cozy night in or a dinner party with friends.
Warm up after a chilly day with a steaming bowl of Oyster Stew. This recipe is easy enough for a quick weeknight meal but comforting enough to feel like a special treat.
You won't believe how delicious this Easy Homemade Italian Fish Soup is! Loaded with big chunks of haddock, shrimp, mussels, and clams in a perfectly spiced tomato broth, this dish is the ultimate comfort food. It's part stew, part soup, and completely amazing.
Are you craving some Maryland Crab Soup? Look no further! This easy recipe will satisfy your taste buds and transport you to the eastern shore. It's the perfect meal for any occasion.
When it comes to Fish Soup, this flavorful homemade Sopa de Pescado recipe is a winner! Whether it's hot or cold outside, this dish is perfect for any time of the year.
If you're in the mood for a thick and creamy soup that warms the soul, this easy homemade shrimp bisque recipe is just what you need. It's the ultimate comfort food that will leave you feeling satisfied and happy.
Brace yourself for the BEST salmon soup you've ever tasted! With delicate, creamy chunks of salmon swimming in a flavor-packed broth with potatoes, carrots, and dill, this dish is a winner. And the best part? It only takes 20 minutes to make!
Looking for a creamy New England-style Fish Chowder Recipe? Look no further than this simple recipe made with cod, potatoes, and onions. It's easy to make and tastes amazing!
Comfort food doesn't get much better than this Potato and Cod Soup. Loaded with onions, carrots, celery, garlic, peppers, and tomatoes, this soup is sure to warm you up from the inside out.
Get ready to experience a classic French stew with Julia Child's bouillabaisse recipe. This dish is full of Mediterranean seafood and tomatoes, and it pairs perfectly with crusty bread and rouille.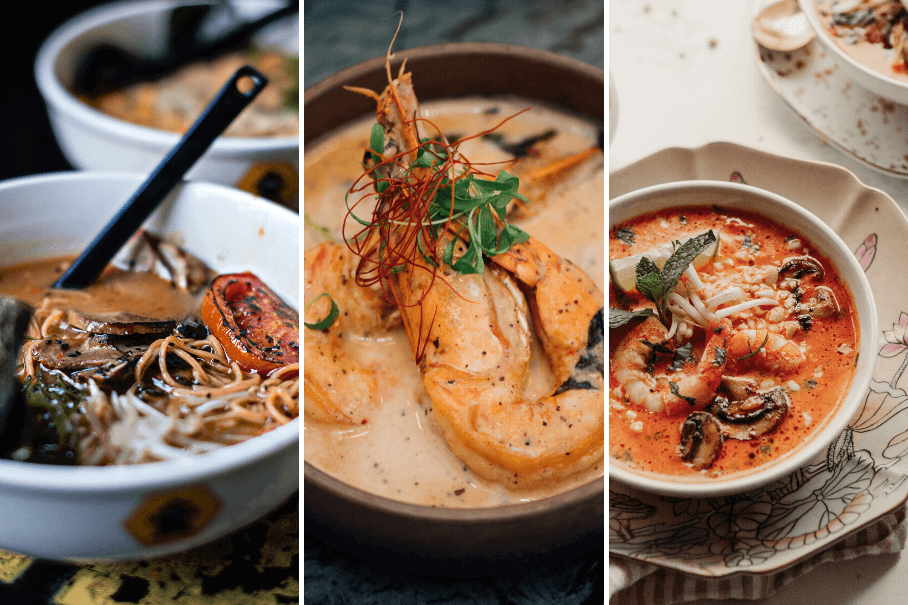 Instructions
Choose your favorite seafood soup recipe.

Gather all the necessary ingredients.

Prepare a delightful seafood soup recipe and enjoy!