Embark on a culinary journey through Chile with these 20 traditional dishes, a celebration of diverse flavors and cultures.
THE BEST TRADITIONAL CHILEAN RECIPES AND FOODS
Chile is a country of diverse landscapes, cultures, and cuisines. From the Andes mountains to the Pacific coast, from the desert to the forest, Chile offers a variety of flavors and dishes that reflect its rich history and geography. Chilean food is influenced by indigenous, Spanish, Italian, German, and French traditions, as well as by the abundance of seafood, meat, corn, potatoes, and fruit. In this list, you will find 20 traditional Chilean dishes that you need to try. From savory empanadas and hearty stews to sweet cakes and desserts, these recipes will take you on a culinary journey through Chile. So grab your fork and get ready to taste these 20 delicious Chilean foods.
Empanadas de pino are a traditional Chilean dish that consists of pastry pockets filled with a savory mixture of beef, onion, raisins, olives, and hard-boiled eggs. You can bake them or fry them until golden and crisp, and serve them with salsa or pebre for dipping.
Chilean beef stew is a hearty and comforting dish that's made with beef, potatoes, carrots, onion, garlic, and spices. You can cook it in a pot or a slow cooker until the meat is tender and the sauce is thick, and serve it with bread or rice for a satisfying meal.
Choripanes are a popular street food in Chile that are made with grilled chorizo sausages and crusty bread rolls. You can top them with chimichurri sauce or pebre sauce for some extra flavor and freshness, and enjoy them as a snack or a lunch.
Mote con huesillos is a refreshing drink that's also a dessert in Chile. It's made with dried peaches, wheat berries, sugar, water, and cinnamon. You can simmer the ingredients until the peaches are soft and the wheat berries are plump, and serve it chilled or at room temperature.
Completos are a Chilean version of hot dogs that are loaded with toppings like avocado, tomato, sauerkraut, mayonnaise, ketchup, and mustard. They are easy to make and fun to eat, and you can customize them with your favorite ingredients.
Country Chilean bread is a rustic and simple bread that's made with flour, yeast, salt, water, and lard. You can knead the dough by hand or use a stand mixer, and shape it into round loaves or rolls. You can bake them in the oven until golden and crusty, and serve them with butter or jam for breakfast or as a side dish.
Baked Chilean sea bass is a delicious and easy dish that's made with sea bass fillets, butter, lemon juice, garlic, parsley, salt, and pepper. You can bake them in the oven until flaky and moist, and serve them with roasted vegetables or salad for a healthy and elegant meal.
Marraqueta is a type of bread that's very popular in Chile. It's made with flour, yeast, salt, water, and malt extract. You can shape the dough into oval loaves with four sections each, and bake them in the oven until crisp and airy. You can serve them with cheese, ham, or jam for a delicious and filling snack.
Chorrillana fries are a Chilean specialty that are made with french fries topped with scrambled eggs, beef strips, onion, and cheese. You can cook them in a large skillet or a baking sheet until hot and cheesy. You can serve them with ketchup or salsa for a hearty and indulgent dish.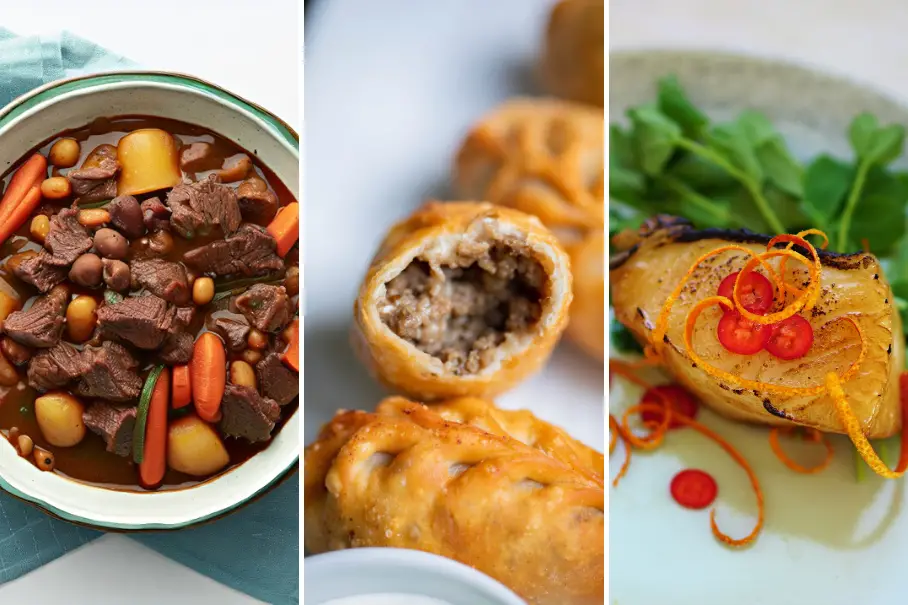 Instructions
Select your favorite Chilean food recipe.

Gather all necessary ingredients.

Create a tasty Chilean dish using simple steps and enjoy!