Discover the rich flavors of Chilean desserts with these 9 traditional and delectable recipes.
THE BEST CHILEAN DESSERT RECIPES
Chilean desserts are a sweet way to explore the diverse and delicious cuisine of this South American country. Many of them feature manjar, a creamy caramel sauce made from milk and sugar, as well as fresh fruits, nuts, and spices. Whether you are looking for a simple snack, a festive cake, or a decadent treat, you will find something to satisfy your sweet tooth in this list of 9 traditional Chilean desserts. From the crispy and layered thousand layer cake to the soft and moist tres leches cake, these recipes will show you the best of Chilean baking. So grab your apron and get ready to indulge in these 10 scrumptious Chilean desserts.
Thousand layers cake is a stunning and delicious dessert that will wow your guests. It's made with thin and crispy layers of puff pastry, sandwiched with creamy dulce de leche and whipped cream. You can dust it with powdered sugar and decorate it with fresh berries. It's a traditional Chilean cake that is perfect for celebrations.
Impress your guests with a Brazo de Reina, a rolled sponge cake filled with dulce de leche and dusted with powdered sugar. Brazo de Reina means "queen's arm" in Spanish, and this cake is fit for royalty. It's light, fluffy, and decadent. You can make it with homemade or store-bought dulce de leche and roll it up with parchment paper. It's a simple and elegant cake that will make any occasion special.
Roasted milk apples are a cozy and comforting dessert that is easy to make with just four ingredients: apples, milk, sugar, and cinnamon. They are baked in the oven until soft and caramelized, then served warm with the creamy sauce. They are a classic Chilean dessert that is great for cold winter days.
Chilean sopaipillas are fried dough pastries that are crispy on the outside and soft on the inside. They are made with pumpkin puree, flour, butter, and baking powder. You can serve them with pebre sauce, a spicy salsa made with tomatoes, onions, cilantro, garlic, and chili peppers. They are a popular street food and snack in Chile.
Chilean alfajores are delicate and buttery cookies filled with dulce de leche and rolled in shredded coconut. They are made with cornstarch, flour, butter, sugar, eggs, and baking powder. You can make them in advance and store them in an airtight container for up to a week. They are a sweet treat that everyone will love.
Manjar or dulce de leche is a thick and creamy caramel sauce that is used in many desserts in Chile and other Latin American countries. It's made from scratch by simmering milk, sugar, baking soda, and vanilla extract for several hours until golden and thickened. You can use it as a spread, filling, topping, or dip for fruits and pastries.
Tres leches cake is a moist and fluffy sponge cake soaked in three kinds of milk: evaporated milk, condensed milk, and heavy cream. It's topped with whipped cream and sprinkled with cinnamon. You can also add fresh fruits or nuts for extra flavor and texture. It's a decadent and delicious cake that originated in Mexico but is popular throughout Latin America.
Celebrate the holidays with a Chilean fruitcake that is moist, dense, and full of flavor. Pan de Pascua is a traditional cake that is loaded with dried fruits, nuts, and spices. You can make it ahead of time and let it age for a few days to enhance its taste and texture. It's a festive and delicious cake that will make your Christmas merrier.
Enjoy a slice of Chilean strawberry kuchen, a sweet and creamy dessert that is perfect for summer. Kuchen is a German word for cake, and this version has a buttery crust, a custard filling, and fresh strawberries on top. You can bake it in a springform pan or a pie dish and serve it chilled or at room temperature. It's a refreshing and satisfying treat that will delight your taste buds.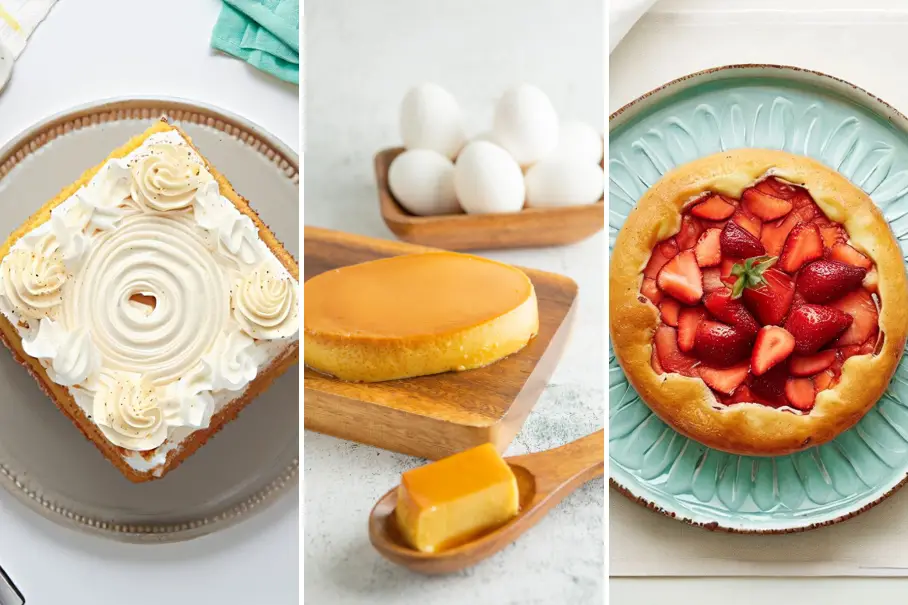 Instructions
Select your favorite Chilean dessert recipe.

Gather all necessary ingredients.

Create a tasty Chilean dessert using simple steps and enjoy!