Discover the magic of Air Fryer desserts! Crispy, gooey, and utterly delicious treats await. Indulge in quick and easy recipes that satisfy every craving.
TRY THESE AIR FRYER DESSERTS TONIGHT!
If you share my penchant for desserts that are both delectable and easy to prepare, you're in for a treat. Today, I'm going to guide your palate through a series of scrumptious delicacies that emerge from your Air Fryer. That's correct – we're exploring the domain of crunchy, gooey, and splendid Air Fryer desserts. Whether you're longing for the classic allure of s'mores or the flaky bliss of hand pies, these recipes are bound to become your new favorites. So, brace yourself for a dessert expedition that's guaranteed to leave you with a gratified grin and an Air Fryer loaded with sweet marvels. Let's dive in!
These air fryer s'mores are a delicious and easy dessert that you can make without a campfire. They have roasted marshmallows that are ready in less than 10 minutes. They are a perfect treat for any occasion.
These air fryer churros are a crispy and tender dessert that you can make at home. They are fried to golden perfection and easy to make. They are a yummy and simple dessert.
These air fryer Oreos are a fun and simple dessert recipe that you may have had at the carnival. They are made without oil and are super easy to make. They are a tasty and fun treat.
If you want more air fryer recipes, you should try an air fryer cake. They are very easy to make and delicious. They are a great way to use your air fryer for dessert.
These air fryer apple fritters are scrumptious donuts with apples, cinnamon spice, and everything nice. They are made from scratch but very easy to make. You don't need any yeast for this recipe.
These apple fries with caramel dipping sauce are perfect for autumn weather. They are made with apples that are crispy on the outside and soft on the inside. They are a delicious and cozy dessert.
These air fryer apple hand pies are easy and tasty. They have a flaky crust and a gooey apple pie filling. They are portable, no slicing, and little mess.
These air fryer baked apples are the quick dessert you need tonight. They have cinnamon baked apples with a yummy oat crisp on top. They are a warm and sweet dessert.
Try this warm and cozy air fryer bread pudding recipe for a delicious dessert. It uses simple ingredients and takes only 15 minutes to make. You can serve it with whipped cream, ice cream, or caramel sauce for a decadent treat.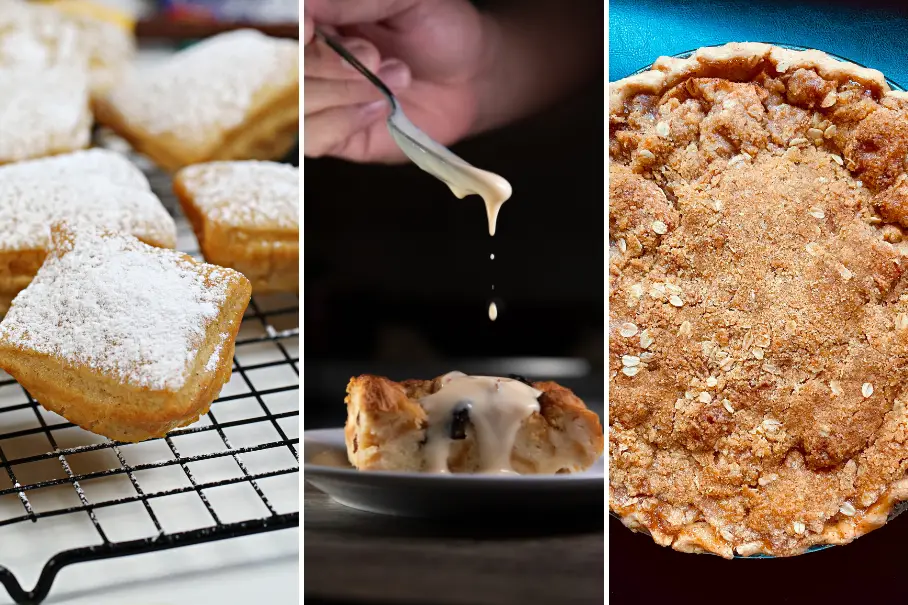 Instructions
Select your favorite Air Fryer Dessert Recipe

Gather all necessary ingredients.

Navigate the creation of a delightful air fryer dessert using simple steps and savor the delectable outcome!