Satisfy your sweet tooth with these 15 irresistible peanut butter desserts! From fudge to cookies, and even a peanut butter lasagna!
GO NUTS FOR THESE PEANUT BUTTER DESSERTS
Is there anything better than the sweet and salty combination of peanut butter and chocolate? As someone with a serious sweet tooth, I'm always on the lookout for new and delicious desserts to satisfy my cravings. When I am not busy hunting down the best key lime desserts, I have my sights set on something loaded with peanut butter and chocolate. Maybe it comes from my fond memories of the Reese's Peanut Butter Cup Sunday at Friendly's from back in the day…not sure. Maybe that's why I've put together this list of amazing peanut butter dessert recipes for you (and me). Whether you're a die-hard peanut butter fan or just looking to mix things up in the kitchen, you won't want to miss out on these treats.
This Peanut Butter Fudge is an indulgent, silky smooth treat that will leave your taste buds dancing! The blend of creamy peanut butter and marshmallows make this fudge a perfect dessert for the holidays, or any occasion. Share it with your loved ones or gift it to your peanut butter-loving friends!
Ready for a quick and satisfying snack that's both sweet and savory? These Chocolate Peanut Butter No-Bake Ritz Cookies are just what you need! They're easy to make with just three ingredients, and the combination of peanut butter, chocolate, and salty Ritz crackers is truly addictive.
Get ready for a mouth-watering experience with these Peanut Butter and Jelly Bars! Imagine a layer of chewy peanut butter oat cookie, topped with creamy peanut butter cheesecake, homemade jam, and a crispy oat crumble. This dessert is the perfect balance of sweet and tangy, and it's sure to satisfy your peanut butter cravings!
Here's a peanut butter hack you won't want to miss! Similar to making Nutella-Stuffed Cookies, this trick involves mixing peanut butter with powdered sugar, rolling it into balls, and freezing it before baking. This ensures that you won't have a peanut butter explosion in the oven. Genius!
Never hurts to have too many ways to make Peanut Butter Fudge! Make your cookie tray festive with this creamy and nutty Peanut Butter Fudge! The combination of smooth peanut butter and sweet condensed milk is irresistible, and topping it with red and green sprinkles is the perfect way to add a touch of holiday cheer.
These No-Bake Peanut Butter Truffles are the perfect bite-sized treats for peanut butter lovers! They're creamy and delicious, with a rich dark chocolate coating and a drizzle of milk chocolate on top. Plus, they're super easy to make!
Cool down with this easy and decadent No Bake Chocolate Peanut Butter Dessert! This creamy and luscious dessert is loaded with Oreo cookies, peanut butter, and chocolate, making it the perfect sweet treat on a hot day.
If you're a fan of Butterfinger candy bars, you're going to love these Chewy Butterfinger Cookies! They're soft, rich, and buttery, with a perfect blend of peanut butter and chocolate. Warning: you won't be able to stop at just one!
This Buckeye Recipe is a classic and easy peanut butter candy that comes together in just a few minutes. With only a few ingredients, you can create these delicious and addictive treats that are perfect for any occasion.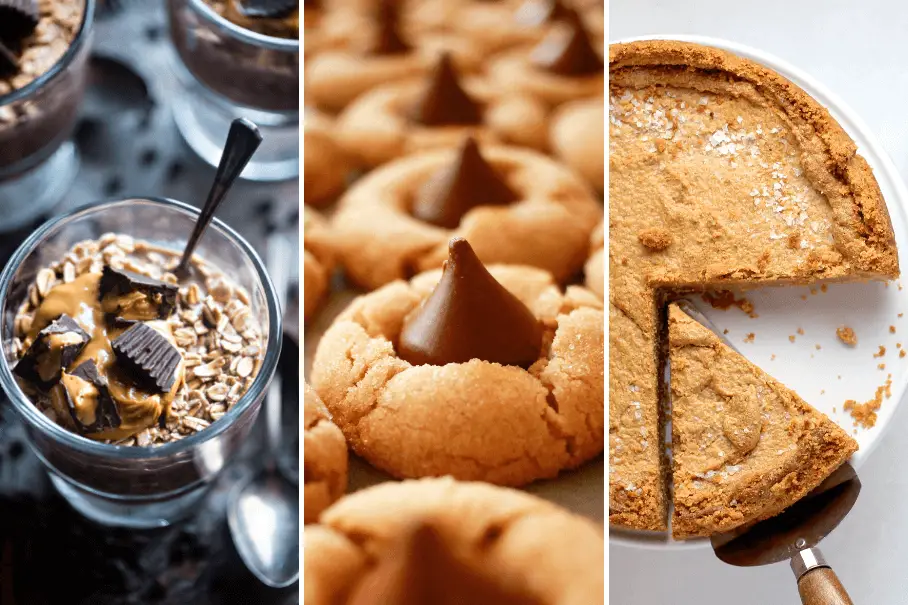 Instructions
Choose your favorite peanut butter dessert recipe.

Gather all the necessary ingredients.

Prepare a delightful peanut butter dessert recipe and enjoy!