Elevate your dessert game with these delicious parfait recipes. From fruity and light to decadent and rich, there's something for everyone.
Whether you're in the mood for a light and refreshing summer dessert or a decadent treat to satisfy your sweet tooth, these parfait recipes have got you covered. From fruit-filled layers to creamy cheesecake and cookie crumbs, there's something for everyone to enjoy. So, let's get started and indulge in some deliciousness!
Want to learn how to create a stunning Japanese-style parfait? Follow these easy instructions for tips and ideas on toppings that will elevate this dessert to a whole new level!
Craving a delicious dessert that requires no baking? Look no further than this beautiful NO BAKE Chocolate Chip Cookie Cheesecake Parfait! Layer upon layer of heavenly goodness that you can enjoy any time of year!
Summer is all about fresh and light desserts, and this Berry Cheesecake Parfait has it all! With a luscious no-bake cheesecake filling and a refreshing Summer Berry sauce, it's the perfect treat for any warm day.
Elevate your summer dessert game with these raspberry parfaits! Piled high with fresh fruit and liqueur-infused whipped cream, they're a light and elegant treat that's sure to impress your guests.
Start your day off right with this 5-minute Healthy Apple Crisp Yogurt Parfait! With a delicious combination of crunchy granola, tangy apples, and creamy yogurt, it's a breakfast, snack, or dessert that you can prepare ahead of time and take on the go!
Get ready to indulge in a rich, creamy, and crazy delicious Cookies and Cream Cheesecake Parfait! And the best part? It's quick, easy, and requires no baking!
Want to enjoy a decadent and delicious dessert that's easy to make? Look no further than this no-bake black forest parfait! With layers of kirsch-soaked ladyfingers, chocolate pastry cream, sweetened cherries, and whipped cream, it's a dessert fit for royalty.
Start your day off right with this beautiful layered yogurt honey fig breakfast parfait! Bursting with fresh flavors and natural sweetness, it's the perfect way to enjoy fig season.
Looking for a light and refreshing dessert that's easy to make? These Strawberries & Cream Mini Parfaits are sure to please! Made with macerated strawberries and vanilla-flavored whipped cream, they're the perfect way to end any meal.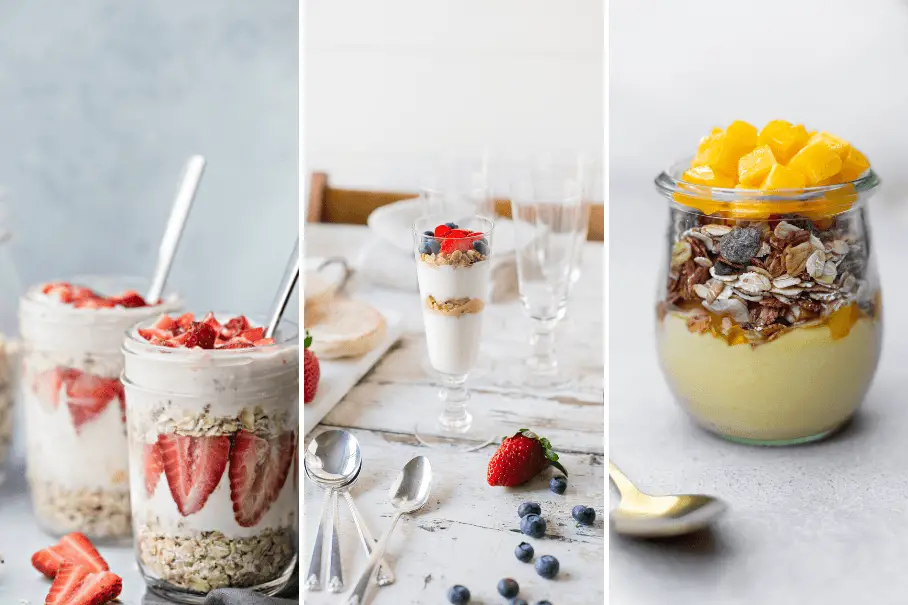 Instructions
Choose your favorite parfait recipe.

Gather all the necessary ingredients.

Prepare a delightful parfait recipe and enjoy!