Discover 16 easy and delicious granola recipes for breakfast or snack time. Fuel your mornings with homemade goodness!
THE GREATEST GRANOLA RECIPES
Hey fellow crunchy foodies! Today I am going to share with you some delicious homemade granola recipes that will make your mornings (and snacks!) a whole lot better. These recipes are easy to make and full of natural and healthy ingredients that will keep you fueled throughout the day. From island-inspired Surfer Granola to cozy Gingerbread Granola, there's something for everyone to enjoy. So, grab your oats and let's get started!
For anyone that has peanut and tree nut allergies, this homemade, nut-free granola recipe is perfect.
Aloha! Get ready to ride the waves with this Surfer Granola recipe that captures the tropical essence of the islands. Featuring three different types of coconut – flakes, sugar, and oil – plus macadamia nuts and banana chips, this granola will transport you to a beach paradise in just one bite.
For all the snackers out there, this easy granola bar recipe is a game-changer. With only nine wholesome ingredients, including maple syrup, dates, seeds, almonds, and tart cherries, these bars are a perfect combination of sweet and crunchy. Prepare to fall in love with this effortless and satisfying snack.
Looking for a simple, homemade granola bar recipe that can be easily customized to fit your taste preferences? Look no further than this soft and chewy granola bar recipe that is perfect as is or can be easily adapted to include your favorite dried fruits, nuts, or chocolate. The possibilities are endless with this versatile snack!
Calling all banana bread lovers! This healthy and gluten-free granola recipe tastes just like your favorite comfort food but with a nutritious twist. Featuring ripe bananas, oats, and cinnamon, this granola is the perfect way to start your day on a sweet note.
If you're a fan of chocolate and hazelnuts, this naturally sweetened granola recipe is the snack for you. Combining crunchy oat clusters with hazelnuts and chocolate chunks, this granola is a sweet and satisfying treat that will have you reaching for seconds (and thirds!).
Nothing screams holiday season like the warm, spicy flavors of gingerbread. This 30-minute gingerbread granola recipe captures all the deliciousness of the classic cookie in a healthy and crispy snack. Perfect for sharing with family and friends during the festive season.
Looking for a healthy and delicious granola recipe that is also gluten-free and vegan? Then you must try this maple-sweetened granola with orange zest and dried cranberries. Easy to make and perfect for a quick breakfast or snack, this granola will satisfy your sweet tooth and keep you feeling energized.
Are you a fan of oatmeal raisin cookies? Then you'll love this cinnamon raisin granola recipe that is easy to make and can be customized to fit your dietary needs. Whether you're vegan, gluten-free, or simply looking for a wholesome snack, this granola is a winner.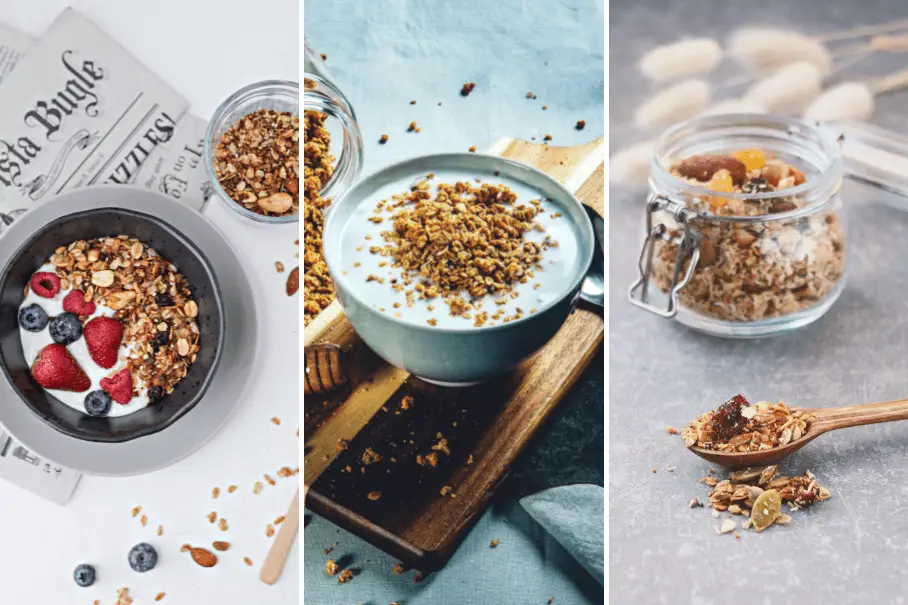 Instructions
Choose your favorite homemade granola recipe.

Gather all the necessary ingredients.

Prepare a delightful homemade granola recipe and enjoy!