Indulge in irresistible Air Fryer Shrimp recipes. Crispy, flavorful, and ready in minutes, these dishes satisfy your seafood cravings.
EASY AND TASTY AIR FRYER SHRIMP INSPIRATIONS
Today, I'm exploring the world of tasty Air Fryer Shrimp recipes that will make you want more. Whether you're a seafood fan or looking for fast, easy meals, these dishes are about to change your cooking game. From crunchy honey sesame shrimp to spicy blackened shrimp, the air fryer is your ace for getting that ideal mix of flavor and texture. So, grab your air fryers and start a shrimp-licious journey that's bound to please your palate!
Enjoy a fast and easy Taco Tuesday with this Air Fryer Shrimp Taco Recipe. You can make delicious tacos in the air fryer that everyone will love.
Learn how to make crispy honey sesame shrimp in the air fryer with this easy and delicious recipe. You will love the sweet and savory flavor and the crunchy texture of this dish. It's perfect for a quick and healthy dinner or appetizer.
Air Fryer Shrimp and Broccoli is a healthy and tasty dish. I can make a whole meal in the air fryer, which saves me time and hassle. You can serve it with fettuccine alfredo, which is not so healthy, but very yummy.
For a quick and easy lunch or dinner, try Air Fryer Shrimp and Vegetables. It's gluten free and delicious, and you can make it in less than 25 minutes. The air fryer does all the work for you.
In just 10 minutes, you can make Air Fryer shrimp fajitas that taste like they came from a Mexican restaurant. Just add tortillas, pico de gallo, crema, and avocado for a complete meal.
This Air Fryer Shrimp has a crispy golden crust and a spicy kick from the jalapeno cream chili sauce. It's a mouthwatering appetizer or main dish.
Try this Air fryer Hawaiian garlic shrimp for a low-carb, paleo, and whole30 friendly dish. It's flavorful and easy to make, and you can serve it as an appetizer or a main course.
These honey lime air fryer shrimp are tender, tasty, and perfectly cooked. You don't need to use the oven or the grill to make them.
This is the easiest way to cook argentine red shrimp in the air fryer. You only need two ingredients and less than 10 minutes to make this simple and delicious recipe.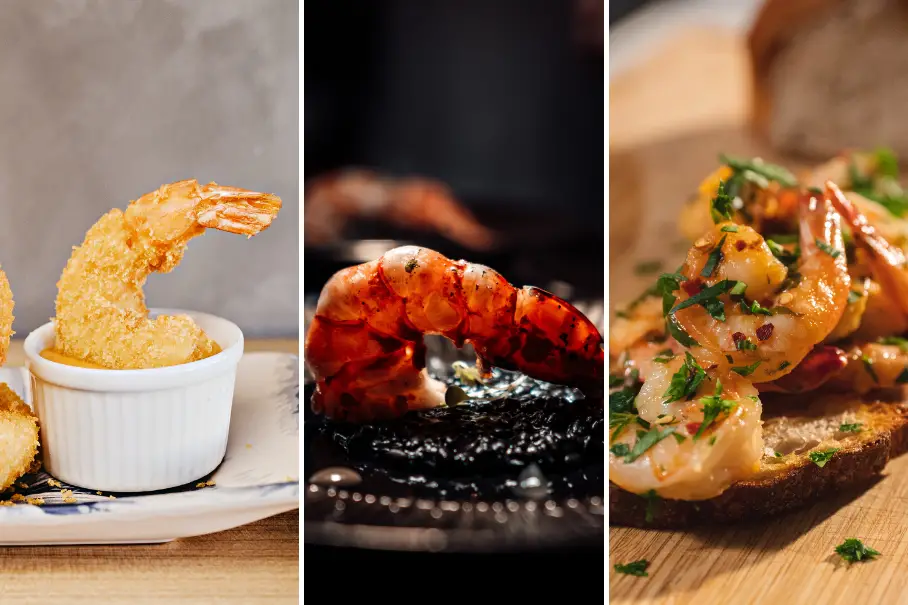 Instructions
Select an air fryer shrimp recipe that captivates your taste buds.

Gather all necessary ingredients.

Prepare a delightful air fryer shrimp dish using simple steps and relish the flavors of the sea!