Steal the show with these mouthwatering air fryer side dishes. From crispy veggies to savory bites, these recipes make every plate complete.
AIR FRYER SIDES THAT SHINE
When it comes to crafting unforgettable meals, I strongly believe that the magic goes beyond the main course. The side dishes can make or break an ordinary meal into an amazing dining experience. And what better way to achieve this than by using your reliable air fryer? Get set to start a culinary adventure that delivers crunchy textures, bold flavors, and the ease of fast cooking. From the irresistible crunch of bacon-wrapped green beans to the tempting charm of cheesy garlic broccoli, these air fryer side dish recipes are here to make your meals stand out. So, let's plunge into the world of tasty innovation and whip up sides that steal the show.
Wrap bacon around green beans and cook them in the air fryer for a flavorful and crunchy side dish. The bacon adds a meaty taste to the beans that are crisp and tender. This is a great way to enjoy green beans.
Broccoli becomes crispy, cheesy, and garlicky in the air fryer in no time. You will be impressed by how well the air fryer cooks broccoli, and it only takes less than 15 minutes. This is a quick and easy way to make broccoli.
Sweet potato fries are a healthier option than deep fried ones, and they are easy to make in the air fryer. They have less calories and fat, and they cook in less than 15 minutes. They are a light and tasty side dish for sweet potatoes.
Carrot fries are a simple and delicious snack or side dish that you can make in the air fryer. They are tossed with garlic olive oil and parmesan cheese, and sprinkled with red and black pepper. They are served with a creamy sriracha sauce for dipping.
Corn on the cob is super easy to cook in the air fryer. You don't need any water or foil, just some oil and salt. This recipe will show you how to make the best air fried corn ever.
Brussels sprouts are a wonderful side dish for any occasion that you can make in the air fryer. They are coated with a balsamic glaze that is sweet and tangy, and they are crispy and tender. This recipe is easy to follow and ready in 20 minutes.
Potatoes are a simple and satisfying vegetable that you can enjoy in the air fryer. They are seasoned with garlic, rosemary, salt, and pepper, and they become crispy on the outside and soft on the inside. They are vegan, gluten-free, and done in 30 minutes.
Zucchini is a healthy and easy vegetable that you can make in the air fryer. It is seasoned with garlic and cooked until crispy. It is low carb, paleo, and keto-friendly.
Cauliflower is a versatile and yummy vegetable that you can roast in the air fryer. It is crispy on the outside and tender on the inside, and it has a great flavor. It is simple and quick to make cauliflower in the air fryer.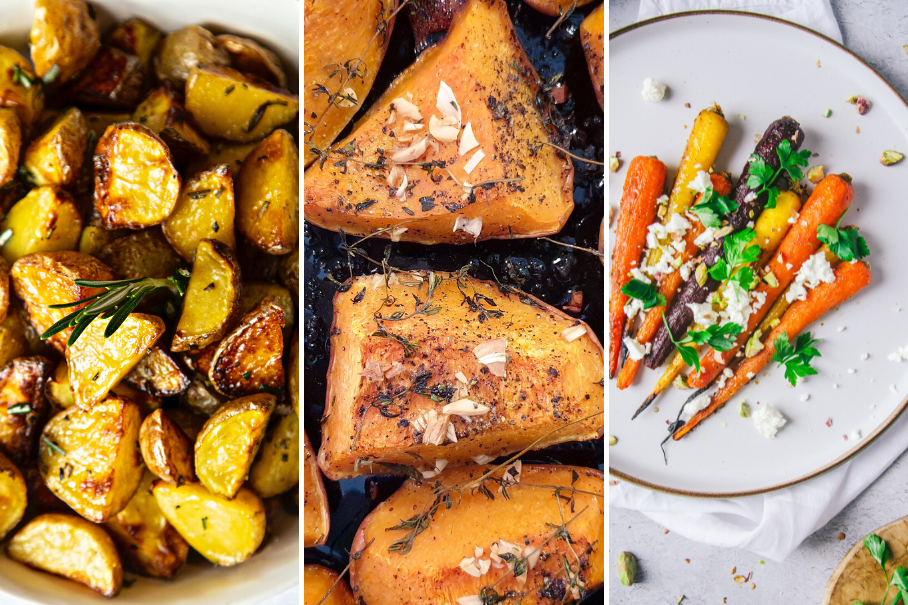 Instructions
Pick an air fryer side dish recipe.

Gather all necessary ingredients.

Prepare a flavorful air fryer side dish using simple steps and delight in the comforting flavors!