Indulge in perfection with these delightful pink cocktails! Fun, casual, and utterly enticing—cheers to a colorful mix!
THE BEST PINK COCKTAIL RECIPES
Ready to add some pink magic to your cocktail game? Don't be afraid, you can do it! These delightful recipes will have you sipping in style and raising a glass to good times. From the Pink Squirrel Frozen Cocktail's creamy goodness to the frothy Pink Lady Cocktail, I've got a line-up that'll leave you tickled pink! So, gather your friends, shake it up, and let the fun begin!
Chill out with the Pink Squirrel Frozen Cocktail—a creamy ice cream drink that's oh-so-easy to whip up. With its gorgeous pink color, it's a hit for everyone, even the mocktail lovers!
Get ready to fall in love with the Love Potion Vodka Cocktail! Perfect for Valentine's Day or any fun gathering, this beautiful and easy-to-make drink is an absolute treat.
Raise a glass with the Tickled Pink Cocktail! Celebrate in style with this deliciously vibrant concoction. Cheers to good times!
Elevate your cocktail game with the Pink Lemonade Champagne Margarita. It's the epitome of class and elegance—ideal for weddings and backyard BBQ parties!
Not too sweet, not too tart—the Perfect Cosmopolitan Cocktail is the way to go! Whether it's a solo treat or a crowd-pleaser, this recipe is a winner.
Summer's calling with the refreshing Watermelon Tequila Spritzer! Bursting with fruity goodness—made with fresh watermelon juice—it's the ultimate summer drink.
Bold and herbal, the Pink Gin & Tonic is elegance in a glass. Perfect for any  occasion, these pretty pink cocktails will delight your senses.
Embrace summer with our signature Pink Bikini Cocktail! Raspberry lemonade, coconut rum, and amaretto join forces in a pitcher of pure delight—perfect for sharing!
Get the party started with the Pink Vodka Lemonade Cocktail! Splash some Malibu and lime juice, and you're in for a refreshing, easy-to-make treat.
Get ready for some magical mixology! Transform your cocktail from pink to purple with a splash of pineapple juice—science has never been so delicious.
Experience the seasons' delight with the Candy Cane Martini—a cocktail that's both easy and festive. Sip on this candy cane rimmed treat, and let the festivities begin!
Party-ready with the Pink Passion Party Punch! A fusion of flavors to keep you mingling all night long. Get the celebration going with this irresistible trio.
Weekends just got a whole lot better with these Pink Grapefruit Margaritas! Refreshing, delicious, and oh-so-simple—especially with fresh limes for that perfect touch.
Spring sipping at its finest—the Blackberry Bramble Cocktail! Four simple ingredients, one gin-based concoction, and you've got yourself a delightful treat. Cheers!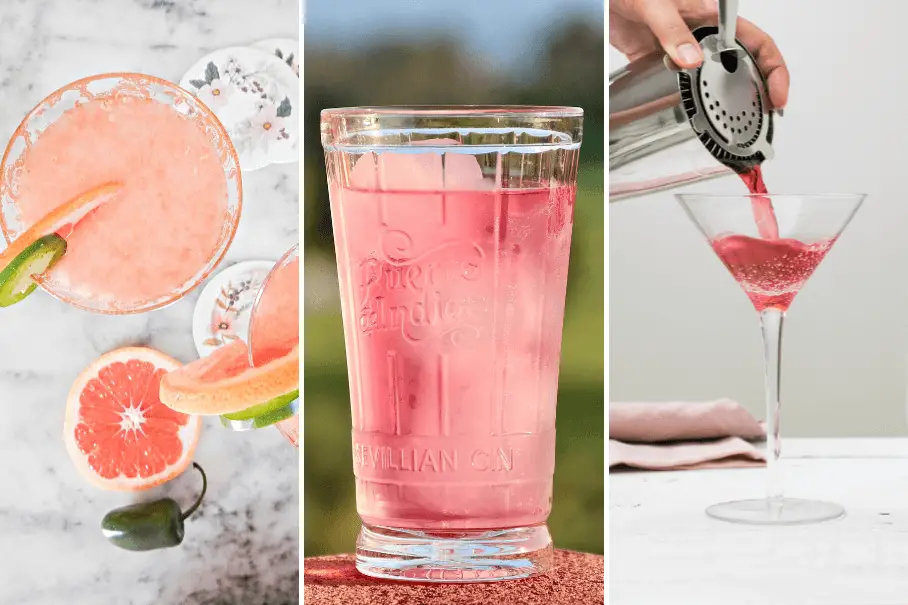 Instructions
Choose your favorite pink cocktail recipe.

Gather all the necessary ingredients.

Prepare a delightful pink cocktail recipe using simple steps and enjoy!