Shake up your cocktail game with these amazing Bourbon Cocktails! From classics to unique twists, there's something for every bourbon fan.
BOURBON COCKTAILS FOR BBQS AND BASHES
There's nothing quite like a perfectly crafted cocktail to make you feel like a sophisticated and stylish adult. And when it comes to choosing a spirit for your libations, bourbon is always a good choice. With its distinct flavor profile and smooth finish, it's a versatile liquor that pairs well with a variety of mixers and ingredients. That's why I've rounded up some of my favorite bourbon cocktail recipes that are sure to impress your taste buds and elevate your home bartending game.
Hosting a holiday party? Impress your guests with this easy Bourbon Eggnog recipe that only takes 2 ingredients and 5 minutes to make! The creamy texture and festive flavor will have everyone feeling merry and bright!"
Mix up your cocktail game with this refreshing twist on two classic drinks – the Paloma and the Old Fashioned. Made with crisp grapefruit and smooth Bourbon, this cocktail is perfect for sipping on a warm evening. A squeeze of lemon or lime adds just the right amount of zing!
Sometimes, the classics are the best! Whip up this Bourbon Manhattan cocktail recipe at home with only three ingredients – bourbon, sweet vermouth, and orange bitters. It's the perfect drink for savoring after a long day.
When the weather's warm, there's nothing better than a cool and refreshing mint julep. Crushed ice, fresh mint, and Kentucky bourbon combine to make this perfect Derby Day cocktail. But why limit yourself to just one day? Sip on this delicious cocktail all season long!
Looking for a twist on the classic Collins cocktail? Swap out the gin for bourbon and add a splash of lemon! This John Collins cocktail is perfect for sipping on a hot day, and the tall, iced glass makes it feel extra refreshing.
A classic cocktail that never goes out of style, the whiskey sour is a must-have in any home bartender's arsenal. This easy recipe is perfectly balanced and only requires a few simple ingredients. Garnish with an orange peel and a cocktail cherry for an extra touch of sophistication!
Bourbon lovers, rejoice! Our Bourbon Sweet Tea Cocktail is the perfect combination of sweet and spicy, with a hint of tea flavor. It's the ultimate summer drink, but why limit yourself? Enjoy this refreshing cocktail any time of the year!
Looking for a simple yet nuanced cocktail? Master the classic bourbon smash with just a few ingredients and simple methods. For an extra layer of flavor, add maple syrup or keep it classic with simple syrup.
If you're a fan of the Manhattan cocktail, you'll love this alternative – the revolver cocktail. Made with bourbon, coffee liquor, and orange bitters, it's the perfect drink for sipping by the fire on a cold winter night.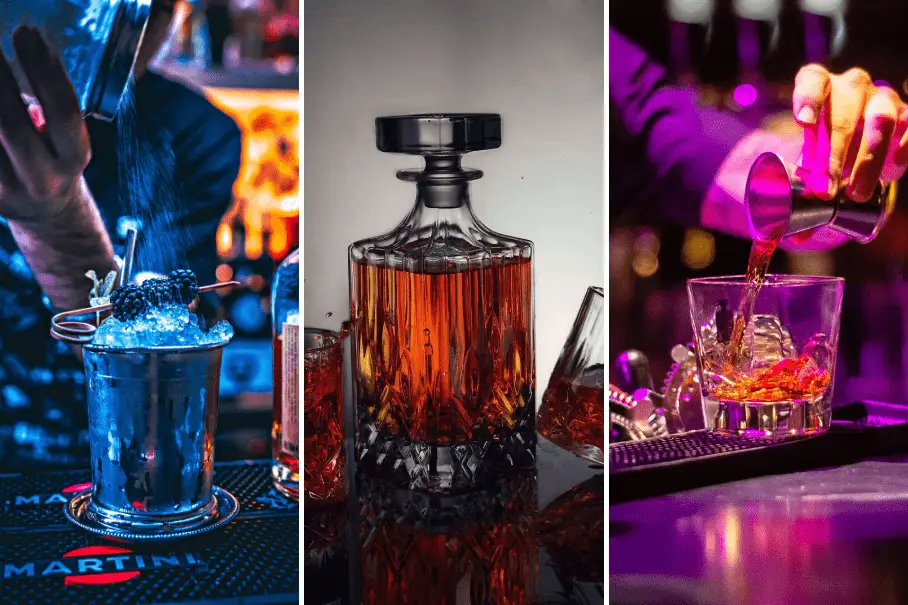 Instructions
Choose your favorite bourbon cocktail recipe.

Gather all the necessary ingredients.

Prepare a delightful bourbon cocktail recipe and enjoy!