Looking for refreshing aperol cocktail recipes to quench your thirst on a hot summer day? Look no further! These recipes will leave you feeling refreshed and happy.
VIBRANT APEROL COCKTAILS FOR REFRESHING RELAXATION
Aperol is a delightful Italian apertif that is perfect for creating a variety of delicious cocktails. Whether you are looking for a summer refresher or a festive winter drink, Aperol can provide the perfect base. With its light, sweet, slightly bitter and citrusy flavor, it pairs perfectly with a range of other ingredients, from seltzer and tonic to Champagne and ginger beer. In this article, we will provide you with 23 refreshing Aperol cocktail recipes sure to delight your taste buds!
Aperol is an Italian aperitif made from a blend of bitter and sweet orange, rhubarb, and other herbs. It is known for its bright orange color and low alcohol content (usually around 11% ABV). Aperol is commonly used as an ingredient in the popular cocktail, the Aperol Spritz, which is made by mixing Aperol with Prosecco and soda water, and garnishing with an orange slice. It is also commonly used as an ingredient in other cocktails and mixed drinks.
It's hard to beat the ultra-refreshing Aperol Spritz. It has only three ingredients, tastes like summer, and looks like a sunset!
This recipe for an aperol sour cocktail is adaptable enough to be served at any time of year, from summer to winter.
It's time to upgrade your college Cosmopolitan and create a sophisticated Aperol vodka drink that is modern, fresh, and more current with the times!
If you're a fan of the classic Aperol Spritz, then you're sure to be delighted by this Aperol Tonic concoction.
The traditional aperol spritz has been given a seasonal makeover in the form of this cocktail! Prosecco, club soda, and colorful cranberries combine to make a festive cocktail that is incredibly light and refreshing!
Give a classic cocktail a modern twist by adding a hint of floral flavor, along with tartness and effervescence in this Elderflower Aperol Spritz.
These tequila-based, citrusy Grapefruit Aperol Cocktails are the ideal batch cocktail for your happy hour menu because they're light and delicious.
The Paper Plane cocktail is a boozy, bourbon and aperol concoction that packs a zesty punch and has a vivid color.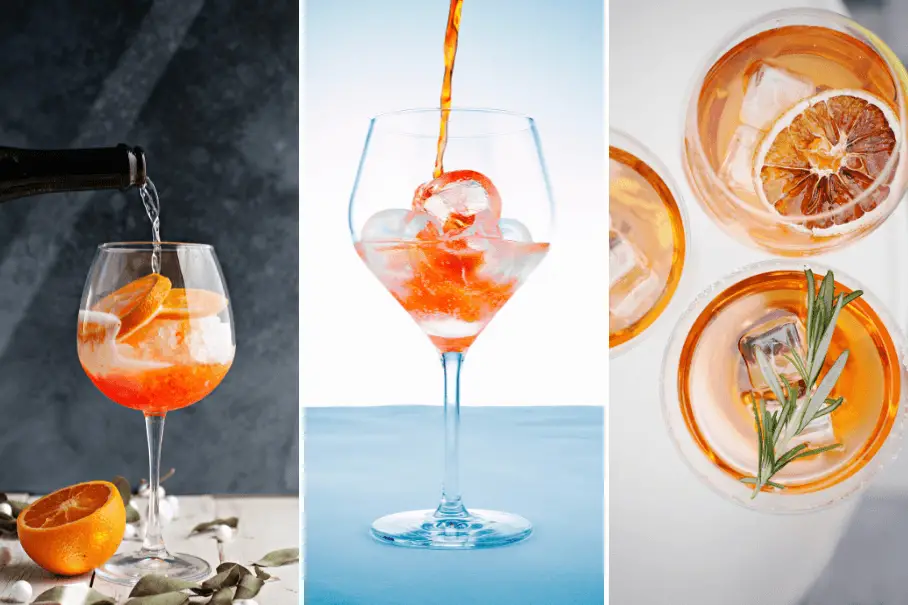 Instructions
Choose your favorite Aperol cocktail recipe.

Gather all the necessary ingredients.

Prepare a delightful Aperol cocktail recipe and enjoy!