Oven Baked Chicken Schnitzel is an easy meal to make if you are looking for a healthy alternative to deep-frying.
BAKED CHICKEN SCHNITZEL RECIPE
WHAT IS CHICKEN SCHNITZEL?
Schnitzel is a thin slice of meat, pounded thin with a kitchen mallet. Usually, it is made with chicken, pork, or veal. However, people have enjoyed turkey, mutton, and beef schnitzels. The meat is breaded, and traditionally fried in oil. However, in this recipe, it is baked in the oven to make it a little bit healthier.
WHAT DOES BAKED CHICKEN SCHNITZEL TASTE LIKE?
Baked schnitzel made with chicken is delicious. Imagine a breaded, crispy chicken tender, with a little bit of a citrusy flavor to it from the lemon zest. The zest is not overpowering, but it is a welcome addition to all the savory flavors of the breading and the chicken itself.
BAKED CHICKEN SCHNITZEL INGREDIENTS
Olive Oil – 1 tablespoon
Boneless, skinless chicken breasts – 6
Salt and Pepper (to taste)
All-purpose flour – ¾ cup
Paprika – 1 tablespoon
Eggs – 2
Bread crumbs – 2 cups
1 large lemon, zested
HOW TO MAKE THIS BAKED CHICKEN SCHNITZEL RECIPE
Preheat oven to 425 F.

Line a large baking sheet with aluminum foil and coat with olive oil
Flatten chicken to ¼ inch thick and season with salt and pepper.
Whisk together paprika and flour on a large plate. In a small bowl beat eggs and season with more salt and pepper. On another large plate combine breadcrumbs and lemon zest.

Dredge chicken pieces in flour, then dip in egg. Roll in breadcrumb mixture. Place on sheet

Drizzle olive oil over chicken and place in oven.

Bake for 20 minutes and then flip the chicken over. Continue baking for another 10 minutes or until the internal temp of the chicken is at least 165 F.

Serve Hot.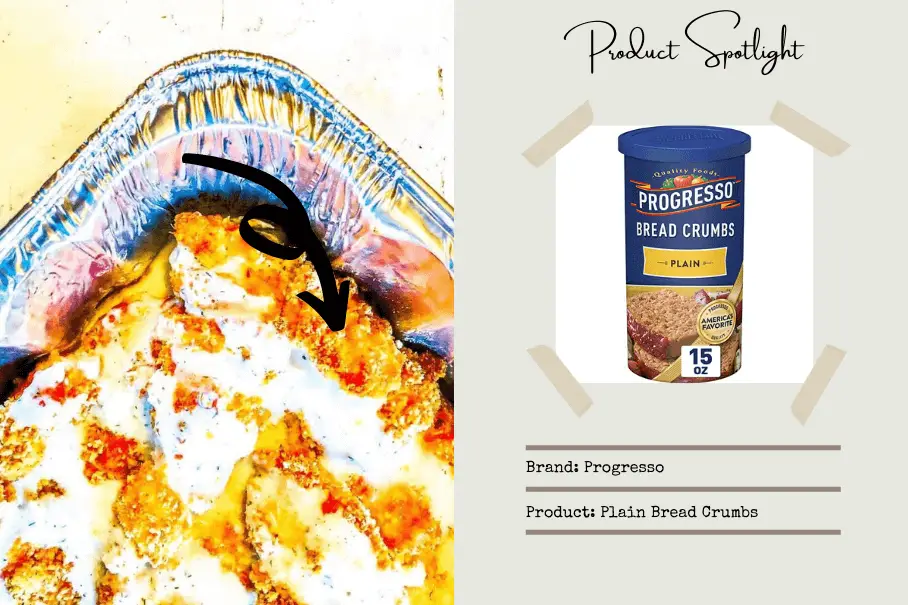 CAN YOU MAKE CHICKEN SCHNITZEL AHEAD OF TIME?
Baked schnitzel can be made earlier in the day if you are prepping for a party, or if you are making a large batch for your weekly meal prep. The schnitzel will keep fresh in the refrigerator for a few days.
CAN YOU FREEZE SCHNITZEL?
You can store cooked schnitzel in the freezer. If you use an airtight container, you can freeze it and enjoy it later. Perfect for meal prepping!
WHAT TO SERVE WITH CHICKEN SCHNITZEL?
Chicken Schnitzel pairs great with a side dish like Garlic Mashed Red Potatoes, or perhaps egg noodles with a little bit of butter and salt. Looking for something lighter? How about a little bit of apple sauce with schnitzel? Yum!
WHAT KITCHEN TOOLS DO I NEED TO MAKE BAKED CHICKEN SCHNITZEL?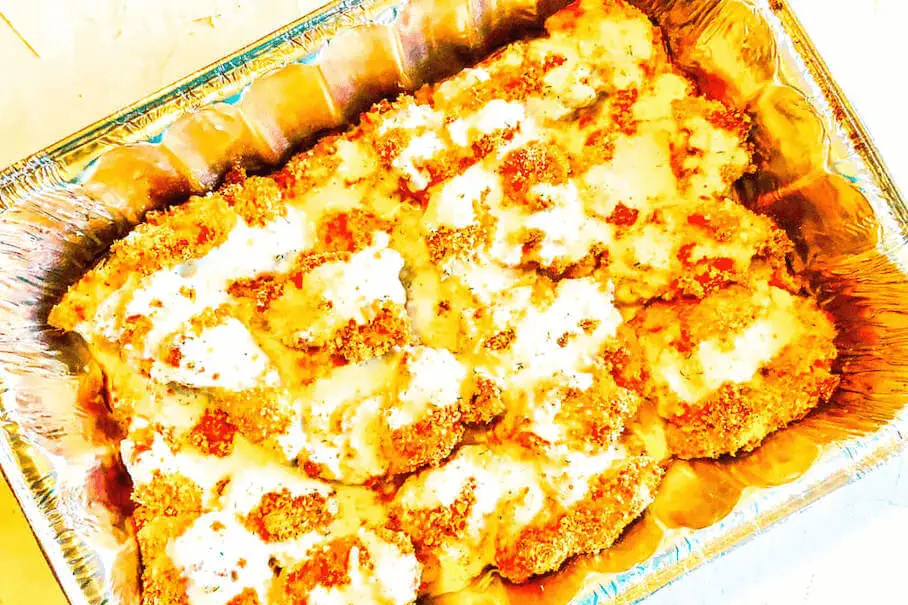 Instructions
Line a large baking pan with aluminum foil, and coat with olive oil

Flatten chicken to 1/4 inch thick

Whisk together paprika and flour on a large plate. In a small bowl, whisk eggs with a fork. On another plate, combine breadcrumbs and lemon zest

Dredge chicken pieces in flour, then dip into egg. Roll in breadcrumb mixture, and place on the baking pan

Drizzle olive oil over chicken and place in oven

Bake for 20 minutes, and then flip the chicken over. Continue baking for another 10 minutes, or until internal temp is at least 165° F