Indulge in the world of desserts with these incredible 3-ingredient recipes. Quick, easy, and oh-so-delicious!
ANOTHER BATCH OF 3-INGREDIENT DESSERTS!
If you're like me, you love the idea of creating mouthwatering sweets without spending hours in the kitchen. Well, get ready to have your taste buds enchanted with a collection of desserts that require just three simple ingredients. From gooey Nutella fudge to delightful apple pie dumplings, we're about to embark on a journey of flavor that proves magic can indeed be made with a minimal ingredient list. So, let's dive into the world of easy, quick, and utterly delectable 3-ingredient desserts that will satisfy your sweet cravings with every bite.
Cake mix is the secret to making quick and easy muffins. They are so good and perfect for fall. Snack on them or have them for a sweet breakfast.
Make these 3 ingredient chocolate coconut balls with condensed milk, coconut flakes and chocolate. They are easy and delicious. Learn how to make them with this recipe.
Indulge in this almond bark with roasted almonds and chocolate. It is thick, crunchy, and rich. It is also vegan and gluten-free.
Make this 3-ingredient chocolate cherry dump cake for a decadent dessert. It is easy to make and ready in an hour. Dump, bake, and enjoy!
No Bake Kool-Aid Pie – Only 3 ingredients for this creamy, cool, and delicious pie. It is the easiest no bake pie for summer. Try it today!
Chocolate Covered Frozen Bananas with Peanut Butter are a healthy dessert with only 3 ingredients. They are vegan, gluten-free, and dairy-free. Enjoy these easy treats anytime!
Make these easy cake mix cookies with your favorite add-ins, like chocolate chips or M&Ms. Choose any cake mix you like. These cookies are soft and yummy!
Butter cookies are a classic treat that everyone loves. They are made with just three ingredients: butter, sugar, and flour. Whip up a batch in 15 minutes with this recipe.
These cake mix cookies are the best and softest cookies you can make. They are easy and only require 3 ingredients. You will love these cookies!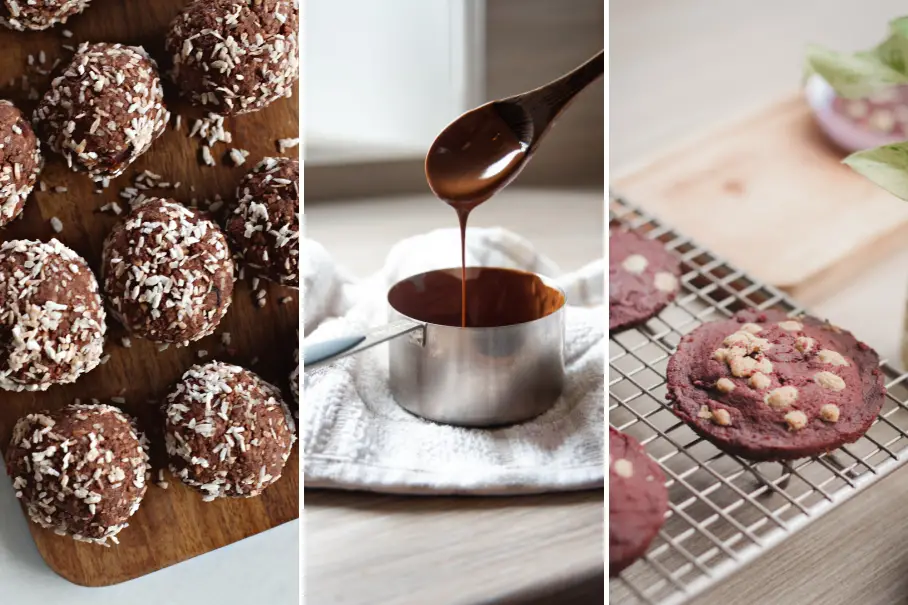 Instructions
Choose your favorite 3-ingredient dessert recipe.

Gather all necessary ingredients.

Prepare a delightful 3-ingredient dessert using simple steps and savor the flavors!