Discover crisps and crumbles delightful dessert recipes! From apple crumble to chocolate crisp—easy and fun treats await!
THE BEST CRISPS AND CRUMBLES
From the delightful Peanut Butter Apple Crumble to the heavenly Chocolate Crumble, this lineup of easy crisps and crumbles recipes promises to satisfy your cravings in the most delectable way possible. So, grab your baking gear, and let's embark on a scrumptious journey through these delightful and enticing treats!
Looking for a fun and easy dessert for your next potluck? This plum crumble recipe is your go-to! It's not just delicious; it's also a fantastic traveler and can be heated up at your host's place. Make sure to serve it warm with a generous scoop of vanilla ice cream to complete the yum factor!
Calling all fall dessert enthusiasts! Feast your taste buds on this delightful peanut butter apple crumble. Imagine juicy apples coated in the richness of brown sugar and peanut butter, all crowned with a peanut butter crumble topping. It's a nutty twist on a classic favorite!
Vanilla coffee cake, but with a delectable twist! Forget the typical cinnamon filling; this one is amped up with brown sugar and peanut butter. Ever tasted cinnamon peanut butter? Well, this one's even better—sweet, buttery, and oh-so-amazing!
Get ready to dive into the scrumptious world of baked banana crumble! This iron skillet beauty is loaded with bananas, oats, pecans, brown sugar, butter, and a touch of orange juice. The best part? Pair it with some ice cream, and you've got a match made in dessert heaven!
Unearth the delightful Sweet Potato Crumble recipe from Food Network! It's a treat you won't want to miss. With every bite, you'll experience the perfect fusion of flavors and textures, leaving you craving more.
No need to fuss with a cherry pie when you can enjoy the delightful simplicity of a Cherry Almond Crisp! Juicy plump cherries meet a crumbly almond topping in this easy and oh-so-delicious dessert.
Got overripe pears lying around? Waste not, enjoy a gluten-free delight with this Easy Pear Crumble recipe! Top those pears with a crunchy oat goodness, and voilà—an instant favorite for a quick dessert fix.
Late summer's perfect treat awaits with this easy Blackberry Crumble. Baking from scratch? No worries! This recipe will have you putting together a scrumptious dessert in no time.
Kickstart your day with a zesty Lemon Crumble Breakfast Cake. Moist and tender lemon-infused cake topped with a sweet crumble—what more could you ask for? Whether it's breakfast, brunch, or dessert, this one's a winner!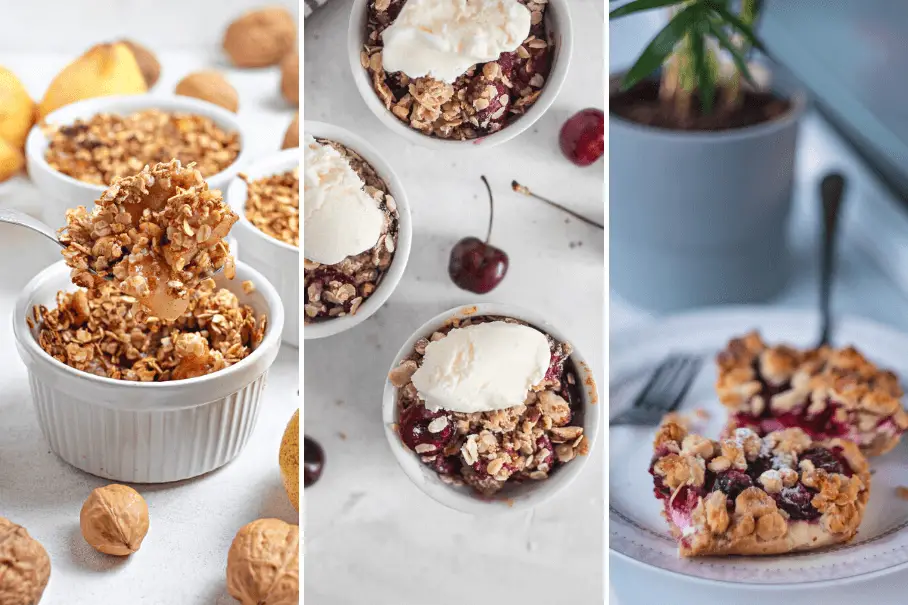 Instructions
Choose your favorite crisp or crumble recipe.

Gather all the necessary ingredients.

Prepare a delightful crisp or crumble recipe using simple steps and enjoy!