Sweeten up your sipping with these 18 delectable strawberry cocktails. From classics to creative twists, discover the perfect refreshment.
STRAWBERRY COCKTAIL RECIPES FOR SWEET SIPPING
As the sun heats up our days and the breeze cools us down, summer is clearly upon us. And what finer way to enjoy this lively season than with a batch of splendid strawberry cocktail recipes that are ready to be savored? From the fruity elegance of Strawberry Thyme Prosecco to the refreshing kick of a Kentucky Kiss, each drink is a demonstration of the art of creating a moment of pure pleasure. So grab your glasses, join me on this thrilling journey, and let's toast to the glory of summer, one sip at a time.
Indulge in the essence of summer with our Strawberry Basil Gin Cocktail. This refined concoction strikes a balance between subtle sweetness, a touch of tartness, and an earthy note from fresh basil. An ideal choice to elevate your relaxation moments.
Elevate your glass with the Strawberry Thyme Prosecco, a 5-minute wonder! Bubbles meet sweetness and refreshment as strawberries, thyme, limoncello, and prosecco unite in perfect harmony. It's a delightful sip that captures the essence of summer's charm.
Quench your thirst with a twist of sophistication – the Spiked Strawberry Lemonade. The perfect marriage of sweetness and a spirited "kick" that hits just right. This cocktail earns its place as my top pick for ultimate summer enjoyment.
Add a burst of color and flavor to your brunch spread with the effortless Strawberry Bellini. Crafted with care, it takes mere moments to transform two ingredients into a vibrant, spring-inspired sip. Let the hues and tastes of the season dance on your palate.
Unveil the charm of the Kentucky Kiss, a blend of flavors that intrigues. Bourbon, lemon juice, maple syrup, and strawberries merge in an old-fashioned glass, each component crafting a symphony of taste. Muddled to perfection, it's a kiss of complexity in every sip.
Experience the Strawberry Sangria – an ode to leisure and lushness. A symphony of white wine or rosé, enriched with fresh strawberries, raspberries, oranges, and our very own homemade strawberry syrup. This sip is a serenade to summer soirées.
Savor the simplicity of the Strawberry Vodka Martini, a blend that's as easy as it is exquisite. The pink-hued elixir is a testament to elegance, a sweet treat perfect for a tête-à-tête with your dearest friends.
Liberate your taste buds with the captivating Strawberry Lemon Lime Rum Punch. An orchestration of flavors that's effortlessly enchanting, tailor it for gatherings and let the luscious symphony of tastes work its magic.
Elevate your refreshment game with the Strawberry Gin Spritzer. Fusing fresh strawberry notes, citrus zing, invigorating gin, and sparkling water, it's a light-hearted, fruity dance that delights the senses.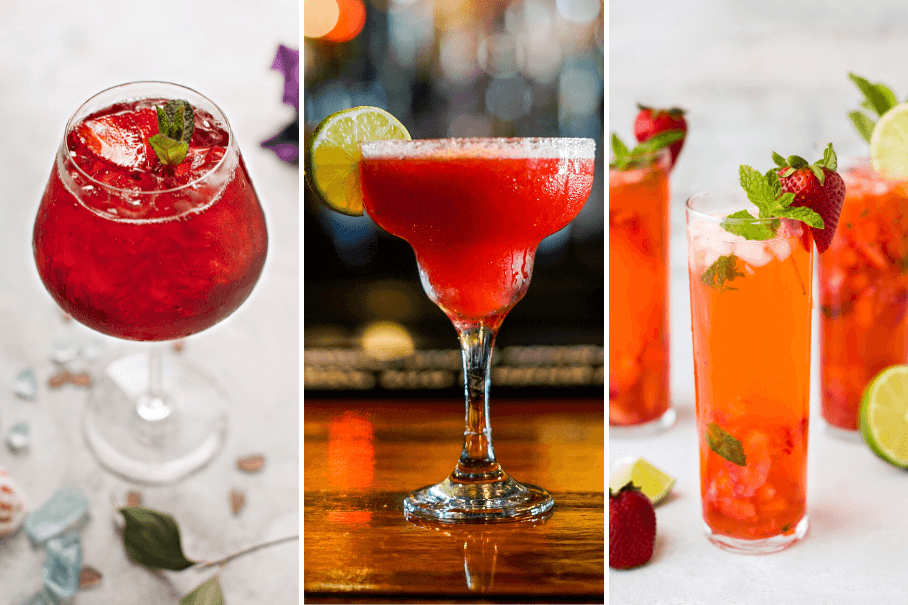 Instructions
Choose your favorite strawberry cocktail recipe.

Gather all necessary ingredients.

Prepare luscious strawberry cocktails using simple steps and enjoy the fruity fusion!