Quench your thirst and cool down this summer with these 25 tasty iced tea recipes. From classic to creative, there's a flavor for everyone!
TAKE A REFRESHING PLUNGE WITH THESE TASTY ICED TEA RECIPES
With summer just around the corner, I'm already dreaming about refreshing drinks to cool down in the heat. That's why I've gathered together some of the most delicious iced tea recipes to keep you hydrated and satisfied all season long. From classic sweet tea to creative fruit-infused blends, these recipes are perfect for sipping on the porch, at a BBQ, or even by the pool. So grab a glass and get ready to taste summer in every sip.
Get ready to cool down with this Raspberry Iced Tea recipe! With a delightful balance of tangy and sweet, this easy-to-make drink is perfect for any summer occasion. Just brew your favorite tea, blend in some fresh raspberries, and voila – a refreshing summer drink is ready to enjoy!
When it comes to quenching your thirst on a hot summer day, nothing beats a glass of Sweet Cherry Iced Tea! This recipe combines the sweet, fruity flavor of cherry syrup with freshly brewed tea for a deliciously refreshing drink. Perfect for sipping by the pool or sharing with friends at a backyard BBQ!
Looking for a pick-me-up that's both energizing and delicious? Check out this Iced Jasmine Green Tea with Ginger and Lemon! With just four simple ingredients and 15 minutes of your time, you can create a subtly sweet and satisfying summer beverage that's sure to hit the spot.
Treat yourself to a taste of summer with this Incredibly Simple Peach Iced Tea recipe! Infused with real peaches and peach simple syrup, this refreshing drink is the perfect way to cool down on a hot day. So why not grab a glass and head out to the pool to soak up the sun?
When it comes to refreshing summer drinks, this Iced Green Tea with Lemon, Lime, and Fresh Mint is hard to beat! Naturally sweetened with honey, this revitalizing beverage is bursting with flavor and perfect for sipping on a warm day.
Say goodbye to bitter, tannic iced tea and hello to this Super Simple Cold Brew Iced Tea recipe! With its clean, refreshing taste and long-lasting freshness, this easy-to-make drink is sure to become a staple in your summer beverage lineup.
Searching for something new this summer? Why not make your own Barley Tea! A beloved staple in Korea, this delicious and versatile drink can be enjoyed hot or cold and is perfect for quenching your thirst on a hot summer day.
Get a taste of Southeast Asia with this easy-to-follow Thai Iced Tea recipe! Made with Thai tea mix, milk, and sugar, this creamy and mildly spiced drink is perfect for cooling down on a hot day. So why not bring the taste of Thailand to your own kitchen this summer?
On the hunt for a refreshing and fruity summer drink that's easy to make? Whip up this Sweet Lemon Iced Tea recipe! With its zesty citrus flavor and sweet notes, this thirst-quencher is sure to be a hit with family and friends.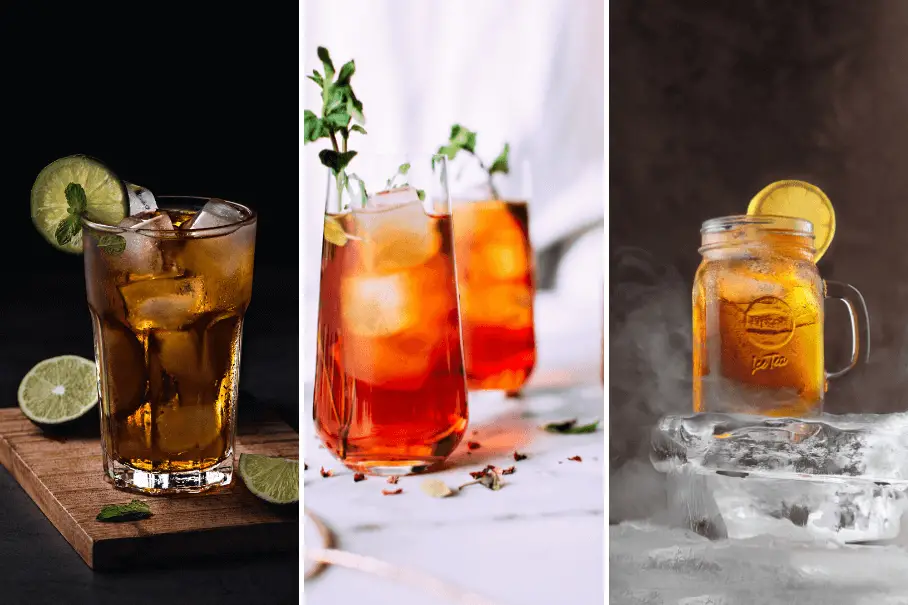 Instructions
Choose your favorite iced tea recipe.

Gather all the necessary ingredients.

Prepare a delightful iced tea recipe and enjoy!