Quench your thirst and satisfy your coffee cravings with these delicious iced coffee recipes perfect for a morning pick-me-up!
ICED COFFEE RECIPES TO RISE AND SHINE TO!
I know I'm not the only one who craves a refreshing beverage to sip on while trying to stay cool…or awake. These recipes are easy to make and will leave you feeling energized and refreshed. So, let's dive in and discover some new favorites!
Are you searching for the perfect summer beverage? Look no further than this Brown Sugar Iced Coffee recipe! It's sweet, refreshing, and easy to make.
Save yourself a trip to the drive-thru and create your own customized iced coffee with this Dunkin' Donuts-inspired recipe. It's quick, easy, and oh-so-satisfying.
Love Starbucks' Pumpkin Cream Cold Brew Coffee? Now you can make your own copycat version at home! It's a coffee house classic that's simple to recreate in your kitchen.
When you need a jolt of caffeine on a hot day, iced espresso is the way to go. With a bold flavor and refreshing chill, it's the perfect pick-me-up.
Get in the holiday spirit with this Peppermint Mocha Cold Foam Cold Brew Coffee. It's a fun and festive treat that's perfect for sipping at home.
Treat yourself to a delicious and refreshing caramel iced coffee any time of day with this simple recipe. It's a sweet indulgence that's perfect for any season.
Indulge in a chocolatey pick-me-up with this easy-to-make Chocolate Iced Coffee. It's the perfect way to beat the heat and satisfy your sweet tooth.
If you love the flavors of Turtle candy, you'll adore this Turtle Iced Coffee recipe. It's a guilt-free treat that will give you a much-needed boost.
Jump-start your day with this 5-ingredient Mocha Iced Coffee. It's a quick and easy recipe that's sure to perk you up and lift your spirits.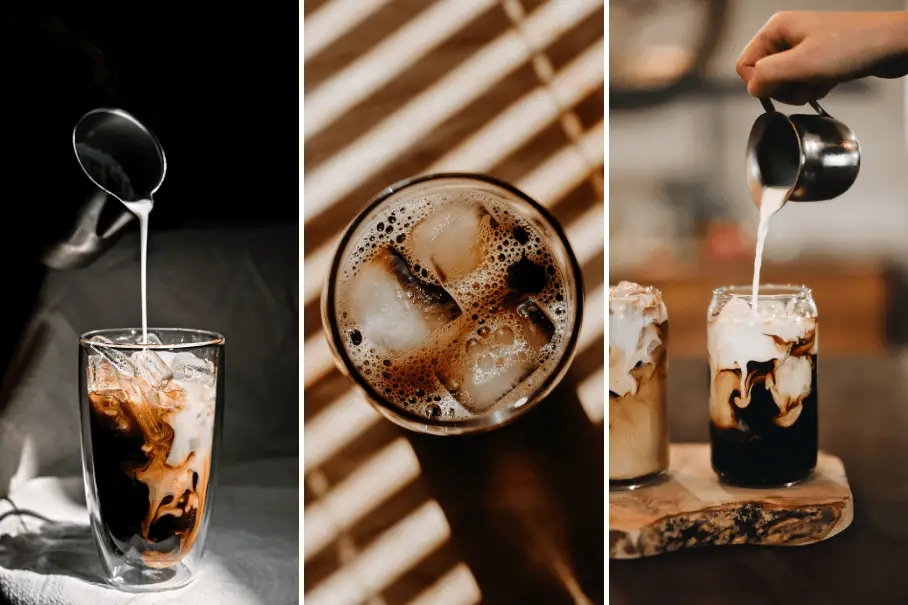 Instructions
Choose your favorite iced coffee recipe.

Gather all the necessary ingredients.

Prepare a delightful iced coffee recipe and enjoy!