From old favorites like banana and yogurt to new twists like pineapple and mint, these Almond Milk Smoothie recipes are sure to satisfy.
DAIRY-FREE ALMOND MILK SMOOTHIE RECIPES
Breakfast is the most important meal of the day, and these almond milk smoothie recipes are the perfect way to start your day! From old favorites like banana and yogurt to new twists like pineapple and mint, these recipes are sure to satisfy. So start your day off right with a delicious almond smoothie, and don't forget to save some for later!
This banana oatmeal smoothie recipe is a great way to start your day or as a quick, nutritious snack. You can make it with almond milk for a lighter option, or use cow milk if you prefer. Either way, it's a delicious way to lose weight.
A nutritious, full breakfast or snack, chocolate banana smoothie is packed with nourishing ingredients for protein, minerals, calcium, and fiber.
This morning-sustaining beverage has rolled oats, fresh almond butter, a whole banana, almond milk, and a dash of cinnamon.
There are only 4 ingredients and 2 minutes required for the greatest strawberry keto smoothie recipe. It is naturally fruity, creamy, sweet, and refreshing.
Enjoy this smooth and delicious mango almond butter smoothie to start your day. This protein-rich smoothie should keep you satisfied until lunch.
The perfect fast breakfast or post-school snack is this thick and creamy Chunky Monkey Smoothie. This gluten-free, healthful snack just requires 4 ingredients: almond milk, peanut butter, chocolate chips, and bananas.
This smoothie is sweet, refreshing, and healthy. It is made with frozen pineapple, cucumber, ginger, and coconut milk.
Rich and creamy, this chocolate almond milk smoothie is the ideal quick breakfast or mid-afternoon treat. It is made using basic ingredients that you probably already have on hand and serves as a nutritious dairy substitute.
This vegan dirty chai latte smoothie is a delicious way to enjoy the flavour of a dirty chai latte in a cool, refreshing smoothie. It is packed with protein, fiber, healthy fat, and a little boost of caffeine, making it the perfect on-the-go breakfast or afternoon pick-me-up.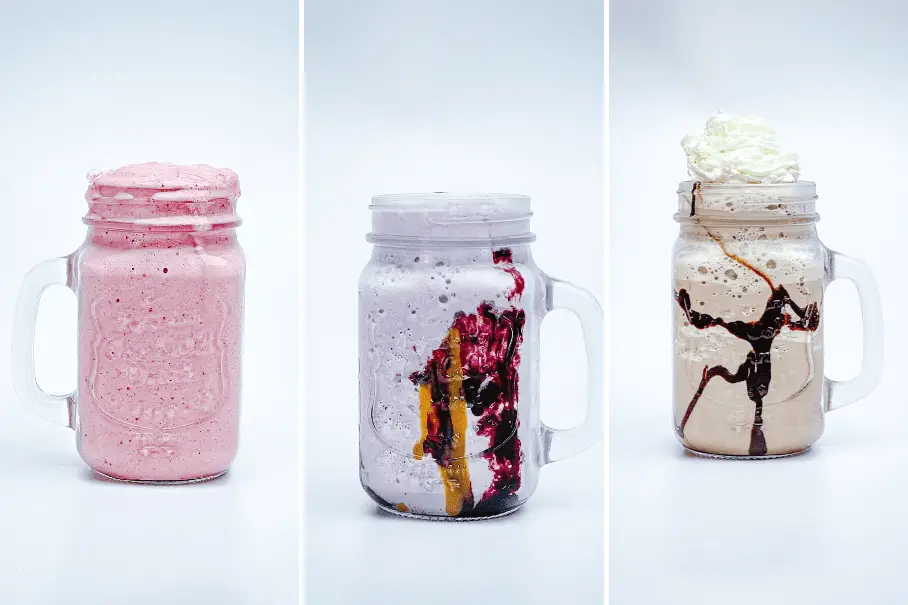 Instructions
Choose your favorite almond milk smoothie recipe.

Gather all the necessary ingredients.

Prepare a delightful almond milk smoothie recipe and enjoy!