Discover the best blueberry smoothies! Energize with these sweet, nutritious blends, perfect for breakfast or a refreshing snack.
THE BEST RECIPES FOR BLUEBERRY SMOOTHIES
Blueberries are a beloved fruit that have been enjoyed for centuries due to their sweet taste and numerous health benefits. Whether eaten on their own, added to pancakes or muffins, or blended into a smoothie, blueberries are a versatile ingredient that can be used in a variety of delicious ways. Today, we're exploring the world of blueberry smoothies and sharing some of the best recipes out there. From classic blueberry and banana blends to more unique combinations like blueberry pomegranate and blueberry avocado, these smoothies are sure to satisfy your cravings and leave you feeling energized and nourished. So grab your blender and get ready to whip up some of the most delicious and nutritious blueberry smoothies you've ever tasted!
Try out this recipe for a Blueberry Watermelon Smoothie that's not only refreshing and thirst-quenching but also packed with all the good stuff your body needs!
Looking for a refreshing smoothie recipe that's packed with nutrients and naturally sweetened? Try this wild blueberry smoothie that tastes like a blueberry muffin!
For a healthy breakfast or snack, whip up this Blueberry Spinach Smoothie that's easily dairy-free and requires no cooking.
Craving a creamy and delicious smoothie that's also easy to make? This four-ingredient blueberry mango Greek yogurt smoothie is the perfect solution!
Start your day with a healthy and filling breakfast drink like this peach blueberry smoothie with oats, made with either fresh or frozen fruit.
For a vegan and anti-inflammatory breakfast or snack, try this Wild Blueberry Vanilla Matcha Smoothie that's bursting with flavor and nutrients.
Looking for a sweet and tangy smoothie that's vegan and naturally sweetened? This lemon blueberry smoothie made with only five ingredients is the perfect option!
For a creamy and nutritious breakfast smoothie, try blending frozen blueberries and bananas with almond butter and almond milk.
This flavorful blueberry pomegranate smoothie recipe is loaded with antioxidants and makes for a delicious and healthy breakfast idea.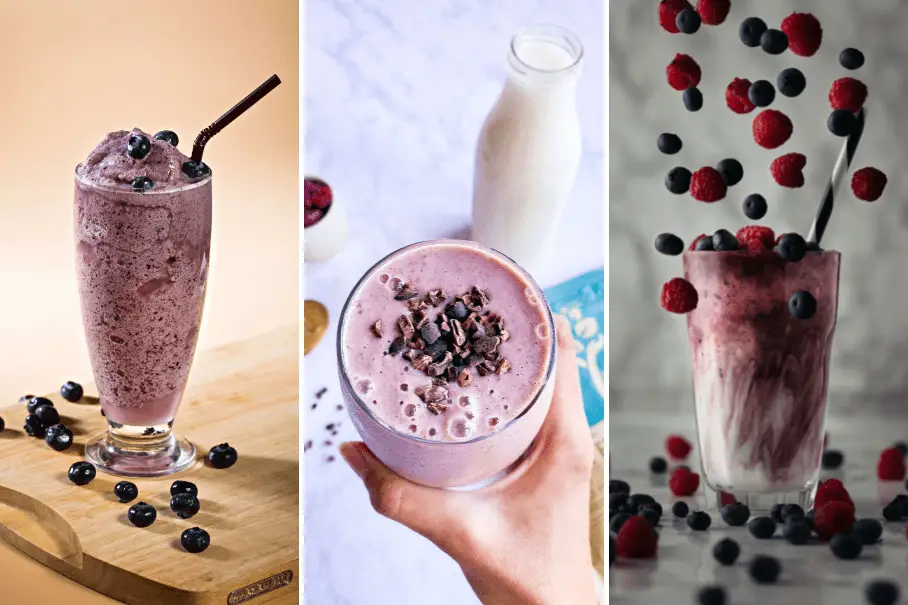 Instructions
Choose your favorite blueberry smoothie recipe.

Gather all the necessary ingredients.

Prepare a delightful blueberry smoothie recipe and enjoy!