This breakfast is loaded with fruit, and very filling. This Blueberry and Peach Cobbler Sheet Pan Pancake recipe is a family favorite.
BLUEBERRY AND PEACH COBBLER SHEET PAN PANCAKE RECIPE
Two tastes of summer: blueberry and peach. Great on their own, great together. Mix it all up and put them in a sheet pan pancake, you say? Oh, if I must!
WHAT IS A SHEET PAN PANCAKE?
A sheet pancake is a recipe that uses the same ingredients as a traditional pancake, however, the batter is baked in a large baking dish or on a deep cookie sheet instead of on the stove in a skillet. It is an easier way of making pancakes since you are essentially making one giant pancake instead of a bunch of smaller pancakes.
WHAT DO BLUEBERRY COBBLER PANCAKES TASTE LIKE?
Sheet pan pancakes taste almost identical to regular pancakes cooked in a skillet, they just tend to be a little thicker since you are not usually layering them like you would with circular pancakes. This particular pancake recipe is a blend of pancakes and cobbler, yum! There is a sweetness and tartness from the fruit and sugars, combined with a cakiness from the pancake batter.
PEACH BLUEBERRY COBBLER SHEET PAN PANCAKE INGREDIENTS
Fruit Filling:
Mixed blueberries and peaches (frozen or thawed) – 6 cups

Granulated sugar – 3/4 cup

Ground nutmeg – 1/8 teaspoon

Unsalted butter – 4 tablespoons

Salt – 1/3 teaspoon

Lemon juice – 1 teaspoon

Cornstarch – 1 tablespoon

Cold water – 1 tablespoon
Pancake Mix:
All-purpose flour – 3 cups

Baking powder – 2 tablespoons

Salt – 1/2 teaspoon

Milk – 2.5 cups

2 large eggs

Butter – 8 tablespoons

Vanilla extract – 2 teaspoons
HOW TO MAKE THIS BLUEBERRY PEACH COBBLER SHEET PANCAKES RECIPE
Preheat the oven to 350 degrees F.

In a heavy pan, heat butter over medium-high heat. Add sugar, salt, lemon juice, nutmeg, and mixed fruit. Stir until completely softened.

In a small dish mix cornstarch with cold water and whisk with a fork to dissolve any clumps

Add cornstarch mixture to fruit filling and stir allowing the filling to thicken. Approximately 2 minutes. Remove from heat and allow to cool.

In a large mixing bowl, whisk together dry pancake ingredients.

Using a stand mixer or egg beater for convenience or a whisk, blend in eggs one at a time.

Continue mixing at medium speed and slowly add milk, melted butter, and vanilla extract. 

Spray a 9×13 baking dish with nonstick cooking spray. Pour in pancake batter.

Pour fruit filling on top of pancake mix

Bake for 30 min.

Using a toothpick, test the middle of the pancake by inserting it and removing it, if the toothpick comes out clean the pancake is done.

Enjoy!
CAN YOU MAKE SHEET PAN PANCAKES AHEAD OF TIME?
These fruit cobbler pancakes are a great addition to your meal prep menu. I like to make a batch of these and put them in the refrigerator in a container to keep them fresh. Then, in the mornings before school, I will just toss a couple in the microwave for a hot breakfast for the kids.
CAN YOU FREEZE COBBLER SHEET PANCAKES?
You can freeze these cobbler pancakes, as long as you store them in an airtight container or Ziploc bag. I like to slice them into serving sizes and place them in between wax paper before sealing them up and putting them in the freezer. This method prevents the pancakes from freezing into one solid block.
WHAT TO SERVE WITH BLUEBERRY PEACH COBBLER SHEET PANCAKES?
Blueberry Peach Cobbler Sheet Pancakes can be served on their own, or as part of a larger breakfast or brunch menu. If you want to add to the spread, check out these recipes:
WHAT KITCHEN TOOLS DO I NEED TO FRUIT COBBLER SHEET PANCAKES?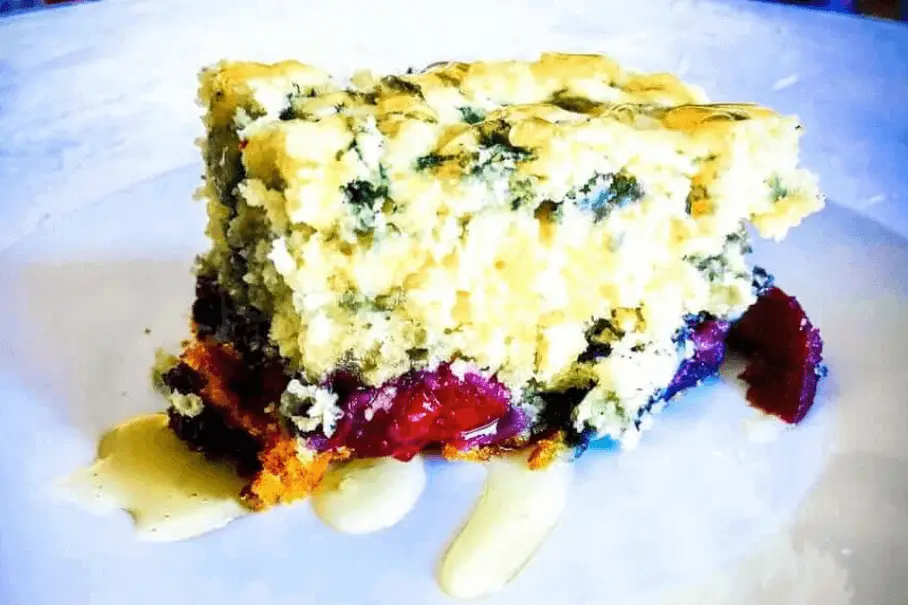 Instructions
In a heavy pan, heat butter over medium-high heat. Add sugar, salt, lemon juice, nutmeg, and mixed fruit. Stir until completely softened.

In a small dish, mix corn starch with water, and whisk with a fork to dissolve any clumps.

Add cornstarch mixture to fruit filling and stir allowing the filling to thicken. Approximately two minutes. Remove from heat and allow to cool.

In a large mixing bowl, whisk together dry pancake ingredients.

Using a stand mixer or an egg beater for convenience, or a whisk, blend eggs one at a time.

Continue mixing at medium speed and slowly add milk, melted butter, and vanilla extract.

Spray a 9 x 13 baking dish with nonstick cooking spray. Pour in pancake batter.

Pour fruit filling on top of pancake mix.

Using a toothpick, test the middle of the pancake by inserting it and removing it, if the toothpick comes out clean pancake is done