Discover delicious burger recipes to satisfy your cravings and elevate your BBQ game. Try something new and add these recipes to your menu.
THE BEST BURGER RECIPES FOR YOUR BBQ
I can't resist a good burger, and I know many of you feel the same way! That's why I've compiled a list of these delicious burger recipes that are sure to satisfy your cravings and take your BBQ game to the next level. From classic cheeseburgers to unique twists on the classic patty, these recipes are perfect for any burger lover.
RELATED: How To Grind Your Own Beef At Home
Brace yourselves for these delectable caramelized onion smash burgers! Bursting with flavor and loaded with gooey cheese and perfectly caramelized onions, these juicy patties are topped with a zesty garlic herb aioli. Your taste buds will thank you for this heavenly creation!
Get ready to sink your teeth into the ultimate homemade Pimento Cheeseburgers! Seasoned to perfection with ground chuck patties and topped with an irresistible cheese spread, these burgers will leave you wanting more. They're a sure-fire way to impress your guests and take your burger game to the next level!
Need a quick and delicious meal? Look no further than these Air Fryer Hamburgers! Packed with flavor and ready in no time, these juicy burgers can even be cooked from frozen. They're sure to be a hit with the whole family.
Craving White Castle burgers but don't want to leave the house? Try this copycat recipe for juicy, flavorful sliders that taste just like the real thing! You'll never want to go back to fast food once you try these mouth-watering mini burgers.
Take your burger game up a notch with this easy shrimp burger recipe! These crispy shrimp patties are wrapped in buttery brioche buns and topped with melted cheese and a creamy mayo dressing. Best of all, they can be made in just 20 minutes in the comfort of your own home.
Whether you're a fan of Travis Scott or just love a good burger, you won't want to miss out on the Travis Scott burger! Thick, juicy, and guaranteed to satisfy, this burger is a must-try for any burger enthusiast.
Shake up your burger routine with this delicious peanut butter burger! Topped with cheese, bacon, and peanut butter, this unique burger is sure to delight your taste buds. It's a tasty twist on a classic that you won't want to miss.
Love quesadillas and burgers? Then you'll love this Quesadilla Burger recipe! Juicy grilled burger with cheese, pico de gallo, lettuce, and sauce in a flour tortilla. It's a copycat version of an Applebee's favorite that's sure to impress.
Treat your taste buds to this mouth-watering Japanese hamburger steak recipe! These tender, melt-in-your-mouth patties are served with a rich red wine reduction sauce that will leave you wanting more.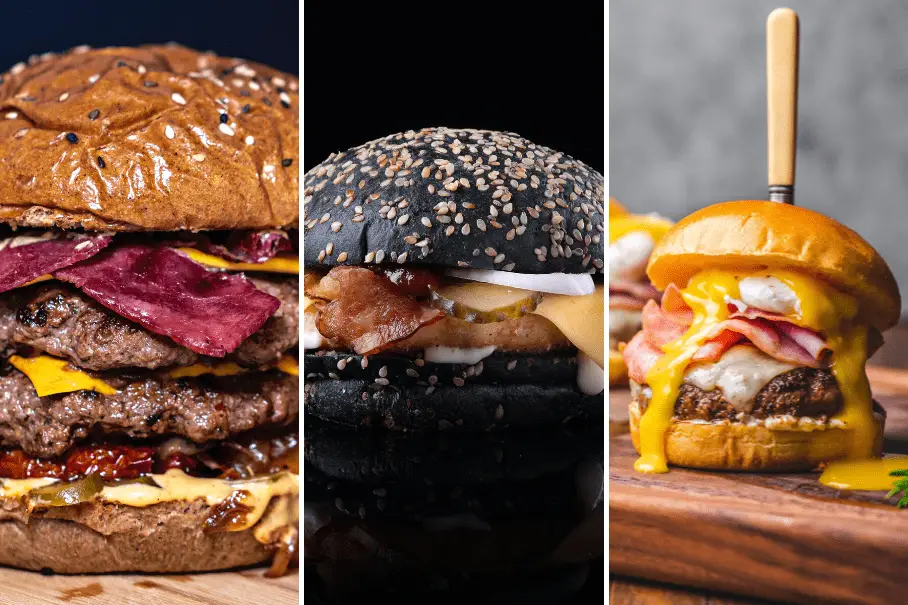 Instructions
Choose your favorite burger recipe.

Gather all the necessary ingredients.

Prepare a delightful burger recipe and enjoy!