Get your daily dose of protein with these delicious recipes for high protein muffins! Perfect for meal prep or a healthy snack on the go.
TASTY HIGH PROTEIN MUFFINS
Hey fellow hangry peeps! Get ready to fuel your day with these mouth-watering High Protein Muffin recipes! Whether you're looking for a quick breakfast, a post-workout snack, or something to meal prep for the week ahead, these muffins have got you covered. Packed with protein and wholesome ingredients, these muffins are a delicious and nutritious way to satisfy your cravings without the guilt.
Indulge in the rich, chocolatey goodness of these High Protein Muffins that also happen to be loaded with nutritious veggies! Perfect for meal prep, these muffins stay fresh and moist for days.
Get your taste buds ready for a burst of fresh berries with these Lemon Raspberry Protein Muffins! Not only are they delicious, but each muffin packs 9 grams of protein and is completely sugar-free. Snack time just got a whole lot healthier!
Start your day off on the right foot with these Quinoa Banana Muffins. They're naturally gluten-free and vegan, making them a perfect option for those with dietary restrictions. Whip up a batch in no time for a satisfying breakfast or sweet snack.
Say hello to the flavors of fall with these mouthwatering Pumpkin Chocolate Chip Protein Muffins! Made in a blender and low-carb, they're a guilt-free treat that won't weigh you down. Plus, at less than 130 calories per muffin, you can indulge without the guilt!
Add some excitement to your breakfast routine with these savory Quinoa Egg Muffins! Packed with veggies and protein, they're a delicious and nutritious way to start your day. Trust us, you won't want to skip breakfast again.
Need a quick and easy on-the-go breakfast or post-workout snack? Look no further than these Vegan Peanut Butter Protein Muffins! They're gluten-free, refined sugar-free, and each muffin has 7 grams of protein to help fuel your day.
Sneak some extra veggies into your diet with these Chocolate Chip Zucchini Protein Muffins! They're flourless, oil-free, and refined sugar-free, making them a healthy option for any time of day. Plus, with 10 grams of protein per muffin, they're a tasty way to help hit your daily protein goals.
Treat yourself to the cozy flavors of carrot cake with these Low-Carb Muffins! Packed with spices and nearly 10g of protein, they're a delicious and healthy way to indulge your sweet tooth. Perfectly tender and sweet, these muffins are sure to become a new favorite.
Looking for a quick and easy snack that won't derail your healthy eating habits? Try these Blueberry Banana Protein Muffins! Made with plant-based protein and no added sugar, they're a nutritious and tasty option for any time of day.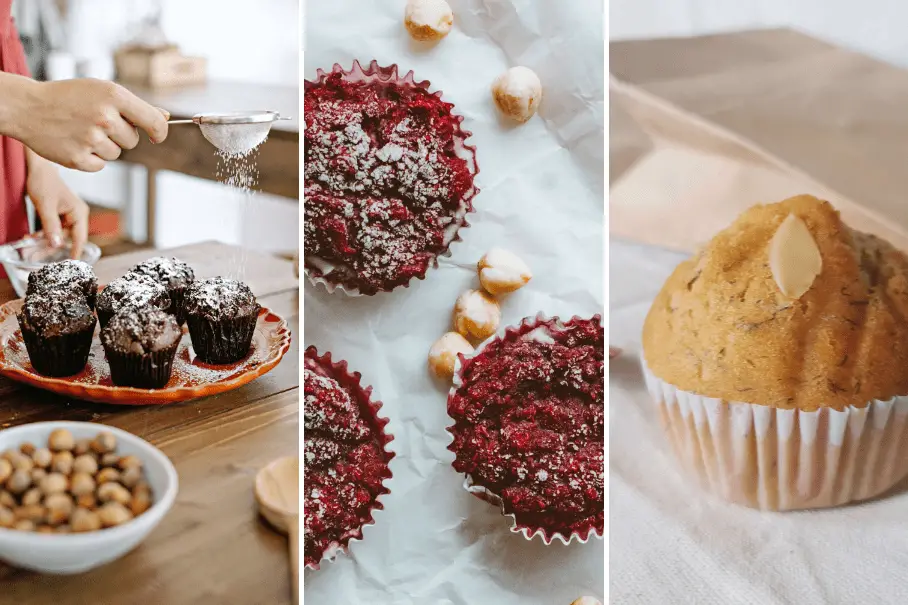 Instructions
Select you favorite High Protein Muffin recipe

Gather all the necessary ingredients

Enjoy some of the best muffins you have ever had