For anyone that has peanut and tree nut allergies, this homemade, nut-free granola recipe is perfect.
If you ever walked down the cereal aisle with a child that has peanut and tree nut allergies, you understand how frustrating it can be. Even if there aren't nuts included in a product as an ingredient, there is frequently the warning that the item was manufactured in the same facility that processes peanuts and tree nuts. In our household, that immediately disqualifies that product from entering our shopping cart.
Granola is a tough product to shop for when you or a family member is allergic to nuts. A lot of the times, walnut slivers, or other nuts are included for added texture, or to give the product a "healthier" appeal. Unfortunately for some, that "healthier" appeal can be quite dangerous. So, instead of shelling out $10 on a box of granola, I have decided to make a batch of nut-free granola that is great to snack on or mix into yogurt, or smoothie bowls.
WHAT IS NUT-FREE GRANOLA?
This nut-free granola recipe is a crunch cereal made primarily out of oats and is sweetened with honey, brown sugar, and cinnamon.
WHAT DOES THIS NUT-FREE GRANOLA TASTE LIKE?
This particular granola recipe has a bit of savoriness from the oats, ground flax seeds, and salt. However, there is a nice balance of sweetness from honey, sweetened coconuts shreds, coconut oil, and brown sugar. It is very similar to a crunchy oatmeal cookie.
HOW TO MAKE THIS NUT-FREE GRANOLA RECIPE
It's a fairly easy process and doesn't take a lot of time to make this granola recipe.
1. The first thing you need to do is preheat your oven to 325F.
2. Cover a large baking sheet with aluminum foil and spray it with cooking spray. I use butter flavored spray as I doubt an olive oil spray would be too good of a flavor combination.
3. Mix oats, shredded coconut, and ground flax seeds together in a large mixing bowl.
4. Over medium heat, in a small saucepan, mix together brown sugar, honey, coconut oil, cinnamon, and vanilla extract. Melt the ingredients and bring to a simmer and remove from heat immediately. Be careful not to burn the ingredients, and since you are working with sugars, they can burn quickly.
5. Pour the melted ingredients over the oat mixture and stir, making sure all of the dry and wet ingredients are equally blended. The oat mixture should be evenly coated.
6. Spread the "raw" granola mixture onto the baking sheet, and flatten out to about 1/2 inch thickness.
7. Bake for 25 minutes. At the halfway point, take the baking pan out, mix up the granola, and re-flatten. Then return to the oven.
8. Remove from oven and allow to cool completely.
9. Once cooled, break and crumble up the granola.
10. Either eat now or store the granola in an airtight container.
IS GRANOLA CONSIDERED HEALTHY?
There are many positive health benefits associated with the ingredients in granola. There is tons of fiber, and coconut oil is a great source of healthy fats. However, due to the high sugar content with the brown sugar, and honey, it is best to limit your serving size if you are partaking in a low carbohydrate, and low sugar diet.
You maybe wondering: is coconut a tree nut? Simple answer is that coconut is not botanically classified as a nut, but you should double check with an allergy doctor just to be safe. Most people that have tree nut allergies can safely consume coconut.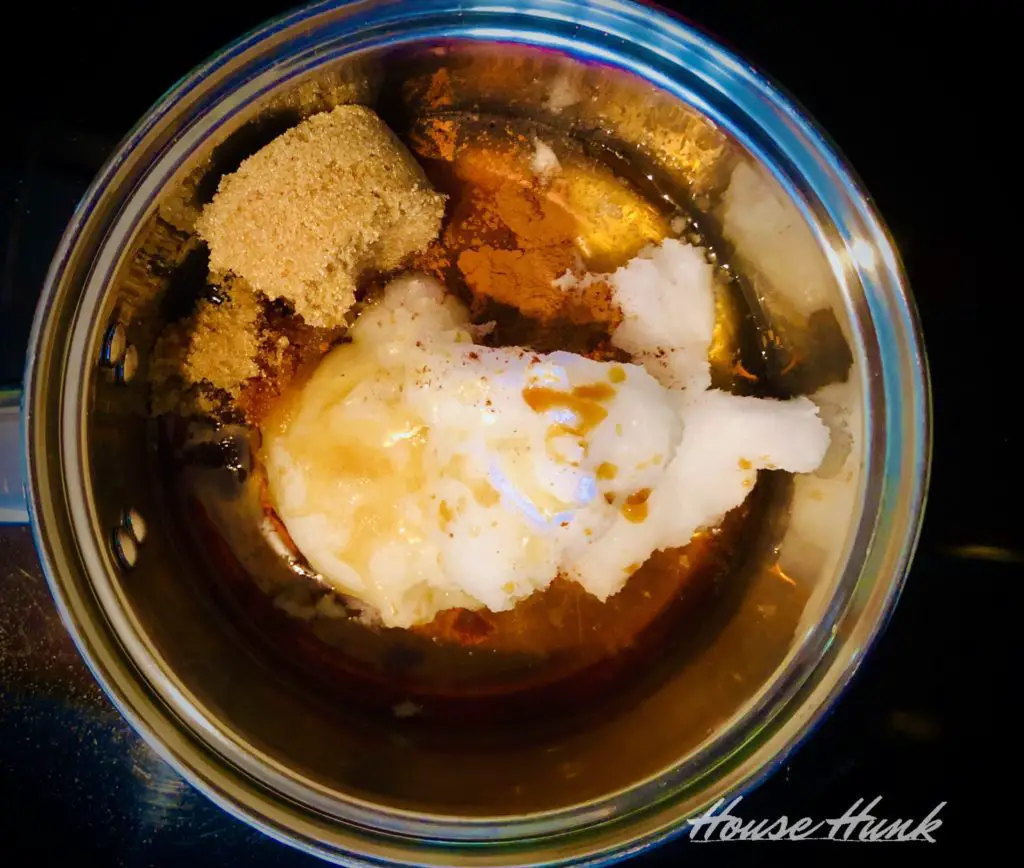 CAN YOU MAKE NUT-FREE GRANOLA AHEAD OF TIME?
Absolutely! Seal this nut-free granola in an airtight container and it will keep for a couple weeks if stored in a cool dry place.
Yes, you can freeze granola. This nut-free granola will last months in the freezer, as long as you store it in an airtight container to prevent added moisture making its way in, and freezer burn.
WHAT TO SERVE WITH NUT-FREE GRANOLA?
If you ask me, the best way to serve nut-free granola is mixed in with smoothie bowls. However, granola is pretty versatile and there are many ways to enjoy it:
Mixed in your favorite yogurt.
As a crunch topping on ice cream or frozen yogurt.
On its own in a bowl of milk.
Plain, with nothing else, as you stroll through the kitchen, out of a Ziploc, resealable baggie.
WHAT KITCHEN TOOLS DO I NEED TO MAKE GRANOLA?
1. A small saucepan
2. Baking sheet
3. Mixing bowl
4. Aluminum foil
5. Large spoon, or wooden spoon for stirring ingredients and flattening moist granola mixture before baking.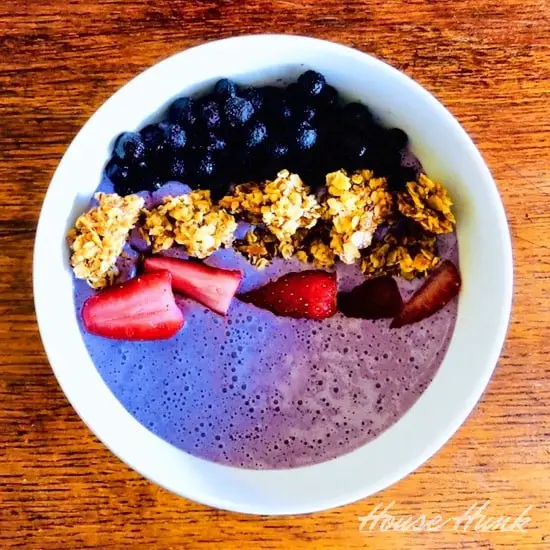 Servings:
25
1/4 cup servings
Instructions
Cover a baking sheet with aluminum foil and spray with cooking spray

Mix oats, coconut, and ground flax seed together in a large mixing bowl

Over medium heat, in a small saucepan, mix brown sugar, honey, coconut oil, cinnamon, and vanilla. Bring to a rapid simmer, using caution not to burn the honey mixture.

Pour coconut oil & honey mixture into mixing bowl with oats. Mix with a large spoon until all the ingredients are combined, and coated with the liquid mixture.

Spread granola mixture across the foil-lined baking sheet and flatten ingredients with a large spoon or spatula to approximately 1/2 inch in height.

Bake for 25 minutes (stir ingredients and re-spread halfway through cooking time).

Remove from oven and allow to completely cool. Granola will harden as it cools.

Once cooled, break up and crumble granola.

Store in an airtight container.
Notes
Allergy Information:
According to the American College of Asthma, Allergy, and Immunology: Coconut is not a botanical nut; it is classified as a fruit, even though the Food and Drug Administration recognizes coconut as a tree nut. While allergic reactions to coconut have been documented, most people who are allergic to tree nuts can safely eat coconut.
Please read all ingredients carefully, and check with your allergy specialist for any potential reactions to coconut before consuming the ingredients in the recipe.
Nutrition
Oh, before I forget! House Hunk's posts may include affiliate links leading you to some pretty awesome products. If you buy something through those links, you will not pay any more than if you stumbled upon the product yourself, however we may earn a small commission from your purchase, which helps keeps the lights on.