After a fun day exploring the great outdoors, it's time to sit back and let the flames do the cooking. These campfire dinner recipes are epic!
THE ULTIMATE CAMPFIRE DINNER RECIPES
My family loves to go camping. Whether it is a weekend exploring state parks in the southeastern US, or going on a big road trip, we are always down for an adventure. Getting a good routine down for cooking meals while camping is very important for an enjoyable trips. I have found that the more meal prep you can do ahead of time before you depart on your trip, the better. Eating granola bars and powdered milk after a long day exploring the great outdoors can be rather dissatifying, trust me. Elevate your camping dinners with these delicious campfire recipes! Most of them are easy to prepare, and can be cooked on the fire, or you can make them on your camp stove.
This one-pot pesto pasta is loaded with flavor and is ideal for summertime barbecues and camping vacations.
On a campfire, you can prepare the best homemade hamburger pizza. Ketchup, mustard, and pickles are added to an easy cast iron skillet pizza baked over a fire.
An easy family dinner recipe for the summer are these Garlic Butter Steak and Potato Foil Packets. Cook them in the oven at home, the grill, or over a campfire!
Tater Tot Meatball Foil Packet Meals are a complete meal in a foil packet. In addition to cheese, they include vegetables, crisp tater tots, and succulent meatballs.
Sweet potatoes cooked on the grill are a quick and nutritious side dish. They work well for grilling in the summer.
The ideal camping recipe is campfire nachos! These quick nachos in a cast-iron skillet are fantastic over the campfire, on the grill, or in the oven, whether you're camping in the woods or in your backyard. A bonus is that there is no cleanup required!
These Philly Cheesesteak Foil Packs are grilled to perfection and are flavorful with tender ribeye. Prepare everything in advance for a simple dinner over a campfire!
This recipe for chicken and potatoes in foil packets is nutritious and healthy and works well for baking, grilling, or campfires.
An awesome dinner option for your upcoming camping trip is this Shrimp Boil Foil Packet, a classic campfire recipe. Foil pack meals may be cooked directly over a campfire or BBQ and are quick to prepare and clean up.
Your favorite cheese dip has been spiced up with tons of flavor in Smoked Queso Dip. Cheese dip packed with spicy sausage, hot jalapenos, and a smoky flavor from the grill. Excellent dip for tailgating in the fall, camping, parties, and cookouts. If you don't have a grill, you can cook inside on the stove, or even a campfire.
Although making grilled pizza is simple, there are a few steps that must be taken for the best results. Find out how to prepare homemade grilled pizza and adapt it for your next camping trip.
Wrapped in foil, these meatball subs are then toasted on the grill or over a campfire to create a mouthwatering warm sub with crunchy bread and gooey cheese!
MORE FUN STUFF TO CHECK OUT: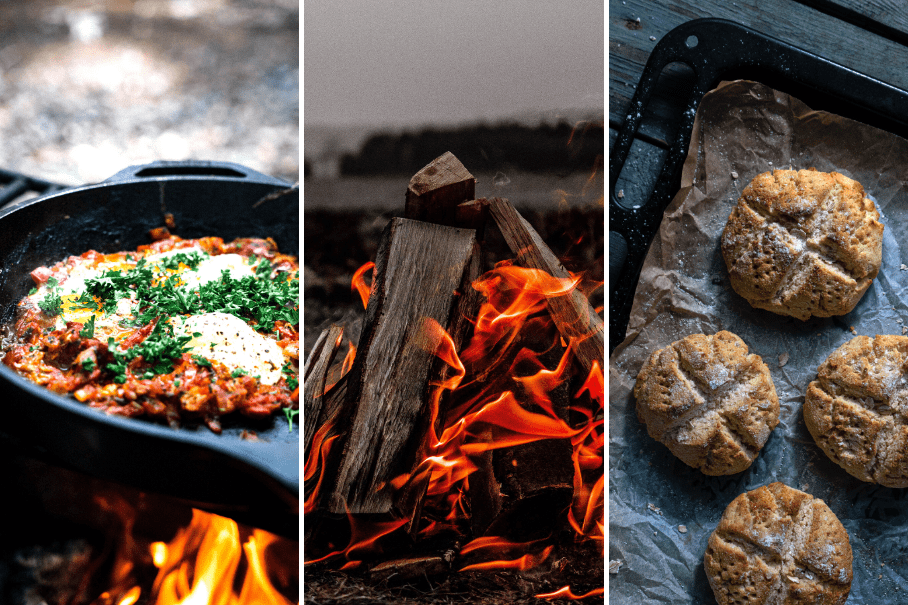 Instructions
Choose your favorite campfire dinner recipe.

Gather all the necessary ingredients.

Prepare a delightful campfire dinner recipe and enjoy!